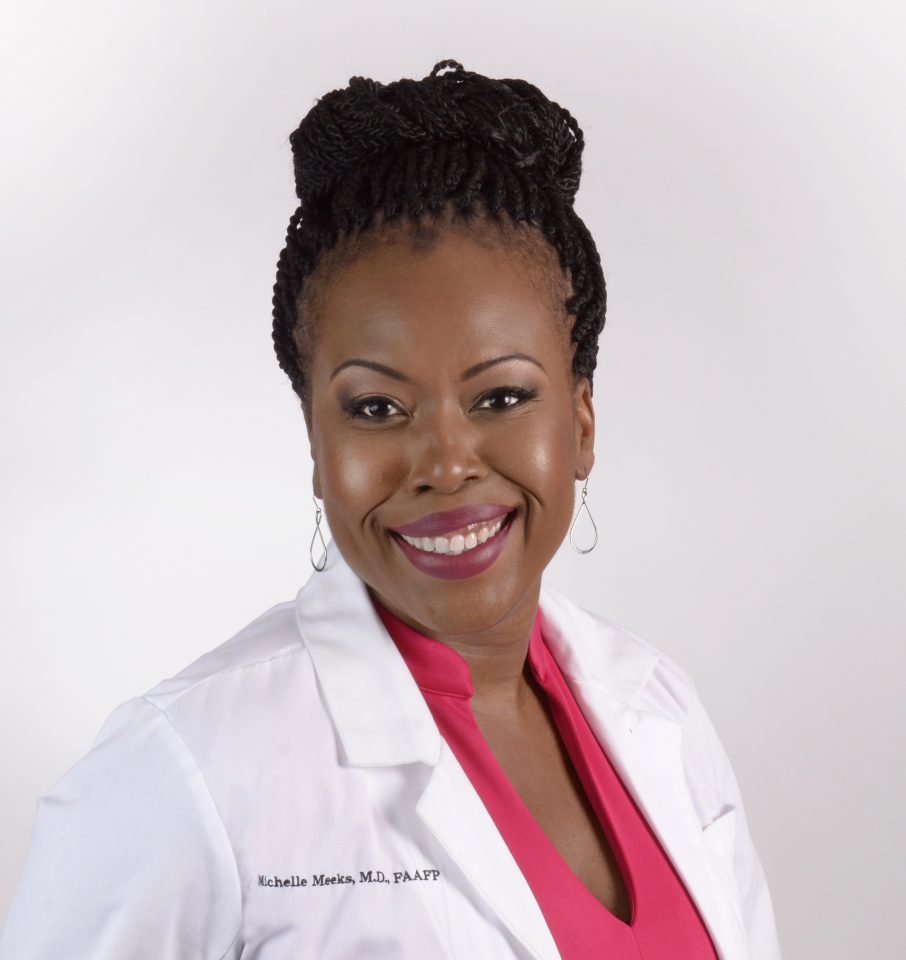 Dr. Michelle Meeksis a family medicine physician and is a Fellow of The American Academy of Family Practice. After 20 years in practice, Meeks remains passionate about her commitment to quality patient care. As we gear up for a new decade, rolling out spoke with Dr. Meeks about our health challenges and ways for us to be healthier.
As we go into a new decade, what would you say are some of the biggest health challenges for Black people?
Some of the biggest health challenges we face as we go into the new decade are the rising rates of obesity. Obesity-related conditions like heart disease, stroke, type 2 diabetes and certain types of cancer can be prevented if we control our weight. [Forty-seven] percent of African Americans are obese, and among young adults aged 20-39 the prevalence is 35.7 percent. We define obesity as a BMI of more than 30. More than a third of young Americans are obese. Lack of access to healthy foods, not enough safe outdoor spaces to walk and do outdoor activities, as well as decreased access to health care, all play a role. 
Talk about the importance of a yearly checkup.
The annual visit allows you the opportunity to build a relationship with your provider. You're more likely to be open and honest with a clinician you've known for a while. Issues such as alcohol or drug use, domestic violence, caregiver burden, depression and stress are extremely important determinants of health and are easier to talk about with someone you know and trust. Your provider also uses this visit to screen for health conditions such as high blood pressure, high cholesterol, diabetes and obesity. We also use the annual visit to screen for different cancers depending on your age and risk factors.
What should be the first step in transitioning to a healthy lifestyle?
The first step when you are transitioning to a healthy lifestyle is to first commit in your mind. We have to prioritize our health. Set a "workout appointment" on your calendar and keep that appointment. Define what a healthy lifestyle will mean for you. For you, maybe it's a brisk 30-minute walk daily or taking the stairs instead of the elevator. Commit in your mind today to make the change.
What kind of tip can you give to people who are making these changes during the holiday season?
During the holiday season it can be very difficult to stay on track with our healthy lifestyle goals. One tip for everyone would be to remember your long term goals. It's about a lifestyle change that includes healthy eating and regular physical activity. Think about why you want to be healthier. Is it to run a mile, look great in your clothes, play with your children? Let that be your motivation. Also, get an accountability partner to keep you on the right path when you want to veer off course. 
Learn more about Dr. Michelle Meeks, MD at michellemeeksmd.com.