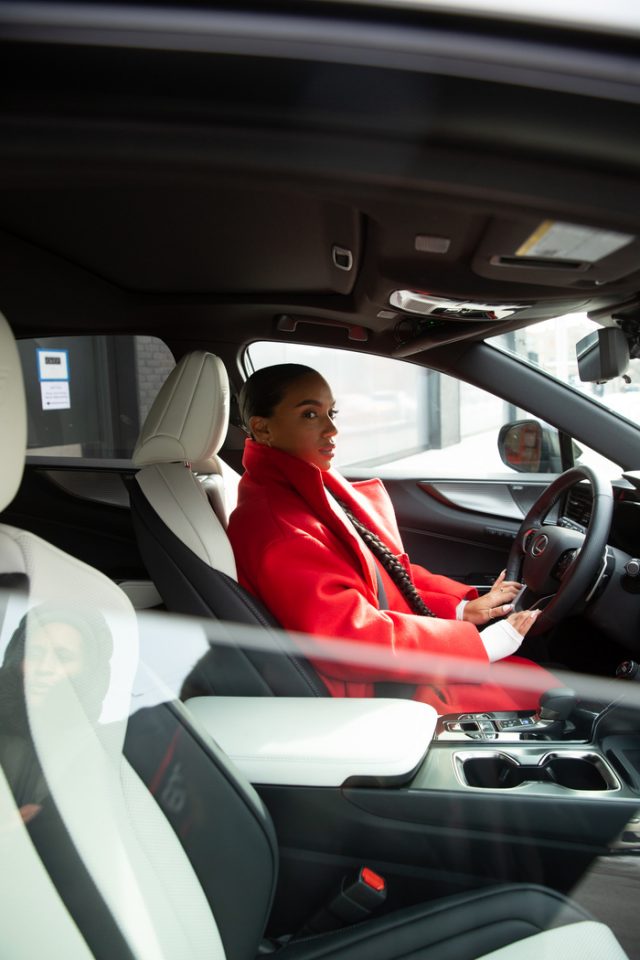 Rachel James is the CEO and founder of the Pear Nova beauty brand and salon located in Chicago, IL. She built her business by merging her backgrounds in fashion and beauty and it was inspired from her love for art, and her passion for elegance. The brand also draws inspiration from world wonders, runway designers, and remarkable women.
We recently spoke with James on her collaboration with rolling out and Lexus, spotlighting the all-new Lexus NX. Watch the finished campaign here. Read what she had to say below about leveling up and elevating her hustle.
How did you get started in the beauty industry?
I have a fashion and beauty background. My last week of college, in 2012, is when I decided I wanted to be an entrepreneur. I merged both my backgrounds to create a product that sat in the middle: nail polish. From there, I would mix nail polish in my parent's basement and share my journey on social media. The response to what Pear Nova was becoming was such a positive one. After several years of e-commerce, I felt like Chicago was owed a space to experience the brand, and in 2019 we opened Pear Nova Studio.
This collaboration is about navigating to the next level. What does leveling-up mean to you?
For me, leveling up means reaching, growing, and evolving. I'm constantly challenging myself to reach new goals, grow as a mother, entrepreneur, and human being, and evolve as I learn new things and build new skills. Reaching the next level is about progress, opportunity, and improvement, and it's about overcoming obstacles to reach new heights.
The Lexus brand is synonymous with luxury and regarded as an automotive brand that stands above the trends. What did you learn about yourself while working with Lexus?
While working with Lexus I learned that luxury is a feeling. It's a mindset. It's an experience. You define luxury. Luxury doesn't define you.
How do you identify when it's time to level-up?
I know it's time to level up when the brand experiences growing pains. When it felt like Pear Nova was growing past just me, then past five team members, then past shipping operations, etc… That's when I knew it was time to advance.
What are three things that you will take with you on your journey as you continue to level up?
Hunger, humility, and honor. I will always strive to be the best version of myself without arrogance or ego. And, I'll always honor myself and my children. I want to leave a legacy they can be proud of; personally and professionally.
As an entrepreneur, how do you create a map to help you navigate to the next level?
I look up to other entrepreneurs. I study their journey's. I listen to their podcasts. I read their books. I know that no two maps or paths are the same but it's inspiring to see how someone else was able to get to the next level. A lot of times I don't need a step-by-step, I just need to be inspired.
Let's talk more about who you are as a Black female boss. What makes you uniquely you?
I would say authenticity. I try to be as honest and sincere as I can be. I want to share my struggles and successes with the people I encounter. I feel like recently, there's been such a huge emphasis placed on "being a boss." And sometimes, that conversation can paint a portrait that isn't complete. So for me, it's important that I'm transparent in saying I'm human. I make mistakes. I've experienced setbacks. And that's OK. I'm here to be the best version of myself and to encourage everyone else to do the same.
How do you become an expert in your field and a master of your craft?
You become an expert by remaining a student. There is always room for more knowledge and growth.
What inspires you?
I'm a very visual person, so much of my inspiration comes from life experiences, whether it's traveling, watching my kids experience things for the first time, or even just spending time with my family and friends. I'm always thinking of ways to incorporate those experiences into opportunities for growth.
What recommendations and/or tips do you have for female entrepreneurs coming after you on how they should follow their dreams and level up?
Be consistent, even if you have a fulltime job and a ton of other responsibilities. You may only have 30 minutes a day to work towards your dream; make sure you do just that. Thirty minutes a day for a whole year will get you farther than you think.