The day to blaze and get high is here, which means some of the best festivals and events will be taking place around the country. To get an idea of what's going on, here are some of the top events that you should know about if you're looking to have a good time and smoke with your friends.
Unity Day: New York City
New York City will celebrate its first 4/20 since the legalization of cannabis last year. They'll have a Unity Day party produced by Cannademix. The festival will feature performances from Inspectah Deck and Cappadonna of Wu-Tang Clan, plus Sensi All-Stars, Big Nate All-Star, PBS Skinz, and Puffington.
Mile High 420 Festival: Denver
If there was ever a perfect place to smoke as much weed as you want with no trouble, head out to Denver, Colorado for a good time. This year's Mile High festival in downtown Denver is expected to draw a crowd of 50,000, with food, vendors and entertainment by Big Boi, Lil Jon and Talib Kweli.
Hippie Hill: San Francisco
The Hippie Hill party returns in 2022 after two years of cancellations due to the COVID-19 pandemic, so it's a sure bet that people will be ready to smoke some joints. This year's 4/20 celebration on Hippie Hill will feature legal cannabis sales from licensed retailers and appearances from Mike Tyson and comedian Jeff Ross.
420 on the Rocks: Morrison, Colorado
Channel 93.3 Presents Pepper & Method Man & Redman live with PROF, Collie Buddz, Keznamdi, DENM and The Underachievers.
420 Special: Nebraska
Snoop Dogg and Koe Wetzel have decided to team up for a truly one-of-a-kind party during Snoop's favorite days. When the biggest names in hip-hop and outlaw country come together to put on a show, incredible memories will be made by the thousands of fans in attendance.
420 Flower Fest: Houston 
The 420 Flower fest is back on the rise on Wednesday. There will be music, games, food, and a special performance from Slim Thug and more.
The 420 Experience Culinary Event: Chicago
The Four Twenty Experience from Eden and High Minded Events is celebrating 4/20 with a foodie experience where guests will be treated to a private dinner with cannabis pairings.
Waldos Forever Fest: Chicago
Waldos Forever Fest is a free 420 celebration and will have musical performances by Junglepussy, Jesse Lanza, and other artists, along with live drag shows and delicious local food. 
National Cannabis Festival: Washington, DC 
Featured experiences include a culinary pavilion, culture pavilion and policy pavilion. Musical performances include headliner Wiz Khalifa, plus Lettuce, Ghostface Killah, Backyard Band, Dupont Brass and more.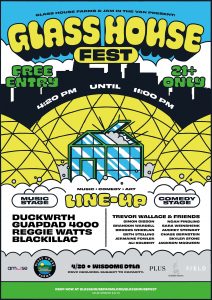 Glass House Fest: Los Angeles
The second annual Glass House Fest is slated to bring a celebration of music, comedy, art and culture hosted to the immersive dome experience at Wisdome, LA.