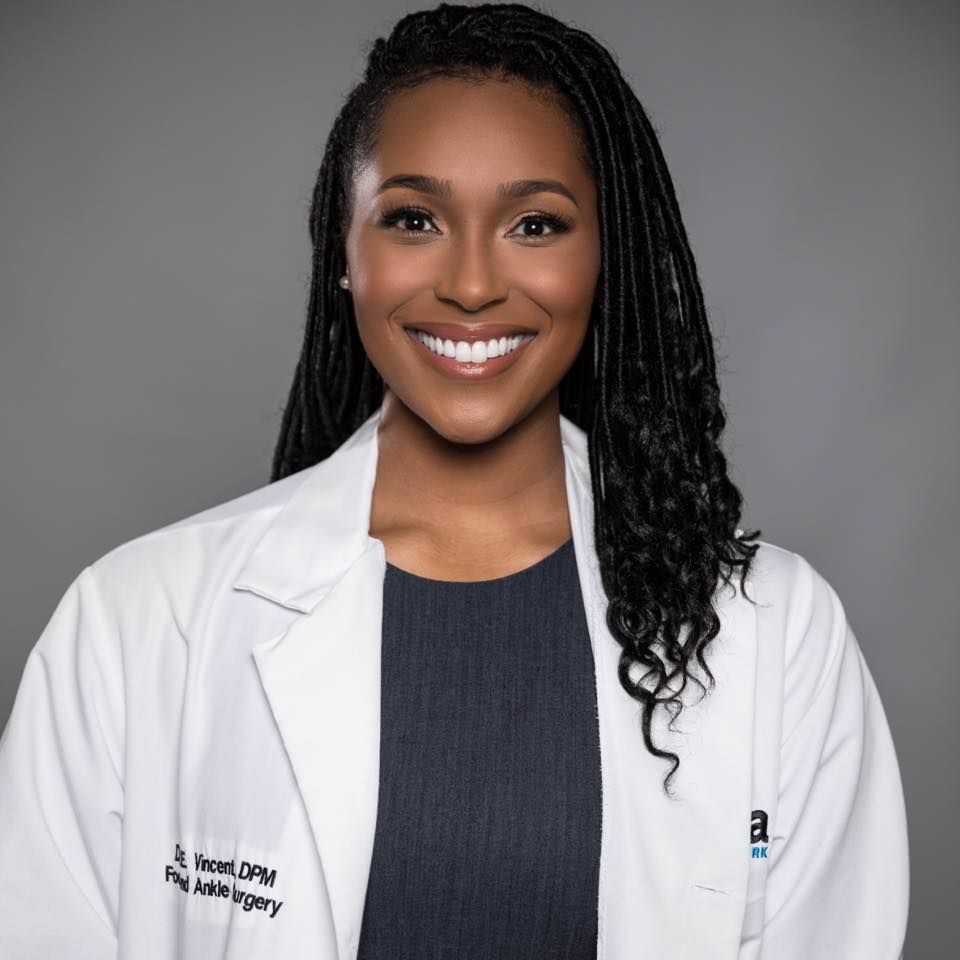 Dr. Ebonie Vincent and My Feet Are Killing Me are back for season 4. The TLC show aired on May 4 and continues on Wednesdays at 9/8c. This season is bringing seriously extreme medical issues with it. In one of the most incredulous episodes, Dr. Brad Schaeffer, Dr. Vincent and Dr. Sarah Haller will deal with a large mass on a foot that "looks like a big volcano, bubbling over about ready to erupt," and enter an "unchartered territory" of podiatry.
Nonetheless, the three podiatrists graciously handle each patient with empathy and care in hopes of giving them pain-free lives.
How much do you enjoy what you do?
I really do enjoy what I do. I'm happy that it's translating well on the show. I like going through that human experience. I personally have experienced surgery on both of my knees as an athlete and serious volleyball player. I know just how devastating, emotionally, an injury can be on your body. It's not just about what you're seeing physically, it's about what you used to do that you can't do anymore, and how much that affects your life. So, I think our patients definitely go on an emotional journey, but the empathy that we show as doctors is real.
For people watching the show fearful of if they should go to the podiatrist, what could you tell them?
Hopefully, they go sooner than some of our patients on the show, but I do think that there's a difference in people. Some come in for a tiny scratch and other people don't think anything's a big deal. They think it'll go away, then 4 months later, it's still there. They don't think anything is really wrong or debilitating in their life so much to go see a doctor. You want to get it before it becomes a chronic situation. So, for people watching and sitting at home, I'm telling you to give it 21 days. If 21 days goes by and you are no better, then come to your doctor.
What did you learn about yourself in the past 3 seasons of the show?
With each new season comes with its own challenges, particularly on the scientific portion of it all. I learned that I'm always up for a challenge. I'm always trying to challenge myself to be better. I don't like to put myself in a box and stay there. Even if I've never seen something that's presented to me before, I'm not like, "Oh, nope, send it out." I'm usually always trying to figure out what I can do to be helpful, because I don't think that I have all the answers to everything. I definitely have my resources, I have my brain, and communication with the patients and to guide me. I've learned that I can use what I have to help people. If it's helpful, then we're both happy.
What do you say to both new and established runners?
If you're already a runner, you definitely should be changing your shoes every 4 to 6 months, depending on how long you run. If you're a new runner, you need to be making sure that you start off in really good shoes, and then also work your way up, don't just go out there and try to run a marathon. That's not how things work. You have to build up your endurance. Oftentimes new runners suffer from neuromas from tendinitis. They suffer from metatarsalgia, the list can go on and on about what kind of ailments you can cause to your feet if you do too much, too fast, too soon. Gradual progress is everything.
For the summertime, you definitely have to be cognizant of fungus. Fungus likes warm, moist, dark, places that thrive and live and your feet can get a lot more sweaty in the summertime than in the wintertime. So, make sure that you have that powder in your shoes and socks to absorb a lot of that moisture. Make sure you are airing out your shoes, buy a pair of sturdy sandals like the little bendable flip flops sandals are not something that you should be having. Get a pair of sturdy ones with arch support.