Big Groove just wants to spread joy.
The entertainer and fitness enthusiast walks around with a constant smile on his face, despite the thousands of comments he receives every day mocking him.
Big Groove changed his name from "Grooving Gorilla" so any negative racial connotations would be disconnected from his name.
"I like to spread positivity and joy," he said in a social media announcement. "There [are] a lot of people that feel sensitive to the word 'gorilla,' you know? I just use it as a way to brand myself because I'm massive, I like to dance and I love gorillas, but due to the history, there's a lot of sensitivity in that word gorilla."
The name change didn't affect much of his online numbers at all, for the Nigerian dancer with over 250,000 Instagram followers. His dance moves earned him a spot in a Bobby Shmurda music video.
For the typical social media user, the rise of Big Groove might have seemed random and just another odd social-media phenomenon. But nearly a half year after his initial viral post, Big Groove is still as relevant as ever doing what he's always done in life.
Recently, he stopped by the rolling out office in Atlanta to discuss the origins of his career and what his success means for Black men.
How have the past few months been for you since you've gone viral?
I've just been hopping around from state to state and literally have just been groovin' all over the United States, literally. It's been wild, but I'm loving the journey because I'm meeting some cool people, meeting some good vibes and bringing joy to the world.
Well, what do you think is the importance of joy, especially as a Black man? I feel a part of the reason you went viral is the fact that a lot of people are not accustomed to seeing a big Black man be happy.
Exactly, they're just not used to it. A lot of people that see [me] are like, "Man, you're really bringing a different type of energy to the platform." A lot of swole men feel like they need to be hard, mean and put out those vibes that we're better than one another, but at the end of the day, live your life and enjoy it. Walk around with a smile because it's infectious. People sense that, so that's what I'm doing.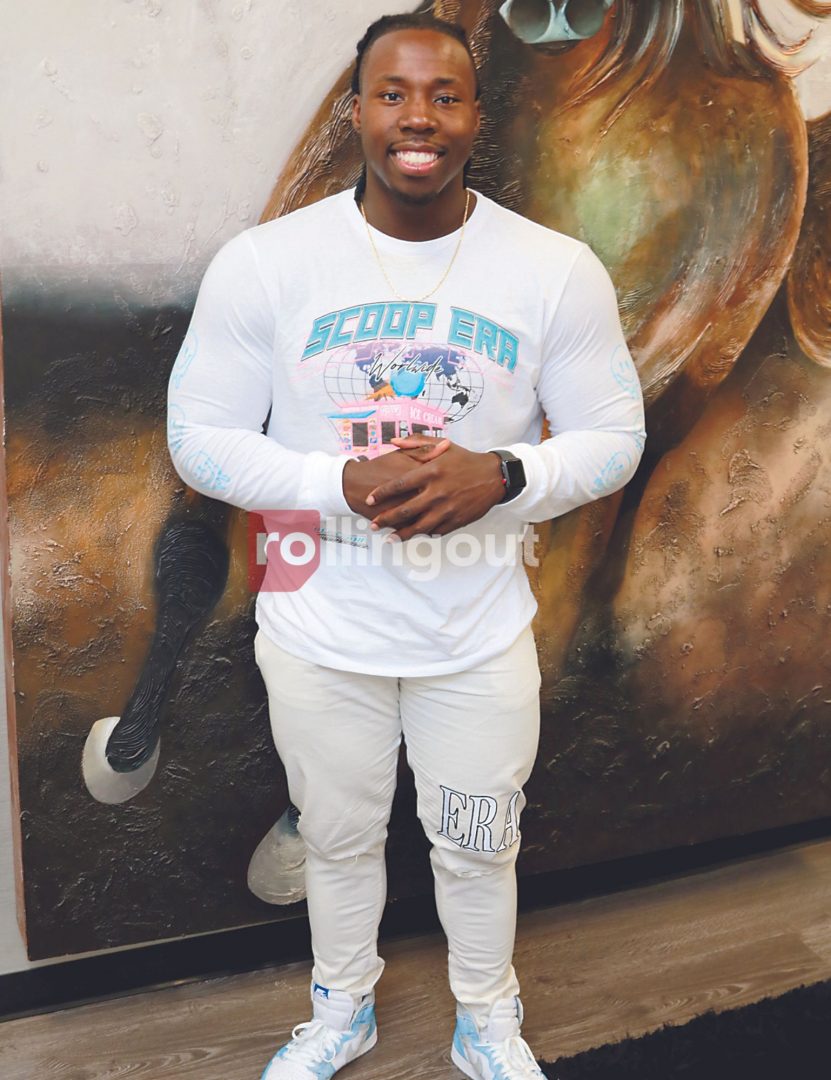 Who showed you it was OK to express your emotions and be yourself?
My brother Ken. In the beginning, I was always just hyperactive, and just like jumping in joy, but I used to be a little bit shy. I kind of just like built my way up to it, I was like, "You know what? You can't please everyone." You can't please everyone in the world, there's always gonna be one person that's not going to like you. As long as you love yourself, that's the only thing that matters, and that's what opened the gateway to me just not caring what anyone thinks and just doing me.
How freeing is it to not care?
It's amazing because people like to throw in that negative energy. It doesn't even faze me anymore, because I'm still gonna wake up smiling and just loving life.
When did the first video blow up?
The first video that blew up, it's so funny, because every person who approaches me thinks it's the one at Roscoe's, but there are a lot of other videos that went viral. The first video that went viral was the one in Dallas. I went there for the new year, and I went to the mall. There were a lot of kids, a lot of families there, a reindeer and some Christmas stuff. I was wearing a red shirt and [thought] it was a good vibe to just dance right there. [My friend] was like, "You won't,"  and I was like, "Come on, no comfort zone. Get the camera." There was this old White man in the back and he was just so amazed. He was like, "Wow, I've never seen anyone so swole move like that." So I thought that's cool, I'm going to post this tomorrow, I didn't think anything of it. It was literally the day after the new year. I woke up to messages telling me I was going viral on Twitter. I'm like, "Oh, yeah. Oh, cool. This is crazy." Now, Twitter takes off to YouTube to Facebook, and then Instagram.
Images courtesy of @iamcapturethenightproductions