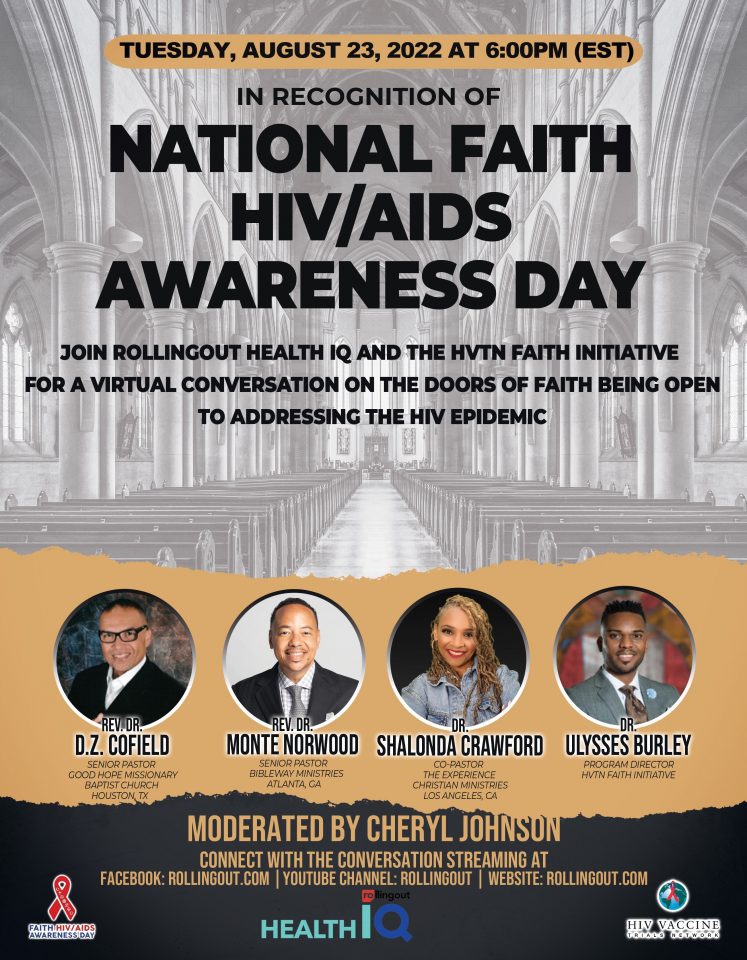 On Aug. 29, 2022, communities of faith will pause for a moment of reflection and engagement in recognition of National Faith HIV/AIDS Awareness Day. We are in a time of several colliding health crises that cut across all socioeconomic, race, gender and sexual barriers impacting Black and Brown people disproportionately. However, we have learned some lessons from the fight against COVID-19. Institutions of faith were called upon to expand their mission, providing trusted spaces for those with questions, needing compassion and support. If we are to combat HIV/AIDS, it is vital to leverage these same types of discussions and informed exchanges. As Dr. Ulysses Burley, program director for the HIV Vaccine Trials Network (HVTN) Faith Initiative reflects the division between the scientific and sacred community must be bridged. He strongly believes that "If we can end HIV in Black America, then we can end it in America."
Health IQ has partnered with the HVTN Faith Initiative to create a platform for faith leaders across the nation to provide insight and inspiration as to how they are combatting HIV/AIDS within their families of worship. This is the first of a series of discussions. We begin with a powerful panel composed of those who are on the frontline:
Rev. Monte Norwood of Bibleway Ministries in Atlanta has been in this fight for more than 40 years. As a young pastor, serving a church in Los Angeles he was asked to visit a man in the hospital who was not a member of his congregation. At that time, there was a great stigma around HIV/AIDS, but Rev. Norwood felt a calling. Providing testing and support is part of his church's ongoing commitment to the community. This is especially crucial because his ministry is based in SE Atlanta, home to some of the highest infection rates in the country.
Dr. Shalonda Crawford is the co-pastor of The Experience Christian Ministries in South Los Angeles, along with her husband, Pastor Shep Crawford. Known as Dr. Sunshine to many, she is also a practicing psychologist. Dr. Crawford is passionate about breaking barriers in the mental health and spiritual communities that she serves. She became invested in doing HIV/AIDS work from her personal experience of meeting people who are living with and managing HIV/AIDS.
Rev. D. Z. Cofield is the senior pastor of Good Hope Missionary Baptist Church in Houston. He lives in a state "known to be unfriendly to public health but which is in a public health crisis." Members of his congregation are part of a population of three million uninsured and underinsured. Today, his health and wellness ministry regularly screens for prostate and breast cancer, along with HIV/AIDS. He will share how he supports the growing population of newly infected heterosexual women ages 18-35 and young men who did not know how to tap into resources.
The facts are today there are 1.2 million people living with HIV/AIDS in the United States. Of the 40,000 new cases each year, half are diagnosed in Black same-gender-loving men. The rate of infection among Black women is also highly alarming. "HIV is still the deadliest pandemic," stresses Dr. Burley.
Join the conversation online: rollingout.com 6 p.m. EDT on Aug. 23.
Please take the following survey:  https://freeonlinesurveys.com/s/hvtnfaithsurvey
Resources: https://www.hiv.gov/events/awareness-days/faith