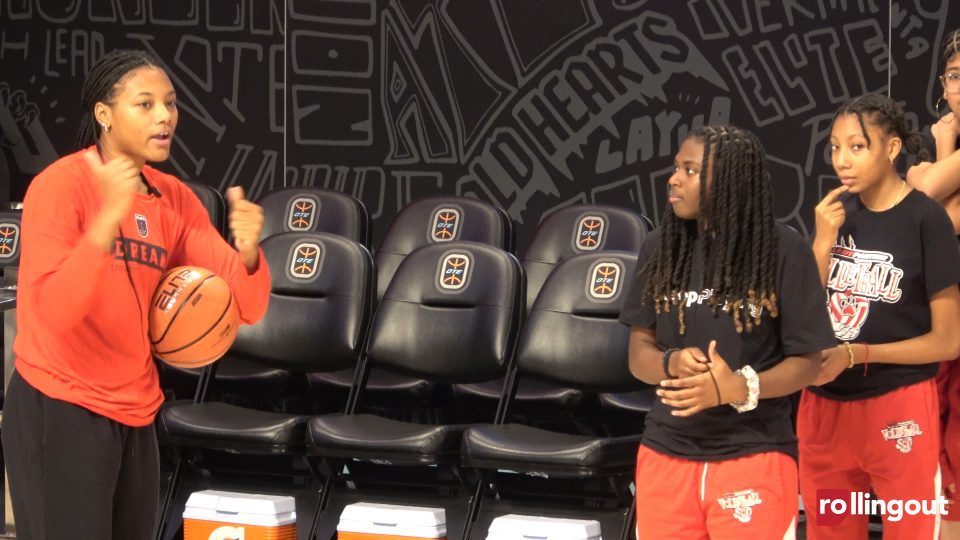 The Atlanta Dream, Delta Air Lines and the Women's Sports Foundation Athlete Ambassador Program hosted a basketball clinic for young girls on Dec. 13 at the Overtime Elite Arena in Midtown Atlanta. The program began with a panel that featured Dream head coach Tanisha Wright and former Atlanta Dream star Angel McCoughtry. Emmakate Young, Delta managing director, brand marketing, sponsorships and Olympics/Paralympics, pointed out how playing team sports at a young age translates to other parts of life, including leading peers in school and working with teams as professionals while on the job hunt.
After the event, rolling out spoke to McCoughtry and Wright about the festivities and the importance of keeping young women involved in athletics.
What is the impact of a clinic like this?
Tanisha Wright: I think it's important. The Women's Sports Foundation put on a great activity today. A great panel, we were able to learn, but most importantly, we were able to give back knowledge, sit, have [a] conversation, and hopefully, be impactful to young women as they move forward in their careers. Whatever that is, whether it's sports, boardrooms or wherever. Doing things like this is important because it's important to engage with the community.
Angel McCoughtry: I love stuff like this. I wish I had more things like this when I was a kid. Anytime I can extend my services to give back, that's what it's all about. We don't play basketball, for ourselves, it's a bigger cause.
Who encouraged you to continue to pursue basketball while growing up?
TW: There were a lot of reasons and a lot of opportunities for me to have a reason to continue to play. It was mostly just my situation and my love for the game. Those were different reasons that kept me going. I loved playing basketball. I had a vision that wasn't the life I wanted for myself growing up in the projects and different things like that. So, it was less about what person motivated me, and more about that inner drive, motivation and dreams I had as a kid.
One student from Brooklyn at the end of the Q-and-A asked you how you stay upbeat growing up in a situation with the odds stacked against you. What was your reaction when you heard a child ask you that?
TW: One, it was a great question. It's something that young people go through. So, for her to be able to voice that and ask, "How do you do it?" I think it's retrospect, right? Because young people are thinking about those different things. They're expressing we have these situations and we're in these situations. So, they want to know what they can do to make sure they get to the level I guess myself, Angel and Emmakate are on.
I think it was a great question, and it shows that young people are striving to do great things.