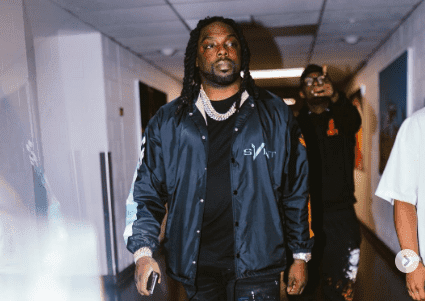 The issue of snitching and being a rat has become a hot topic in the world of hip-hop recently.
Two rap titans, Boosie and T.I., are volleying insults at each other over the issue of Tip revealing he snitched on his dead cousin to get out of a long prison stint regarding a gun charge.
And, as the YSL-Young Thug trial inches along at a tortoise's pace, old heads in the rap game are up in arms that several YSL members cooperated with prosecutors to get out of jail early and leave Thugger languishing and alienated in confinement.
Young Scooter is so aggrieved that multiple folks affiliated with YSL took plea deals that he wrote an inflammatory song about them that he will soon drop.
The Freebandz rapper teased a yet-to-be titled single in which he recalls a conversation he had with the embattled Young Thug while torching his close associates.
"I just talked to Spider, I can't call him Slime/ Half the Slimes told, yeah they dropping dimes/ Had to drop something for the hood cus the streets crying,"
Young Scooter blasts half of YSL for snitching in new song snippethttps://t.co/52WCdDsvQr pic.twitter.com/whfjeXVh58

— HipHopDX (@HipHopDX) February 21, 2023
This is not the first time that the 35-year-old Scooter, who was born in Walterboro, South Carolina, under the name Kenneth Edward Bailey, has broached this sensitive and triggering topic.
In January 2023, Scooter sarcastically mocked those who entered into agreements in the YSL RICO case to do a "rat" tour together.
"MOST YALL RAPPERS SHOULD GET WIT LIVE NATION AND DO A [rat emojis] TOUR," he penned on Twitter. 
The announcement of Scooter's upcoming single comes on the heels of footage that reportedly reveals that another rapper, YSL Woody, allegedly cooperated with authorities in its ongoing case against Young Thug back in 2021.
As some fans may recall, Scooter was one of the people who posted up at the Fulton County courthouse where the jury selection has been taking place to show support for Thugger.
"JUST LEFT COURT WIT [snake emoji] HE GONE BE HOME BEFORE SUMMER," Scooter wrote on Twitter before tagging Trae Tha Truth, who added in his own post: "Me and @youngscooter Pulled Up To Court To Support @thuggerthugger1 … Real Ones Need To Stand By Him… He Need Real Luv… Salute!!"
Scooter also posted about Thug on his IG Stories saying: "Been at every court date wit u know Im always wit u bra even when u think the world against u."