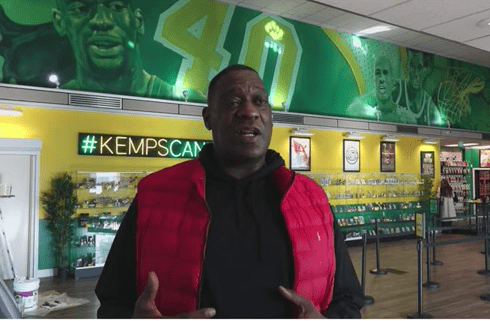 Shawn Kemp, the freakishly athletic dunker who became one of the most beloved players in Seattle Supersonics history, was arrested in Washington state on suspicion of a drive-by shooting.
The 53-year-old was booked into the Pierce County Jail after he was apprehended by police in Tacoma, Washington, a 35-mile drive south of Seattle. Police believe the six-time NBA All-Star fired several shots at another vehicle at the Tacoma Mall at approximately 2 p.m. on Wednesday, March 8, 2023. News station Fox13 reported that the shots were fired from a moving car in the parking area.
There were no reported injuries as the other vehicle managed to flee the scene. There is no information yet on whom the alleged target was or why it was being shot at as of Wednesday evening.
Kemp was reportedly located at the mall and Tacoma cops eventually recovered a handgun. Kemp was booked into the jail at around 6 p.m. Tacoma officers have yet to respond to multiple media inquiries on what could have precipitated the shooting and why they are convinced that Kemp was the triggerman.
Kemp quickly became one of the NBA's biggest box office attractions shortly after he was picked up in the first round of the 1989 NBA Draft by the now-defunct Seattle Sonics franchise. His authoritative dunks and surprising nimbleness for a 6-10 power forward, combined with the defensive prowess of fellow legend Gay "The Glove" Payton, made them one of the top duos in the league.
Payton and Kemp eventually made the 1996 NBA Finals where they were vanquished by Michael Jordan and the Chicago Bulls in six games. Kemp retired following the 2002-03 season.
The other matters that made Kemp famous and infamous were his significant weight gain after retirement and the fact that he reportedly fathered seven children with six different women during his playing days.
Kemp, who has a few police busts for drug usage, opened a cannabis dispensary called Shawn Kemp's Cannabis in the Belltown section of Seattle in 2020. According to the news outlet, Kemp opened a second one in 2023.