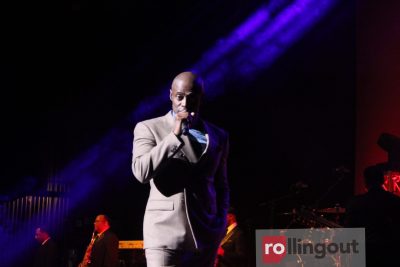 Just a little over 20 years ago, four-time Grammy-nominated R&B singer and songwriter Kem was a homeless drug addict living on the streets of Detroit.  The rags-to riches star has released a raw memoir, Share My Life: A Journey of Love, Faith, and Redemption, which recounts his rocky journey from self-destructive behavior to professional acclaim as a recording artist on the iconic Motown label he signed with 20 years ago.
Kem spoke with rolling out about the book, his upcoming album, and how faith, love and hope redeemed him.
What inspired you to write this book?
It is an exciting time with my first venture into writing a book. It's always been important for me to share my story. I share bits and pieces of my story from the stage and I share pieces of my story in the music. And that's who we are, we all have stories to tell. Some of the most significant moments of my life, some of the most transforming moments of my life, and some of the most healing moments of my life have been the result of somebody sharing their story with me. I'm a firm believer that what comes from the heart speaks to the heart and I hope that the language of my heart will reach somebody and help them to become better versions of themselves.
How does it feel to share your story in a book instead of a song?
The book is the perfect opportunity to expound on all that has transpired throughout my life, and of course, I can't put it all into a book. But I took an opportunity to expound on some of the topics that I've been talking about through my music and from the stage for years. I'm talking about addiction, relationships, my children, interracial dating, depression, and mental health issues. I'm delving into the backdrop of my life and giving the reader a peek behind the curtain of who Kem is, not only as an artist but as a man.
What do faith, love and redemption mean to you?
Love is everything. Faith is everything. Redemption is something that we're all striving for. That is something that we all need, but all three of those things are something that we all need to become better versions of ourselves.
How does sharing one's personal story of trials and tribulations help with healing?
Sharing your story and sharing your experiences with another human being, it not only has the potential to help them, but it helps you too. Carrying this message of love is the most important thing that I do. It's an act of service and one that I'm grateful to have the opportunity to engage in.