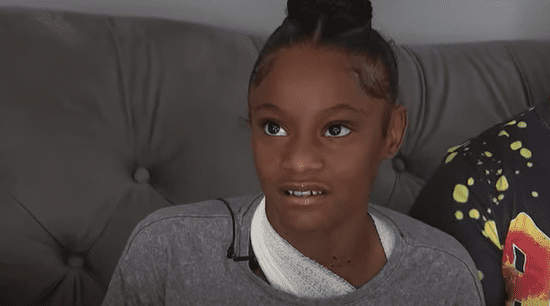 A 12-year-old girl has been charged with two felonies after she threw a bottle of acid on an 11-year-old following an argument on a Detroit school playground.
The 11-year-old victim, Deaira Summers, and her family explained to NBC affiliate WDIV that the unnamed 12-year-old female suspect was involved in an argument with Deaira's cousin on July 9, 2023, while Deaira and her cousins were playing at Vernor Elementary School. 
Initially, Deaira and her cousin left following the verbal and physical altercation. But when Deaira returned to the playground to get her purse, that is when the 12-year-old reportedly threw the acid on her, which she allegedly obtained from her parents.
Deaira suffered second and third-degree burns over much of her body that required a weeklong stay in the hospital. The girl now has trouble walking.
Dominique Summers, Deaira's mother, told Fox 2 Detroit that she was horrified when she saw that smoke was coming off her daughter's body "from head to toe."
"Holes were coming in her clothes," Dominique Summers said. "From there, Deaira was rushed to a hospital with severe burns. After the checkup, she learned she had second and third-degree burns running down her back."
Wayne County prosecutor Kym Worthy charged the 12-year-old with one count of assault with intent to do great bodily harm and one count of felonious assault. She was released on $10K bond and is forced to wear an ankle monitor and told to stay away from Deaira. 
The suspect will return to court on July 18.
"This is an extremely troubling set of allegations," Worthy said, according to Fox 2 Detroit. "Instant horrible decision-making can have lifelong effects on others. There is no excuse for this."
The mother believes her daughter is going to suffer permanent psychological and physical scarring from this heinous crime.
"It is going to scar her for life," Dominique Summers told the Detroit Free Press. "It was a traumatizing event that took place, and she's going to remember this the rest of her life."
The family started a GoFundMe to offset the mounting medical bills and to continue Deaira's long-term treatment.