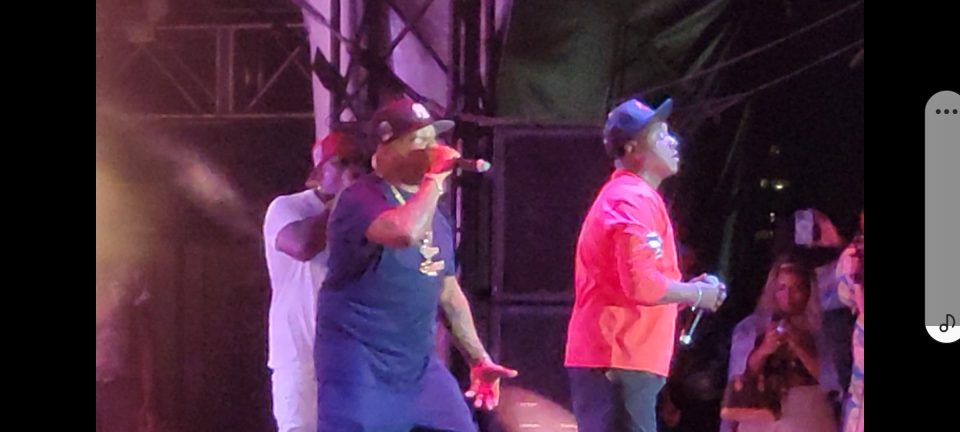 Amazon Music closed out its "50 & Forever" series, which celebrated the 50th anniversary of the genre, with some of the top hip-hop voices to come out of the northeast over the past three decades. Jadakiss, Styles P and Sheek Louch, collectively known as The Lox not only performed many of their most popular album cuts, but they also performed some of their most memorable features, collaborations, freestyles, and solo songs in a set of that ran over an hour.
The Lox opened the show, which took place on the Rooftop at Pier 17 in lower Manhattan in New York City, with the hip-hop anthem "Money, Power, Respect" from their 1998 debut album of the same name, followed by "All for The Love," the Jadakiss solo song from the album of the same name.
The trio also performed "Wild Out" "F— You," and "Ride or Die B—-" off of the second album, We Are The Streets that was released in 2000.
The group also performed some of their most popular features, including "It's All About the Benjamin," "Banned from TV," "24 Hours to Live," "N—– Done Started Something" and "Come Thru."
Finally, the group performed their many solo hits, including "Good Times" by Styles P, "Good Love" by Sheek Louch, "By Your Side" by Jadakiss, and "We Gon Make It" by Jadakiss featuring Styles P. The crowd was well-versed in the music of the group, as much of the crowd was reciting the lyrics throughout the show.
Redman and Method Man also performed many of their solo hits as well as their collaborations together during their 40-minute set that preceded The Lox.
One of the most fun-loving duos in hip-hop history, Redman performed "Time 4 Sum Aksion," "Tonight's da Night" and "Da Goodness," while Method Man performed "Bring the Pain," "I'll Be There for You/You're All I Need to Get By" and "Method Man." The duo also performed their collaborative hits "How High," "Da Rockwilder," and their verses from the LL Cool J hit "5, 4, 3, 2, 1."
It was a joyous end to the Amazon Music series that previously featured Rick Ross, Wale, and a reunion of Pusha T and his brother Malice, collectively known as The Clipse. The tickets were sold for $10 too, which was a great bargain.