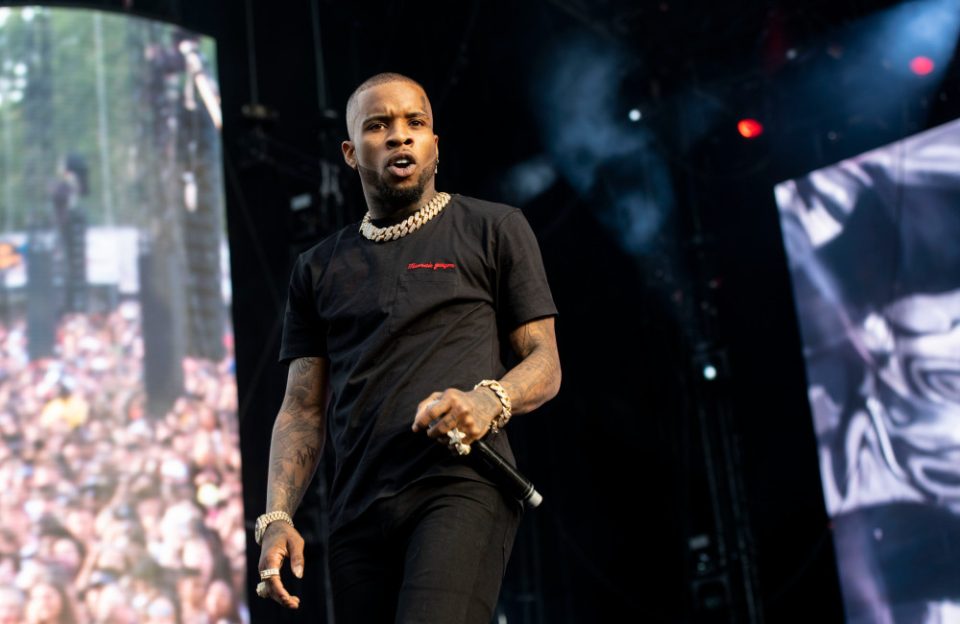 Tory Lanez has been denied bail as he attempts to appeal his conviction for shooting Megan Thee Stallion.
The 31-year-old rapper — whose real name is Daystar Peterson — was sentenced to 10 years behind bars after being convicted of first-degree assault, discharge of a firearm with gross negligence and having a concealed and unregistered firearm in a vehicle in relation to the 2020 incident -— and his lawyers asked a judge in Los Angeles to release the star on bond while he fights the verdict.
However, TMZ.com reports Lanez's request to live with his wife and son while the appeal goes through the courts was denied at a hearing on Thursday, Sept. 14 — meaning he will have to stay behind bars.
The judge's reasons for turning down the request included noting that the star was convicted of a violent offense and has a history of violating court orders, and he's also a Canadian citizen. Lanez's lawyers argued the star is in America on an active work visa and has no reason to go back to Canada, but bail was still denied.
After his conviction, the rapper shared a statement on Instagram declaring his intention to fight the verdict and win his freedom back. He also refused to apologize to Megan over the incident.
In his statement, he wrote: "I have never let a hard time intimidate me. I will never never let no jail time eliminate me. Regardless of how they try to spin my words, I have always maintained my innocence and I always will. This week in court, I took responsibility for all verbal and intimate moments that I shared with the parties involved … That's it. In no way shape or form was I apologizing for the charges I'm being wrongfully convicted of. I remain on the stance that I refuse to apologize for something that I did not do."
The "Say It" hitmaker added: "I've faced adversity my whole life and every time it looked like I would lose, I came out on top. This is nothing but another moment where my back is against the wall and I refuse to stop fighting till [I] come out victorious. Tough times don't last, tough people do. To my family, friends and umbrellas, thank you for your continued support. See you soon."