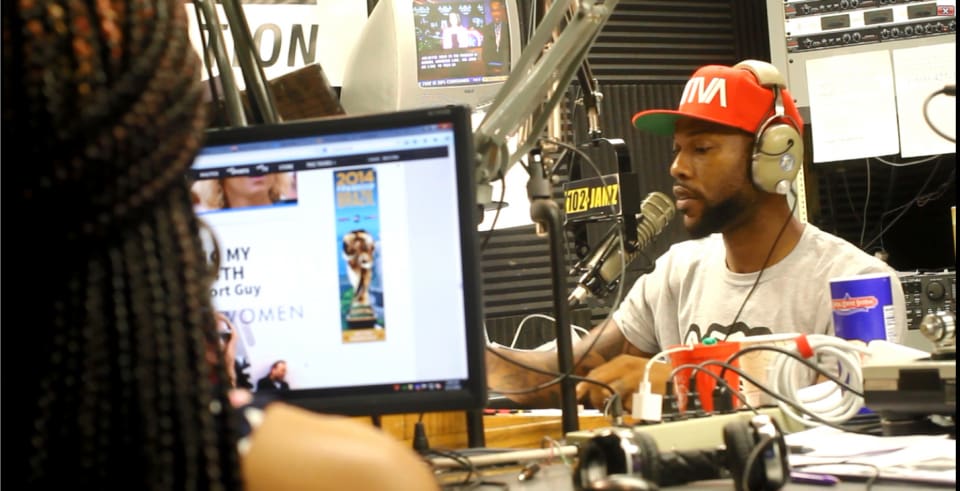 The Central Intercollegiate Athletic Association (CIAA) is a collegiate athletic conference that consists mostly of historically Black colleges and universities and also provides support to its students and student-athletes in the form of internships, jobs and scholarship opportunities through partners like Food Lion and Coca-Cola.
Meet Brian McLaughlin, also known as B-Daht, a recipient of the benefits of the CIAA's support. We talked with McLaughlin to discuss the CIAA's impact on his life and how it has shaped him into the successful individual and professional he is today. He's accomplished so many things, and attributes the CIAA's support to many of them while he was at Winston Salem-State University.
Currently, McLaughlin is a radio personality and lead host of the No. 1 hip-hop morning show in the North Carolina triad, an in-arena host for the Greensboro Swarm (an NBA Development League team), co-founder and resident comedian of the Freestyle Funny Comedy Show (FFCS), a comedy troupe that performs stand-up and improve on comedy club and college stages across the U.S. He can also be seen on MTV as an actor and comedian that was featured on Nick Cannon 's "Wild 'N Out" (seasons six, seven and eight), as well as "Catfish: The TV Show." In addition to his entertainment career, McLaughlin is also a philanthropist, and he sponsors family fun events, volunteers at elementary and middle schools as a motivational speaker and also lends his celebrity in the community by participating in local charity events and food drives. Read on to find out how the CIAA played a major role in helping McLaughlin shape his personal and professional life.
Talk about the impact WSSU and the CIAA has had on you personally and professionally, whether it is lessons taught, skills learned, wisdom gained, opportunities provided, etc.
Professionally, it's given me the opportunity to interact confidently with thousands of people. I got my start with my social experience on-campus, hosting parties and campus shows. From there, I built my network through the university and conference, and this opened doors for me to host and entertain thousands of people during CIAA and homecoming events, as well as helped increase the attendance at The Freestyle Funny Comedy Show (FFCS) events. Actually, I met one of the guys who's in The FFCS group with me and who I've stood with on MTV shows, through WSSU.
The camaraderie that takes place during CIAA is tough to match. It's especially super exciting for me because my alma mater (WSSU) is one of the most popular of CIAA schools with a strong fan-base that travels, so I get chills seeing so much red.
I've really taken WSSU's motto of "enter to learn, depart to serve" to heart and have implemented it in so many ways. Because of how much it was instilled in us as students, part of the driving force behind what myself and many other alumni do, from a philanthropic, professional, and personal perspective, comes from this mantra.
What are some opportunities The CIAA provides to its member schools, including WSSU, and its students (scholarships, opportunities, networking, etc.)?
Networking is huge! Because of social media, you can talk to so many different people and meet them through social channels off of using a hashtag like #WSSU or #Rams. From there, you can see their profile and learn more about what they do professionally. This could spark a conversation or meet-up, which could turn into an internship, job opportunity, or referral for one or the other. For example, if you meet a CIAA alum through a social platform, find out they'll be at homecoming or the CIAA tourney, connect with them and plan to meet up at one of the events, you could potentially advance your career through 140 characters.
What impact do you think The CIAA or WSSU has on the community?
The CIAA consistently has a huge financial impact on the City of Charlotte during basketball tournament week and for obvious reasons. The majority of its schools are within a 100 mile radius of the Queen City, and many alumni still live close by. This naturally attracts a record number of attendees, which further impacts the community because children and teenagers see this congregation of people in their respective school  "naila" (paraphernalia)- congregating, interacting, having fun, and they're exposed to names like Winston-Salem State University, Johnson C. Smith University, Fayetteville State University, etc.
It's a dope vantage point for them to see and [it] strengthens their belief that they, too, can go to college, and that pursuing higher education, namely at a historically black college and university (HBCU),  can be a fun experience. Although it's not only about fun, that aspect is an attention grabber for a kid.
The conference also encourages its schools [to be]active in their own communities, as well. I know early in 2016, Winston-Salem State University opened an on-campus food pantry to assist those students who were in need. One of the CIAA sponsors, Food Lion, donated about $3,000 worth of food.
Why is it important to support the CIAA?
It's the hub of its 12 member institutions, so if we want our legacy to continue and, in particular, student-athletes to be afforded the opportunities they have, we must invest. The CIAA is also home and we, as alumni, can't go harder supporting other conferences (ACC, SEC, etc.) without taking care of home, as well. We buy t-shirts, game tickets, and attend tournaments for other conferences, so when it's the home team playing, we should show the same energy, if not more. There are so many ways to support the CIAA, too. By attending the games, we bring the energy to both the Bojangles Coliseum and Spectrum Center (formerly Time Warner Cable Arena), so the students know we're behind them 100% and value what they bring to the conference as students first, then athletes.
Volunteering at your institution is important as well. Programs love when alumni volunteer to go back and speak to current students and help them hear, from another perspective, why what they're learning is valuable, how it relates to the working world, and mistakes to avoid. It's on us to help our institutions in their efforts to produce successful graduates. I'd also add the value of helping fellow CIAA students. For example, I promote the internships we have at 102 Jamz and help them by passing their information along. I've even bridged some to other opportunities within my field of mass communication. Sometimes, they need us to be that voice for them, get their resume in the door, so they can shine and do the rest to secure the internship.
What are some things you're working on?
I'm [currently] preparing to fly to L.A. to film for a James Davis Project series that will air on Comedy Central soon.