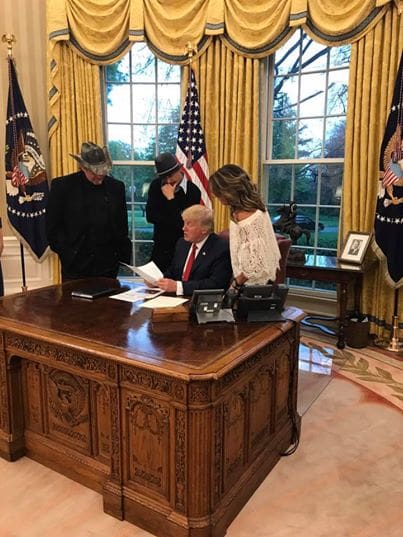 Kid Rock, Sarah Palin and Ted Nugent went to the White House for dinner with President Donald Trump on Wednesday night. There was swift blasting of the trio when they took a picture in front of a portrait of former first lady and Secretary of state Hillary Clinton.
It's hard to believe now that Kid Rock, 46, was actually honored during the "Motown 50" celebration in Detroit — and performed alongside all-time great Stevie Wonder onstage, to boot — in November of 2009.
The three White House visitors posed in front of the former first lady and secretary of state, with Palin, 53, giving the look of approval and Nugent, 68, giving a thumbs-up.
There is talk swirling about the nation's Capitol that Palin is being strongly considered for a major position within the Trump administration, thus the reason for the visit and her two companions.
After the visit, Joy Behar tore into the ultra-conservative right wingers on "The View," saying, "Is this the saddest day in in the history of the White House since the British burned it to the ground in 1814?"
Behar took particular umbrage that three of them posed mockingly in front of Clinton's portrait, which she viewed as infantile and classless since Clinton lost the presidential election handily in the electoral college, though she won decisively in the general election.
"They're sore winners," Behar said. "It's like, 'OK, so shut up now.'"
Others reacted video Twitter:
Sarah Palin, Kid Rock, Ted Nugent and Donald Trump in a photo together.

Rednecks Last Supper. pic.twitter.com/6IdyZIvDUC

— Started Tweeting (@StartedTweeting) April 20, 2017
Ted nugent, kid rock and Sarah palin visit the WH. pic.twitter.com/7y0S5Hzfnb

— desmodromic (@Cooperisherenow) April 20, 2017
And nothing says Sarah Palin like bringing Ted Nugent and Kid Rock with you to the White House. Ted once called for Obama to be hung. pic.twitter.com/f5Kj5lU8qv

— Yashar (@yashar) April 20, 2017
See the video of Behar, after the break.