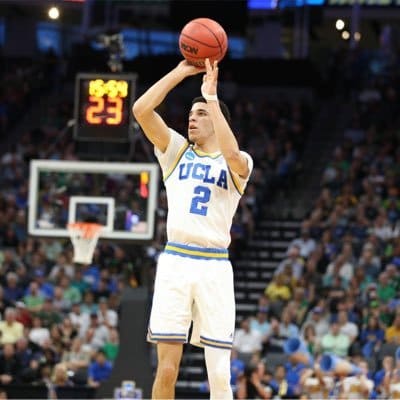 The dream is almost complete. The son of basketball's most popular topic this year is in prime position to end up with one of the NBA's most popular franchises.
"Oh, he's going to be a Laker," Lonzo's father, LaVar Ball, said before the lottery in an ESPN interview. "I'm going to keep talking about it until it happens."
UCLA guard Lonzo Ball is a projected top two pick and to multiple projections and scouting reports, Washington guard Markelle Fultz is expected to be drafted first by the Boston Celtics.
"Imma go with Lakers," Lonzo said in an interview last month when asked would he rather be in Los Angeles or the No. 1 pick. "I'm a family dude. All my family's in L.A. So, to be able to play in front of them, that would mean more to me."
The Ball family constantly dominates the headlines and to have Lonzo stay near the Big Baller Brand headquarters; playing for Kobe Bryant and Magic Johnson's team is the perfect fit for him. Many critics of LaVar remain skeptical if they want to bring all of the attention Lonzo's father brings to a perspective team.
"I think what you're drafting is the son and not the father," Lakers president of basketball operation Johnson said during the NBA Draft Combine last week."I think that you're also gazing and evaluating his son on his ability and what he can do. Not only on the basketball court but also what he can do for your team and how he can enhance and make your team better. If we're fortunate to keep our pick, wherever that is, then you take a look at him. Just like any other team in the top four or five would take a look at him."
Team management, Lonzo and his family all appear to be ready for this selection to happen. Lonzo going No. 2 to the Lakers is probably the best fit for a top draft prospect since LeBron James went No. 1 overall to his hometown Cleveland Cavaliers in 2003.