<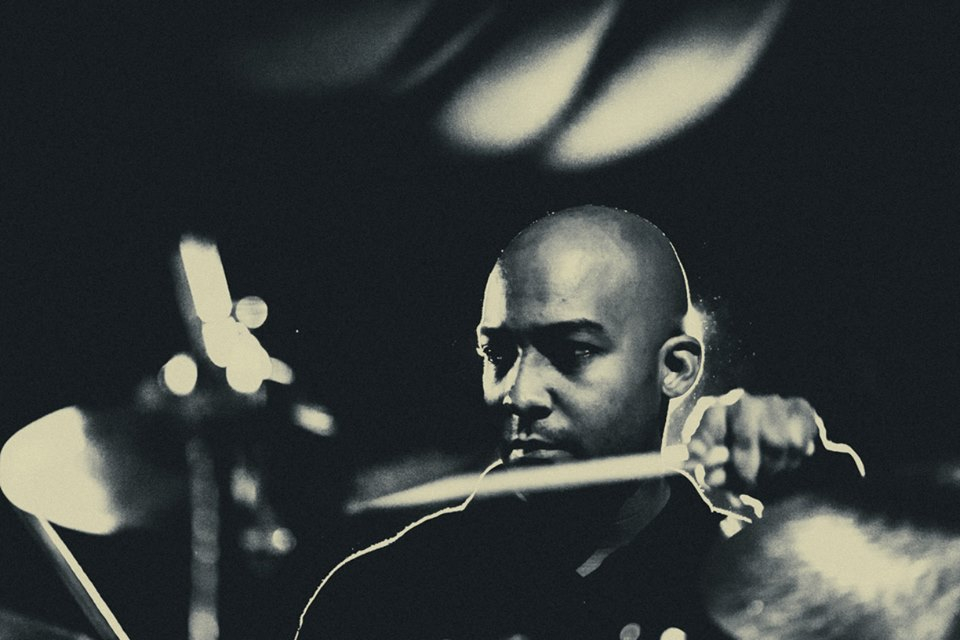 How did you get started playing drums?
I'm from New Orleans which is very cultural and rich in music. My grandfather was a drummer, and my father is a drummer. My father gave me my first pair of drumsticks and began teaching me my rudiments at age four.
Who are some of the drummers that have inspired you?
I've been inspired by many great drummers over the years. I have been blessed to have learned from James Black, Herlin Riley, Lewis Nash, Billy Kilson and other great drummers in the generation before me. My favorite legendary drummers are Max Roach, Art Blakey, Jimmy Cobb and Elvin Jones.
At what point did you realize that you could play drums professionally?
I attended a prestigious art school in New Orleans called the New Orleans Center for Creative Arts. It was there that I played my first gigs and started my music career. Believing that you can be great at anything starts with support from home and your instructors. I knew that I could be a professional drummer before I graduated high school.
Tell us about your education and training.
Well, after I graduated from NOCCA I went on to attend Berklee College of Music in Boston. I was awarded a full four-year scholarship called the Presidential Scholarship to attend Berklee.
Who are some of your more notable artists you have worked with?
My first tour was the great New Orleans trumpeter Terence Blanchard in 1992. From there I went on to perform with Marcus Roberts, The Lincoln Center Jazz Orchestra, Wynton Marsalis, Dianne Reeves, Nicholas Payton, Harry Connick, Jr, Nnenna Freelon, The New Orleans Jazz Orchestra, Dee Dee Bridgewater and many others.
What kind of workshops or clinics have you done with the youth?
I have done many things in music education over the years. I taught at my former school NOCCA for a few years, and I've done many workshops and clinics for students all over the world. I was Artist in Residence at the University of Texas-Arlington for six years, where I have a scholarship in my name, and I started a drum line in Fort Worth, Texas a few years ago that is still going.
What about your style separates you from other drummers?
I'm a versatile drummer. My foundation is that of a New Orleans drummer, but I can play many styles efficiently. I also think one of my strengths is that I can learn music quickly and adapt to situations. It is very important to understand what is required of you as a drummer and to be able to support the rest of the band.
What are your favorite drums to play and why?
I am exclusive with Zildjian Cymbals, Remo Drum Heads and Innovative Percussion. I like many drum brands but Yamaha has always been my favorite. Yamaha has always lead in innovation and quality. Their drums are versatile and easy to tune.
What has been the most challenging component of being an entrepreneur?
Two of the biggest challenges for any entrepreneur is drive and motivation. When you own a business you are responsible for generating business. You have to be a self-motivator. Being knowledgeable about what you bring to the marketplace and who your competition is, is important. Also to be successful you have to surround yourself with people that are experts in their fields.
Tell us about some of your honors and awards you have received.
I received two Grammy nominations with Nicholas Payton and one Grammy win with the New Orleans Jazz Orchestra. I was inducted into Phi Kappa Phi organization as a lifetime member, New Orleans People of the year, and three Fort Worth Weekly Music Awards for Best Jazz Musician.
Where do you see yourself in the next five years?
I see myself producing and creating more opportunities for musicians. Quincy Jones is a person that has influenced me greatly over the last few years so my focus has shifted a bit. I feel that the music business lacks educated musicians to lead us in the right direction. The art should be controlled by the artists.