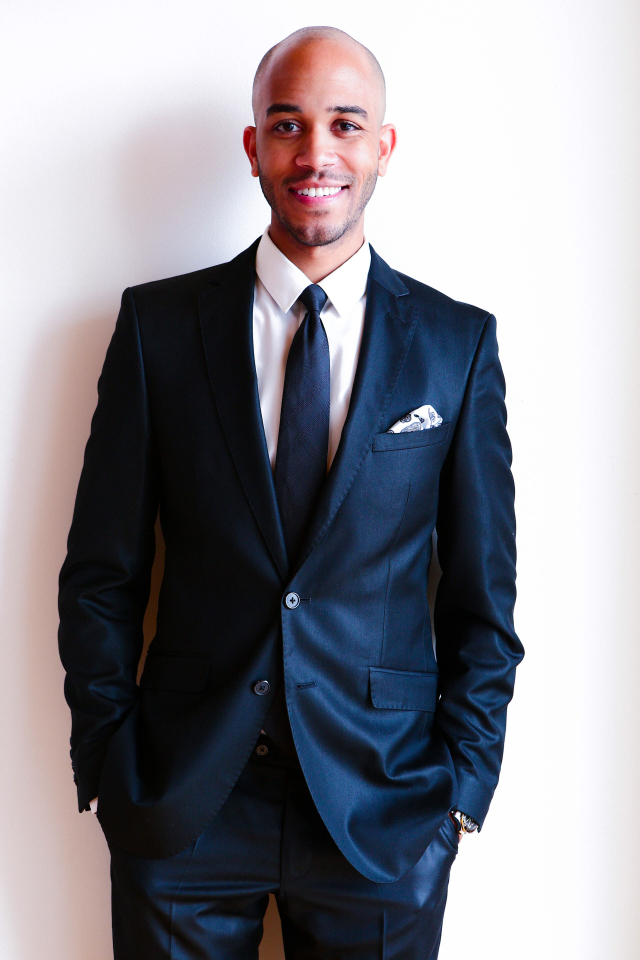 Jerrund "Jay" Wilkerson II, president and founder of Wilkerson Management Group, has always had an entrepreneurial spirit. He remembers, "I used to sketch what my future office would look like one day, way back when I was in middle school. I think the thing that ultimately inspired me though was working a corporate job for five-plus years. Despite thriving in my position as one of the top performers in the country, I did not feel challenged and realized that my talents like building relationships and thinking outside the box to reach people effectively were not being used or even considered many times. Additionally, I saw a need and a lane to fulfill it. The need coupled with my vision, led me to start Wilkerson Management Group (WMG)."
Having earned his bachelors degree at Florida A&M University in Tallahassee, Florida, majoring in business administration with an emphasis on sports management and marketing, led him to manage speakers, authors, and personalities/influencers.
"We are strategists. We see the bigger picture and work with our clients to get them to the next level and beyond. In addition, we help individual brands and organizations with branding and marketing initiatives. Since the majority of our clients are speakers, we make a concentrated effort to get them exposure through our speaker's bureau, which allows them expand their voice and reach across a plethora of speaking platforms," he explains.
Here, Wilkerson shares why WMG expanded its territory and nailing a perfect client.
What inspired the move to New York City?
New York City seemed like the right place to grow our business. With our roots placed firmly in Atlanta, we thought that it was time to build, not only our brand, but our reach, as well. New York is a city that has a variety of potential clients but more importantly, it is home to a large number of businesses and brands that we either already work with or aspire to work with in the near future. We are excited to take New York by storm.
What makes for a good/compatible client?
I think the best clients are self-starters and great communicators. We like to collaborate with our clients on the creative process to make our campaigns more effective. We work hard for our clients and when they can match that effort for themselves, it almost always translates into success for the client.
What advice do you have for someone who wants to be an entrepreneur?
The best advice I can give someone who wants to be an entrepreneur is to stay the course and continually build your network. Inevitably, there will be ups and downs but if you believe in what you're doing, you have to keep pushing even if no one else can see your vision. You also have to remember the power of your network. The adage "It's not who you know, but who knows you" is cliché but it's so accurate. Despite what many may think, it's going to take collaboration with others to get to where you truly want to be and without building and cultivating relationships, it's almost impossible.
What has been the most challenging aspect of being an entrepreneur?
I think the most challenging aspect of being an entrepreneur is time management. There are so many sacrifices that have to be made in order to get to where you want to be. One of the biggest things that suffers are relationships with friends and family who don't always understand the "grind" and may take it personal when you aren't as accessible as you used to be. You just have to keep in mind that you are doing this for a reason and it will all pay off.
Tell us about your most proud moment in business.
My most proud moment in business would have to be when I was able to agree to terms with my client Molly Fletcher. Molly, referred to as the "Female Jerry Maguire," is a retired sports agent who gave me my first chance at what I thought I wanted to originally be, which was a sports agent. Molly was my boss in 2007 at Career Sports & Entertainment (CSE) in Atlanta. Now, to see things come full circle and be able to represent her 10 years later as a part of my own firm, is a pretty cool feeling and achievement.
How can people learn more about your business and follow you on social media?
You can learn more about Wilkerson Management Group on our website (www.wilkersonmg.com) and on my personal Instagram page @mr_wilkerson.
Where would you like to see your business in the next five years?
In the next five years, we expect to be an authority in the speaker and management industry, having offices in Atlanta, New York and Los Angeles.