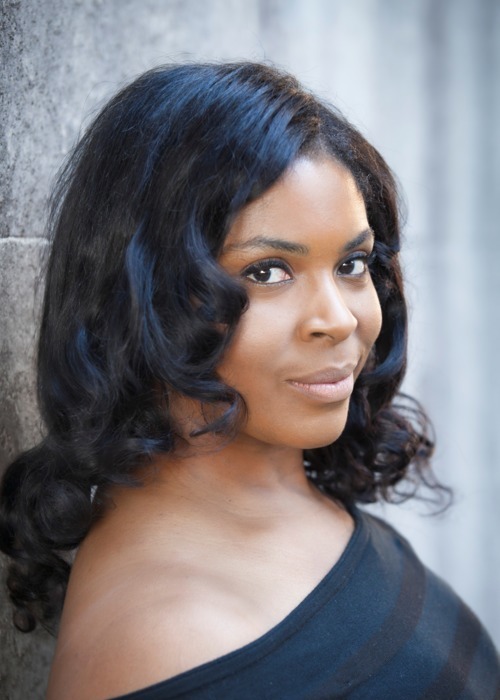 On Aug. 11, Jwaundace Candece premiered as Shaundra in the new Netflix film Naked starring Marlon Wayans and Regina Hall. The Birmingham, Alabama native breaks the mold and has made a name for herself as a powerhouse stunt artist, actress and a badass woman of color.
She moved to Los Angeles in 2000 to pursue a career in acting. There, she auditioned alongside thousands of women for the TV Series "WOW (Women of Wrestling)," and went on to land a role as Delta Lotta Pain, a member of the tag team Caged Heat. A fan favorite on the show, Candece sprung full-force into stunt work, earning over 100 stunt credits in film and television. She made her first major stunt debut as the stunt double for Queen Latifah in Bringing Down the House (2003), and has doubled for the actress numerous times since, including Girls Trip (2017).
Candece's other credits include Mrs. Camille Thompson, mother to Omar Epps' character in ABC's "Resurrection" (2014) and the featured role of JaQuandae in Let's Be Cops (2014), starring Jake Johnson and Damon Wayans, Jr.
Here, you can learn more about Jwaundace Candece.
Tell us about your latest character.
My character, Shaundra, from the Netflix Original Naked is a tough biker chick who is also the girlfriend to Drill, played by Cory Hardrict. She's a no-nonsense, tell it like it is type of girl. The kind of chick who can ride with the boys and fit right in … right up my alley.
How did you prepare for the role?
It wasn't too hard for me to prepare for this role because I ride motorcycles all the time, and riding them automatically makes me feel tough. I make it a point to constantly be training in both stunts and acting to keep up my craft, so I stay ready. The hardest part was that I wasn't prepared to keep a straight face while Marlon Wayans was doing his shenanigans.
What is your favorite line or scene?
My favorite line for Shaundra is, "I think she go' kick his ass messing up that first dance!" It's one of those lines that just makes being an actor so fun. Watching the film, my favorite scene was Marlon waking up naked in that elevator every time. That must be the worst but funniest nightmare ever.
What's it like working with the actors on the set? Did you make new friends?
Working on set and being surrounded by actors I look up to was a dream. Everybody from the cast and crew of Naked was nothing short of amazing. I built some great relationships and received a lot of awesome advice and wisdom about the business from Marlon and the cast. I had such a blast hanging with Minka, Cory and Neil who kept me laughing all night long.
What can the audience expect?
The audience can expect to see Marlon's fine naked body like they have never seen before. They can expect to be touched by some beautiful moments in the film…. and then, they need to be ready laugh their clothes off.
What is your film, TV or stage background?
I started off doing theater in middle school and continued working on stage in college. Upon my move to Los Angeles in 2000, I began my transition to film by taking classes and performing in student projects. I ended up auditioning that year for WOW (Women of Wrestling), and falling in love with stunts after being cast. I was a tumbler in gymnastics growing up, and working on that show I realized how much I love combining acting with challenging physicality. Taking big risks and stepping outside my comfort zone is so exciting to me. I haven't stopped since. I fight, crash cars, ride motorcycles, get set on fire…everything from getting blown out of a burning house and crashing on the ground to speeding through traffic and busting through signs and trash cans. It's a blast.
What else are you good at creatively, in addition to acting?
I've always loved writing, and recently I've started working on an autobiography. I think taking the time to cultivate that craft has been such an asset to my acting. Stunts are another creative outlet for me. Getting to express the edgier side of myself feeds me a lot creatively.
Which do you enjoy most?
Between acting, stunt work, and writing, I don't know that I would be able to choose a favorite. As much as the three cross-over, they all have such different dynamics. If I absolutely had to choose, though, acting would win out I think. Of all my passions, it allows me to be the most creative. But I'll happily continue doing them all.
What was the last film/TV show you saw that you didn't act in and thought, now that was good? Why?
I must name at least two movies: Wonder Woman and Girls Trip. I felt so empowered watching the first, and no movie has made me laugh harder than the second. Both films made me feel so proud to be a woman.
How you do spend your day when you're not shooting?
When I'm not shooting, I spend as much time as I can with my son. He is such a blessing to me. Being a mom has really given me new eyes when it comes to kids. I think they represent the hope of this world. So when I'm not on set, I volunteer at his school, teaching reading, and support organizations like Hope House, Saint Jude, and Saint Luke Hospital. I've been very fortunate the past few years, and I'm thankful for the opportunity to be in a position to pay that forward.
Who are the gurus in your life?
The most influential people in my life are the everyday people, friends and the inspiring strangers [with whom] I cross paths. Those people are endless and have made an incredible impact on me. There's a couple women I've enjoyed friendship with for over 20 years, and they continue to speak love and wisdom into my life. On a larger scale, Oprah has been a huge inspiration. To me, she represents strength and the ability to overcome anything you set your mind to. Her ability to push past diversity and adversity has been a big example to me, a reminder that life doesn't have to be just the cards you were dealt.
What's next on the horizon?
I have a few projects brewing, some I can't name, but most recently I was in a Nicholas Cage film that premiered this past month. Growing up I was a big fan of his, so getting the chance to act in his newest movie Vengeance: A Love Story was an honor for me. In terms of stunts, you can catch me as a boxer in the upcoming movie I, Tonya!
Are you happy with the kind of roles you are getting?
I am happy with the roles I am getting. They all challenge me to be different from who I am, to go out of my comfort zone. I'm always looking for those edgy, abnormal, mentally challenging roles because I love daring to uncover the darkness beneath the surface. Exploring all of that is what makes acting such a lifelong challenge that never gets old. I love that.
According to you, what is the highlight of the film/TV show?
My favorite part about Naked was that it's such a feel good movie. It's a reminder that despite the chaos on life, love still exists. Even when there are obstacles, if you work to overcome them, you can still have that happy ending.