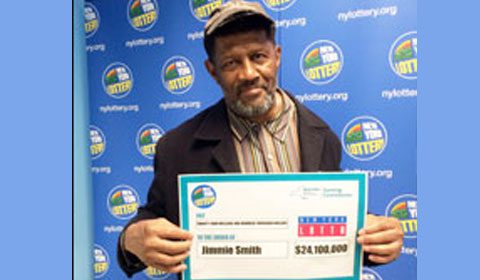 A man from the city of East Orange, New Jersey is celebrating after he found an old lottery ticket. The New York Lottery is reporting that Jimmie Smith, 68, has claimed his prize that was due to expire in 48 hours. Smith told media gathered at the lottery offices that he would routinely buy stacks of tickets hoping for a jackpot. When he heard on the local news that no one had claimed a mega millions jackpot, he searched through his old tickets and found the winning numbers 5-12-13-22-25-35.
According to the New York Lottery website, Smith stated, "I ended up with a stack — a pile of tickets, including the one they were talking about on the news. I stood there for a minute thinking, 'Do I see what I think I see?' I had to stick my head out the window and breathe in some fresh air … I was in serious doubt. I really had to convince myself this was real."
Smith is a retired security guard and a father of two who has been playing the lottery for decades. New York Lottery officials have stated that Smith will receive "laddered payments" for the next 26 years for his winnings.
This is the second time a resident of the East Orange has won big playing the lottery.  Pearlie Mae Smith, 70, won a staggering $429M. Using money pooled with other family members, Smith purchased the ticket at a convenience store in Trenton, New Jersey. The mother of seven and her family won the sixth-largest jackpot in the game's history, according to New Jersey Real-Time News.