Alvester Martin debuts highly anticipated album 'Love Me or Leave Me'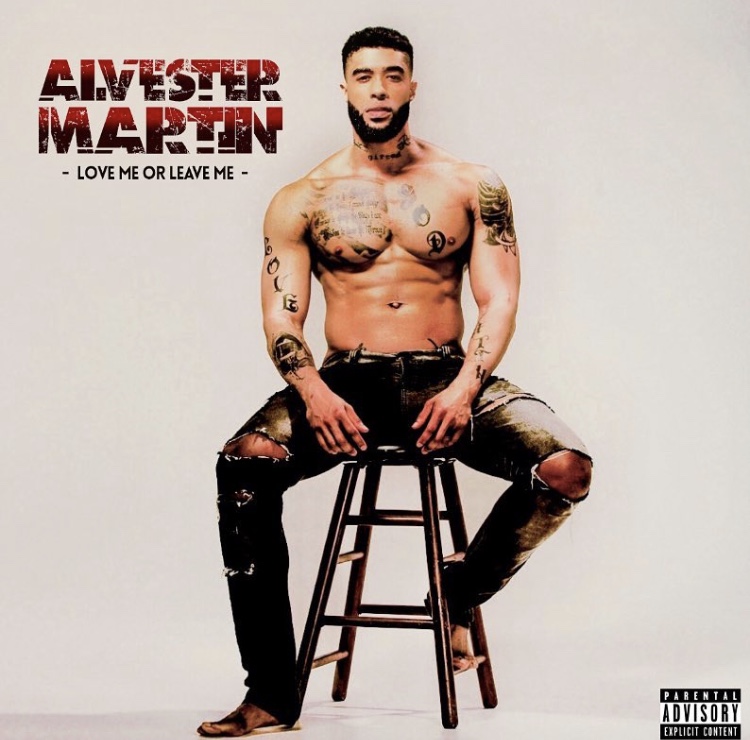 It's been said a goal without a plan is a wish. Well, former backup dancer Alvester Martin's biggest wish was to become a music star and he's been planning to accomplish this goal for over 10 years. His goal has finally come to fruition, thanks to his unwavering faith and unmatched work ethic. Martin finally debuted his first album Love Me or Leave Me to rave reviews and it's only the beginning.
Learning from some of the greats like Beyoncé and Rihanna, alongside being blessed with innate talents, not even the sky is the limit for where his career is headed. Rolling out sat with Martin once more to finally talk about the very thing he'd literally traded it all in for … his music.
Which song was the hardest to make since all of it is based on your life experiences?
"Carry You" was the absolute hardest. That's the one about my grandparents so I wanted to do it as raw as possible. The first day I tried to go into the studio to record it but I literally broke down every time I tried. The guitarist had to lay down his own part and I came back in the studio the next day, which was the night before I left Philly. I wanted it to be the very last thing that I did.
Love Me or Leave Me opens up with the "Intro: Easy" and has an old-school doo-wop feel, then every song thereafter is completely different. Anyone can pick up your album and find something they love. Was that your intention?
I didn't know how it was going to be received. I was wondering if people were going to think I was all over the place. That's why the order mattered because it's like a story. "Easy" was me sitting and pouring out my thoughts of just when you think you're going upward or getting a breakthrough, it's always something. This industry has so many ups and downs, and this song was me telling people how it's been. It took a long time to get here and almost took my soul.
You followed "Easy" with "I'm On"; a response song to all the things being said about you over the years.
It's definitely my s— talking song. I don't let what people say bother me much but we're all human. I'm aware of what people say and the questions they ask about me. If you live your life on front street and address it first then they can't say anything because they know what it is. That's why this song was pretty much a "let me get this off my chest" [kind of thing].
One of my favorite interludes on the project is "Carousel." I swear I felt it on a spiritual level and wish it were longer!
I kept it as an interlude because I felt I poured my heart out in that amount of time. If I made it a whole song it wasn't going to be as authentic. Everything on this song was true. You try to fulfill this fantasy and keep on this face and it's just this consistent circle…this carousel.
"Happily Never After" is how we really feel after a breakup before putting on that "I want the best for you" facade.
I've never been a vindictive guy because I believe God does everything for a reason, but at the same time, we do have feelings. There are times you do feel like "I hope everything they do fails." And you may not feel like that in 24 hours, but right then you want them to suffer and feel how you feel. At the end of the day we want someone to feel the pain that we felt when they hurt us, then we'll be satisfied.
"S&M" is the newest baby-making anthem. When you're doing a song that sexy and sensual, how do you get in the mood?
"S&M" was the vibe I was in at the time. I was out of my relationship and not trying to be anyone's husband. I was in the "don't hit me up trying to FaceTime just like text me' vibe. I was talking to a woman and she was talking to me about settling down and that wasn't happening anytime soon.
"Ain't Gonna Wait" and "The Beginning of the End" both talk about being in a relationship knowing it's about to end yet still trying to make it work. Why do we continue to stay as things go from bad to worse?
It's the comfortability factor and not wanting to let it go. You've known this person for so long and hate change. Sometimes we don't want to let it go so God makes it have to go away. I'm learning that right now. One of my favorite lines on 'Ain't Gonna Wait" is "the past that you're living in ain't what the present is." If you're going to continue with somebody you need to let the other stuff go or you're never going to be able to go forward.
"H.O.T" is your '90s feeling R&B joint. How did it come about?
I took a break to go on a weekend trip with a little somethin' somethin' and had a good time. I was chilling and thought of how dope it is when you reach over while you're driving and put your hand on their thigh; it's a moment. I felt like I had to do at least one love song.
Love Me or Leave Me can be found on all streaming sources. Be on the lookout for a tour coming.