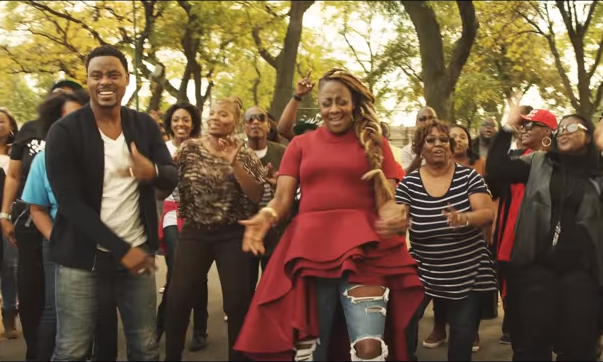 There's nothing stronger than the presence of grace in one's life when you need more than a miracle.
Grace is that attitude, that sound, that understanding that is the undercurrent of the blessing beyond the blessing. Grace is the blessing that was unseen, but needed; the blessing that was a prayer answered for many. There's that distinguishing mark that favor shows when grace's presence is so omnipotent. It is God's grace that is present.
Grace is also the name of the song from the phenomenal gospel hit-maker,  Pastor Charles Jenkins. When interviewed about his tenth number one gospel song happened to say, "Everyone should know about The Grace of God because everyone has needed and will need God's help. All of my success and overcoming testimonies are because of The Grace of God, that's why this song is so special to me. "
But what makes this song more amazing is that Jenkins teamed up with the talented songbird Le'Andria Johnson, an incredible vocalist who also shares the love of gospel music.
Jenkins says of her gifted vocal ability, "Le'Andria Johnson is the Aretha Franklin of our generation in my opinion. She is the best of soul and church with a voice that transcends all cultural lines. It was magical to work with her. I wrote a song she would smash and I can't wait to get her on it."
When you think of all these compositions that make up number one songs, Jenkins, a pastor, musician, recognizer of talent and consummate businessman, has allowed us to understand how the language of being coveted by God's word can be received. In it, Grace does more than one thing: it gives you a passion to reignite inside yourself, to understand that by the grace of God, all of us can make it. Thanks Charles Jenkins.
Also, by adding Johnson to the song, Jenkins gives us the understanding that we too can sing and scream in its grace. However, Johnson's performance is more than just a notion. Instead, we can hear through the song her testimony shining through of what grace really is for her. It is here that we put on our robes and gowns. It is here that we are baptized in the experience, as this song brings to a culmination the experience of being blessed and letting grace be present, and the fact that we all should have a continual attitude to sing praises . And Grace is another song that is truly winning that we all should shout from the heavens. Grace is an expression from Pastor Jenkins of his ability to share with us that God is awesome. Jenkin's other hit song Winning obviously shares with us that we all should be winning by the grace of His presence. This is just a little bit of what it is we know that's coming from those gospel, gracious and grace-filled songs that hit number one. Grace is amazing. Check out the song and video of Grace for yourself below.