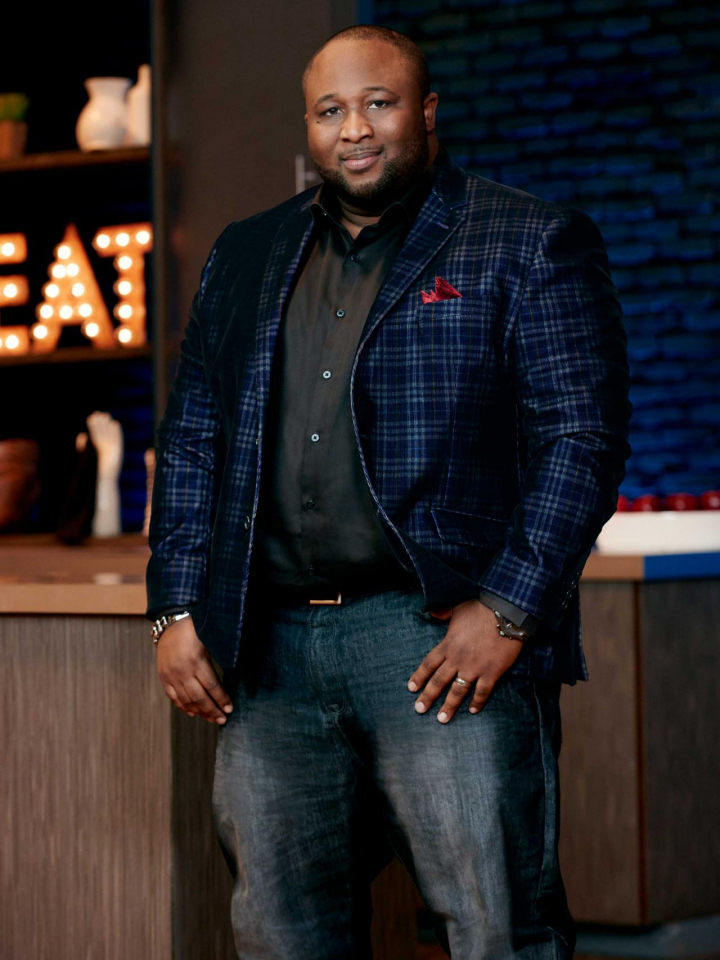 For the Black community, it's no secret that black-eyed peas and collard greens are a staple for New Year meals, but Chef Jernard Wells is cooking them up with his own twist.
Dubbed "The Chef of Love," Wells is the owner of multiple restaurants, as well as a reoccurring judge host, and competitor on many Food Network shows including "Chopped Jr." and "Cutthroat Kitchen."
Not only is Wells a magician in the kitchen and relentless entrepreneur, with his line of signature sauces and spices, he is a family man — husband of 20 years and father of nine.
With the release of his latest cookbook Southern Modified, written by himself and actress Denis Boutte, rolling out caught up with Wells to learn how to spice up our traditional New Year's Day meal, The Chef of Love way.
Where did you begin cooking?
I started cooking at the age of ten, with my father; he was a chef. Even though I cooked a lot with him growing up, I always thought I would be a lawyer. It wasn't until I was 16, and my father died, that I began to cook more. I wanted a car, but I didn't want to burden my mother so I pitched the idea to my mother to open a restaurant. I only had $50 to my name from cutting grass. I opened the restaurant in her kitchen, but she made me do it the right way. I had a business plan that I had to present to her. After I started, I eventually looked up and I was making $3,000 a month. That was just selling to the neighbors, my teachers, and it started to pave the way to where I was going to go. With that money, I was able to buy my own brick and mortar restaurant and pay my way through culinary arts school. That lead to me opening and owning nine restaurants over my career.
You started young with your business. What was the greatest lesson you have learned about entrepreneurship? 
The greatest lesson I've learned throughout this journey is the endurance. Never give up. it's not an easy road or profession. We make it look easy, but by far, it's not. The way to success is to find one thing in life, and stick to it. The key is to never stop and to never settle.
How did starting a business in your mom's kitchen lead to you being on food network shows?
I began to write love cookbooks. I wanted to become a household name and I knew I wouldn't be able to do that by just owning restaurants. From there, I got the opportunity to cook in front of the largest viewing for a cooking show, with Paula Deen. In was in front of 15,000 live viewers.  She gave me the platform to cook and do the show while she walked around and greeted people in the audience. After that, she bit into my food, told the people how much she loved it, and the crowd went crazy. From there I started getting calls from Food Network and other platforms.
Your cookbook Southern Modified is perfect for cooking traditionally unhealthy foods, but with healthier substitutions. What are some staple items to have in your kitchen for meal prepping healthy meals?
You should have fresh green beans, Brussel sprouts, and carrots at all times. In Southern Modified, we made sure our recipes were full of ingredients people use on a daily basis. We wanted to show how simple changes can change the characteristics of traditional ingredients.
What's a good meal you recommend for New Year's Day?
I like black eyed peas but sometimes I don't want the traditionally boiled peas with the ham hocks or turkey legs. I like to make a spin on Texas Caviar. It's a black-eyed salsa, but I'm from Mississippi so I like to do the Chef Love Mississippi Caviar Salsa. It's a mix of black-eyed peas, fire roasted tomatoes, cilantro, red wine vinegar, a splash of lemon juice, and a hint of brown sugar. It's also a great party dish where guest can mingle while they enjoy the dip. My next favorite thing is playing with the collard greens. Instead of a spinach dip, I like to make a collard and watered chestnut dip. It's made the same exact way you could make a spinach dip. By using collards, you get more Vitamin D and zinc.
Check out the full recipes for Chef Well's Mississippi Black Eye Pea Caviar Salsa and Lucky Charm Collard Green Dip. For more direction, check out Chef Well's Facebook page every Saturday at 9 a.m. for cooking video tutorials.
Chef of Love's Mississippi Black Eye Pea Caviar Salas
Ingredients
2 (15.8 ounce) cans black-eyed peas, drained
1 (14.5 ounce) can roasted diced tomatoes, drained
1 fresh medium Serrano pepper, stemmed, seeded and minced
1 small onion, cut into small dice
1/2 yellow bell pepper, stemmed, seeded and cut into small dice
1/4 cup chopped fresh cilantro
6 tablespoons red wine vinegar
6 tablespoons olive oil
1/2 teaspoon salt
1/2 teaspoon ground black pepper
1/2 teaspoon garlic powder
1 teaspoon dried oregano
2 Tablespoons of Brown Sugar
1 1/2 teaspoons Smoked Paprika
2 Teaspoons of Lemon juice
*NOTE:  You can cook Black eye peas the traditional way or if in a rush – the canned variety of Black eye peas work well
Directions:
Mix all ingredients in a medium bowl; cover and refrigerate 1 hour. Before serving, adjust seasonings to taste, adding extra vinegar, salt and pepper. Transfer to a serving bowl.
Chef of Love's Lucky Charm Collard Green Dip
1 cup mayonnaise
1 (16 ounces) container sour cream
2 Tablespoons Onion Powder
2 Tablespoons Garlic Powder
1 Tablespoon Lemon Pepper
1 Tablespoons Sea Salt
1 Tablespoon Black Pepper
2 Springs of Freshly Minced Dill
2 Tablespoons Sugar
1 (4 ounces) can water chestnuts, drained and chopped
2 Cups of freshly cooked Collard Greens drained and Chopped or Short cut 1-16oz can of Collard Greens, drained
Directions:
In a medium bowl, mix together mayonnaise, sour cream, spices, water chestnuts and chopped Collard Greens. Chill in the refrigerator 1 hours, or overnight. Serve with Chips or Club Crackers.