Has a scenario similar to Brooklyn-born beauty Cardi B's unfolded in South Beach? For the second time in less than a year, a "Love and Hip Hop" franchise reality star has transformed her platform into a lucrative, multimillion-dollar music deal.
"Love and Hip Hop Miami" breakout star Amara La Negra, 27, recently signed to Fast Life Entertainment Worldwide and BMG, a multi-album, multi-million dollar record deal, according to Billboard.
"I'm still in shock!" said the seductive songstress. "At times, I am caught pinching myself because there is a part of me that still is in awe of being signed to a franchise that will heighten my success. It is a feeling of a different level of hunger because I have prayed for this so much that it feels unreal! I am humbly honored to have a team that continues to believe in me. Having a pioneer in the music arena like Zach seeing the potential in my musical craft and talent. I am thankful for my team at Fast Life Ent. Worldwide and BMG for this opportunity as an artist. And I cannot for my fans to hear my new music."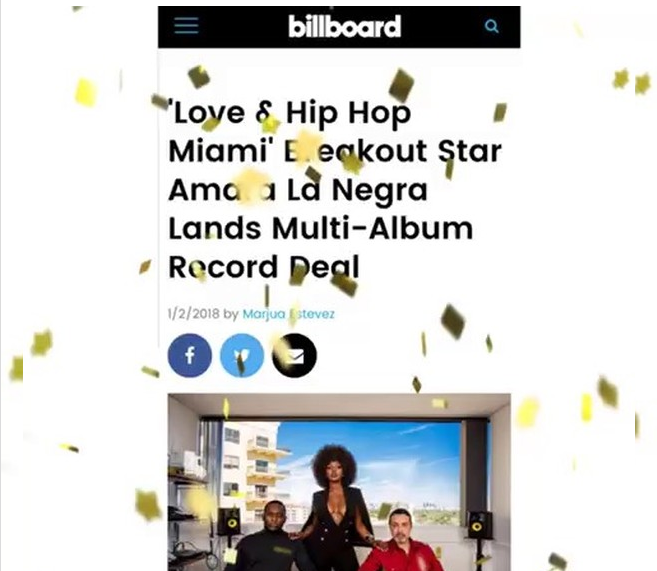 La Negra captioned the photo this way:
"( AMARA LA NEGRA SIGNS A MULTI MILLION DOLLAR CONTRACT WITH BMG) Hard Work Pays Off! Don't Let Anyone Put you down! Work hard for what you want because it won't come to you without a fight. You have to be strong and courageous and know that you can do anything you put your mind to. If somebody puts you down or criticizes you, just keep believing in yourself and turn it into something positive. Thanks to all my fans for all the love and support because you guys are part of my success!!! I want to Thank my Mom @mamianalamama1 for always being there for me @jullianboothe My manager/ Brother/ Friend Thank you sooo much for believing in me from day 1. You and Mami are my Ride or Die! And @thezachkatz The President of BMG thank you for seeing the vision and wanting to be part of my Dream. Thanks to my attorney @mattbuseresq @meccamalone."
Under the terms of the agreement, La Negra is expected to release her first single in the first quarter of 2018. Billboard reported her upcoming music will be produced by hitmakers Rock City, whose previous credits include Rihanna, Beyoncé, Sean Kingston, Miley Cyrus and Nicki Minaj, among many others.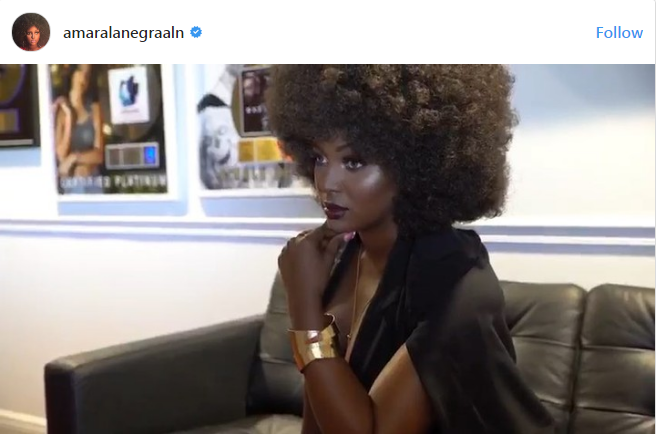 La Negra gave copious thanks to the people orbiting her world who helped manifest her dreams: "BEHIND THE SCENES! Shoot For @billboard @billboardlatin I Want to Thank The Presidente of BMG one more Time @thezachkatz My Manager and Business Partner @jullianboothe / @fastlifeentworldwide @bmg_us My Mom @mamianalamama1 (Video by: @cutinofilms ) / DETRAS DE CAMARA durante la firma de mi contrato con la disquera BMG." 

Amara, 27, who is Dominican ,chose her stage name Lanegra as a sign of embracing her Afro heritage. According to NetWorth2013.com, she's had some success in the Latin music genre but is looking to cross over into the American market. The brown bombshell sings, raps, dances, and directs her own videos. LaNegra also styles herself, which explains why the bronze beauty started a clothing line called ALN.