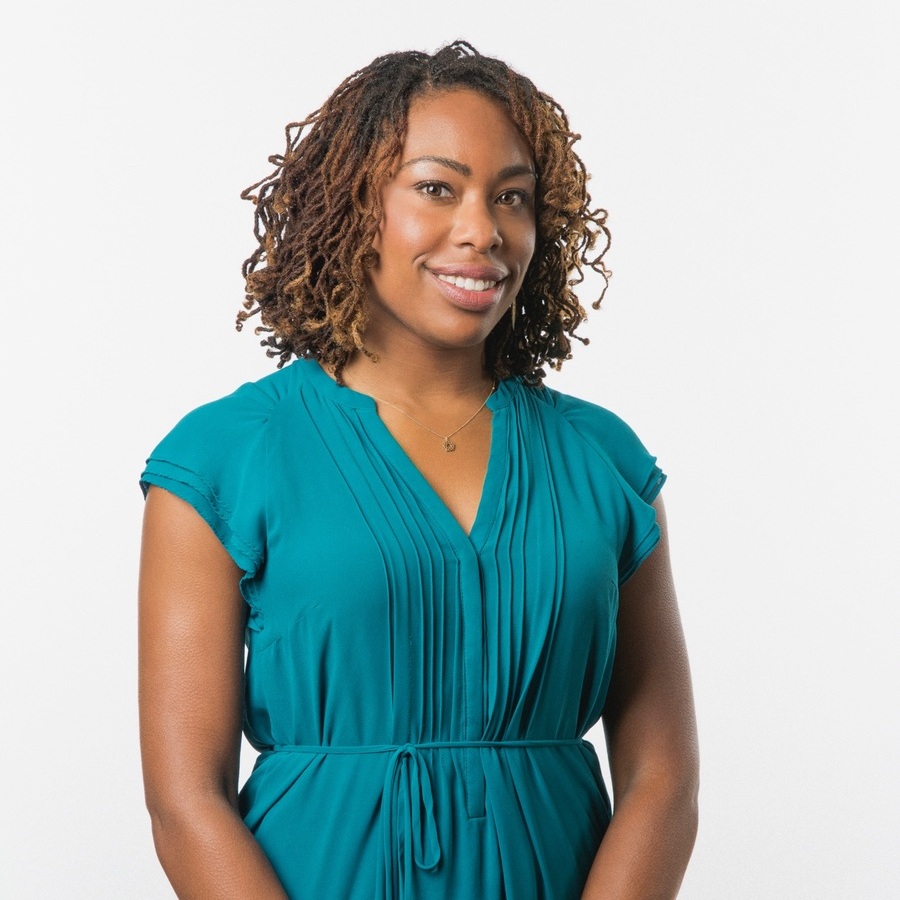 Astin Hayes knows a thing or two about bringing people together. As a brand manager for a popular spirits company, she hosts parties and gatherings throughout the city of Chicago. So it comes as no surprise that her first foray into technology would involve a gaming app called TipOff, an urban Taboo styled game that celebrates Blackness through culturally relevant word guessing themes.
Tell us a little bit about TipOff and how the app was conceived.
TipOff is a word guessing game that celebrates black culture. We like to say it's like Taboo, but for you. The app is a multi-player game which can be played in-person or remotely. Users divide into teams and take turns TIPping each other OFF to the keywords without saying any of the 5 words listed on the card. Each team member takes their turn as the "player" and the "hater." The player describes the keyword while the hater guards the player on each card to make sure they don't violate the rules.
About 10 years ago I created a physical card game right out of college. It became a favorite amongst my friends and family at gatherings and the plan was to make it a card game, but I was young and inexperienced on how to make that happen at the time. Eventually, apps came around and I was focused on making it an app because that was the wave of the future.
One of the cool things about TipOff is that it uses Black topics. Why was integrating culture important?
TipOff was created in response to a lack of African American mobile games. TipOff strives to be a source of laughter for Black people and those [who] love them.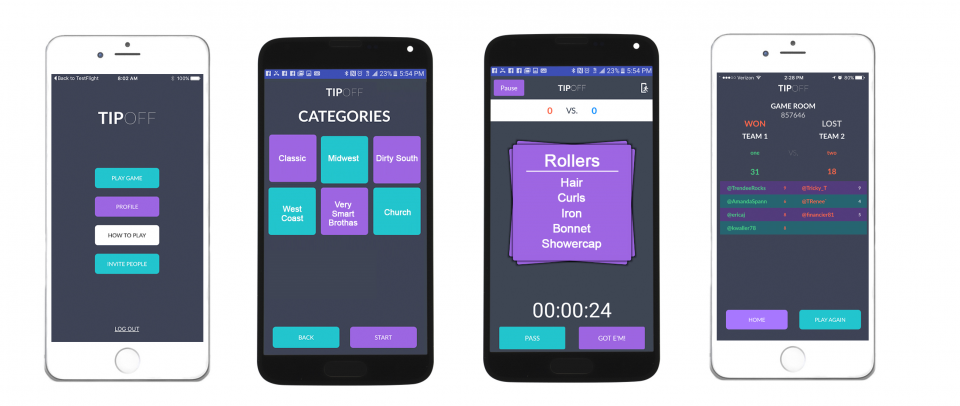 Having downloaded the game, the concept is incredible, but I can only play when four people are immediately available. Is the idea to bring people together, or are there ways to create a person vs. computer and/or two-player option in the future?
Not at the moment. Technology is a two-edged sword. One of the best things about it is that it helps to bring people together, but one of the worst things about it is that pulls people apart. The game was in part to help people get back to the simplicity of socializing, while still being able to integrate technology. TipOff is a game that a 13-year old kid could easily play with his mother and grandmother after Sunday dinner, or play on Facetime with his older brother away at college.
Do you have a background in technology? If not, what has been your biggest learning curve?
I do not have a background in technology at all, but I was able to create a team with my current business partner, Amanda Spann, a technology consultant [who] has created three apps previous to TipOff. She is a wealth of knowledge and has taught me a great deal, but she handles the majority of the technical pieces. We meet often about the direction I see the app going and she helps to bring my vision to life and keep me on a time line.
What is the best advice you've been given about venturing into tech?
"Make sure I give back." There aren't [many] Blacks or women in tech. So that motivates me to work harder to show youth that we can and will be successful in STEM. A majority of the in-app purchase category packs are tied to giving back to organizations that focus on minorities and youth in STEM.
Who are your top three inspirations?
My grandfather, my mom and my grandmother. I'd like to think I have pieces of each of them. My grandfather was a visionary and an awesome entrepreneur that did not mind taking chances. My mom is super creative and has also ventured into entrepreneurship in the past, and the biggest lessons she has always taught me is to live life and be happy for yourself. If I woke up and decided to be a sanitation worker and that is what gave me joy every day, she would be supportive in helping me be the best sanitation worker I could be. My grandmother was the most social and giving person that I've known to this day. She always liked to be around people and make sure they were taken care of. I get those qualities from her.
Now that you have a platform, is the goal to increase users and seek investors or something else?
The goal is definitely to increase users and seek the right investors. We are still putting together a plan on how we want to ultimately see the relationship of the app with investors, but that is definitely the plan.
A lot of people are intimidated by technology. Either they feel it's too expensive or they don't have the skills. What did you have to overcome to dive in?
I totally get that. This app would have been out years ago if I had come in contact with someone like my biz partner, Amanda [who] could fill in all the gaps that I needed. The key is to make a plan. Network and meet people that have the skill set you lack and that you trust in order to build a strong team. It might take a bit longer than you like, or even cost more than you planned, but if you truly believe in it, you gotta keep pushing to make it happen.