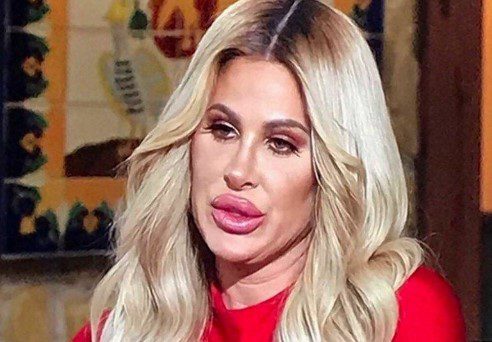 Kim Zolciak-Biermann of "Real Housewives of Atlanta" and husband Kroy Biermann are furious with comedian-actor Marlon Wayans for making fun of Zolciak's reconstructed grill on Instagram.
Wayans posted a screenshot of Zolciak's face along with a reference to the Wayans brothers' White Chicks movie.
"No we are not in production on White Chicks 2. The f–k?!" he captioned the post on his Instagram page.
Zolciak-Biermann retorted indignantly and revealed that she was hurt by an entertainer she is a fan of:
"Was always a super big fan of yours and my kids loved you. This hurts but I guess it's all for laughs," she commented along with an emoji of a woman shrugging.
Zolciak-Biermann's husband, former NFL baller Kroy Biermann, also hopped on IG to defend his wife,
"You should hope & pray that one day a grown man never takes this kind of dig at the expense of your daughter. Grow up dude," he wrote.
The two were spotted walking through the Los Angeles International Airport by the paparazzi and reiterated their disappointment with Wayans' cutting dig:
"It's really disgusting," Zolciak-Biermann told TMZ. "I think it's inappropriate that this grown a– man would mock a woman. I think it's gross."
Her husband dismissed Wayan as a coward and added that he knows that Wayans would not dare to say those same disparaging words in his face.
"I don't know if I'm upset. I just think it's disappointing. Be a man," he said. "It was a total coward move, you know."
Asked if Wayans should get a pass since it's just comedy, Biermann had one more shot at the Mo' Money actor. "No. Because he's not funny."