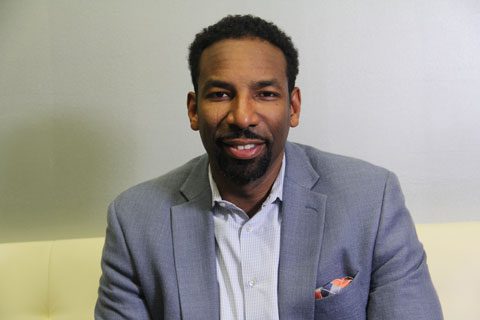 Atlanta has become a magnet for the tech industry and now there is an exciting opportunity for those holding high school diplomas or a GED. The program is called TechBridge and its mission is to train young adults from the ages of 18-24 in the skills needed in today's tech environment.
Rolling out spoke with Atlanta City Councilman-at-Large Andre Dickens about his role in the new program and what the program will accomplish.
Please tell our readers about yourself and the TechBridge program.
My name is Andre Dickens. I am the Georgia community leader for TechBridge, Inc., and I am also an Atlanta city councilman.
The city of Atlanta right now is thriving and growing. In technology, for example, we are growing by leaps and bounds. The great thing about that is there are wonderful jobs and job opportunities. Unfortunately, some of those opportunities are being missed by people of color and those with a low income.
So what we want to do at TechBridge and Goodwill is to link these jobs to those in the community that currently live here. Atlanta does not have to import talent any longer. We want to have a training program that helps 18-24-year-olds, a category called opportunity youths — that is individuals that have a GED or diploma to enable them to get the training that they need in these jobs. This may include sales force, web development, and those skills that can get them a middle-income job. This program will start May 29, 2018, here in Atlanta.
How do you define innovation?
I define innovation as taking us from this place to the place we want to go in the future. That future should provide some benefit to society, and to the individual that is creating that innovation: a tool, something that is useful that is a tool that is creative and is very much in demand. That demand may not be right now, but if someone comes up with a better idea than what we have, then that's innovation. Hopefully, it is equitable innovation, something that provides a benefit to all society.
What are the skill sets needed to thrive in today's tech environment?
There is a digital/technical divide when it comes to people of color, which is similar to our income mobility divide. There is a problem with people who are low income trying to get to middle income. So what we are going to provide is training in technology that includes sales force and web development. But we are not just going to leave you there. We are also going to provide you with business acumen, something that is going to be able to let you function in an IT environment. Last but not least, after you make this money, we want you to be prepared to save this money and to have good financial literacy. So, we are also providing training on banking and making quality decisions with a budget.
What type of skill sets will a person need for this program?
The high tech and digital community move at lightning pace. They are serious and we in this program want people who are going to work hard. People who are serious and consistently dependable. You are not going to be able to come into this program and take days off or take breaks. It is serious; you have to be committed. There must be a commitment to start and finish, to come every day and be on time, and finish each day to the fullest of your potential.
Also, there needs to be a little bit of tech savvy. It's hard to go from zero to where this program will be taking you. So you need to know how to work a computer, have good math skills, and understand the logical thought process. So you will need to have some skill to start with, but you do not have to have a computer science degree or associates degree. All that is needed is a high school diploma or GED.
Will there be job placement for those who complete the program?
One of the great things about this program is that we have an employer advisory council. To be a part of the council, you must have a commitment that the skills taught are employable ones in your company. So, we have lined up 9-10 companies that are willing to hire people with the skill sets that we are providing. These companies are stating that they will hire at least some of the people that complete the program depending on how well they do. The advisors are so involved with the program that they will be providing feedback, skill set development, and they are there mentoring, providing a one-on-one mentor for each participant in the program. So, right at the start, those in training have an ally and coach.
What would you like to say in closing to our readers?
We designed this program for you. It is designed for someone in your network, perhaps a family member, or even a friend. This is for you to get that "leg up," to move from an $8/hr job to a $40-50K/year career, a place of financial stability. Our model is that person will move from survival to stability and then ultimately success. This is a way for you to get that next step in life to where you can breathe again, and begin to live a more comfortable life. So, if you know someone who is unemployed or even underemployed, this program is an opportunity. But you have to come with the right mindset to stick it through. Because on the other side, there is a great opportunity and career.
To learn more about the program, visit the TechBridge website at  https://techbridge.org/