Teairra Mari's graphic sex tape leaked online by ex-boyfriend, she says
Singer and reality star Teairra Mari was violated in one of the vilest and embarrassing ways yesterday when an ex-lover allegedly leaked images and videos of her performing sex acts on him to social media.
Videos that are now confirmed to be that of Teairra, 30, were uploaded to her official Instagram page and she believes she was hacked by her spurned lover.
The explosive posts onto her IG page included the "Love and Hip Hop Hollywood" star performing oral sex on a man named Akbar. There was another still shot of his name tattooed on what is allegedly her body. And there are other more graphic images that we shall not describe in this forum.
The uploaded video and images have since been deleted.
Fans were quick to assume Teairra's lover Akbar had hacked her and, with malice and aforethought, put the material online in order to humiliate her on a national scale.
It turns out that Teairra believes it was Akbar as well, according to Bossip. And she pledges to seek to have him prosecuted.
Interestingly enough, Akbar has conveniently turned off the comments on his Instagram page.
Back in July 2017, the nation learned that the state of California does not tolerate revenge porn when Blac Chyna filed charges against the father of her daughter, Rob Kardashian. Teairra Mari is now on a path to justice because someone she trusted allegedly flashed their most intimate moments on cyberspace.
Rolling out will not share those photos and videos, but Teairra has released a statement addressing the issue on Instagram: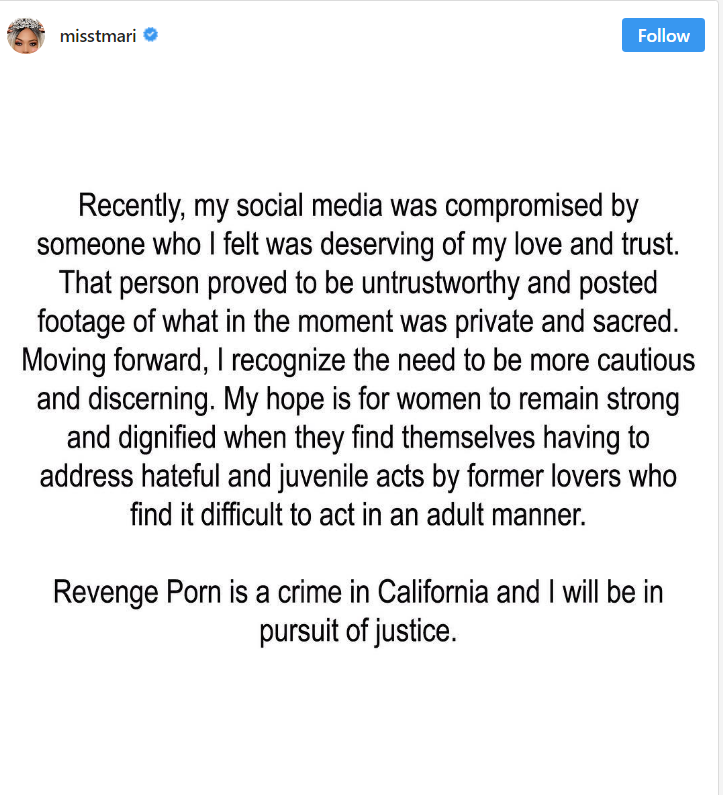 The Detroit native and former girlfriend of Ray J also took time to thank those closest to her for having her back during this traumatic time:
"The fact that this is the only person that stood up for me! Thank you for having my back- I really love u @milanchristopher! and Gianni @gmoney_cmb thank you for having my back (through the good and the bad.) #ThisTooShallPass," she captioned the above photo.