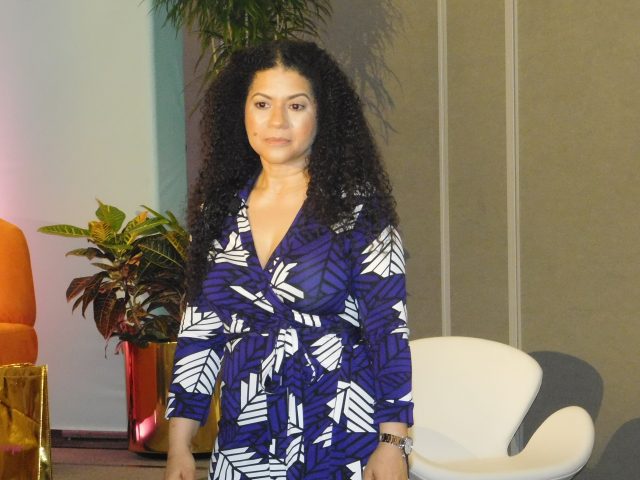 Branding is the key for companies to sell their products to their target audience successfully.
However, being able to tell the story of a product to clientele can be tricky, but First and Last PR prides itself on commitments of great branding strategies and customer service to its clients.
CEO and communicator-in-chief of the company, Stephanie Scott shared her expertise of investing in strategic beauty branding at Summit 21 hosted by Blavity Inc. this past weekend at the Atlanta Convention Center.
Along with inclusiveness and following your brand, Scott's said the central tip to having a successful business is providing your clients with "excellent customer service all the time."
Scott reminded the audience in her masterclass to always under-promise and over-deliver so that the client is never disappointed.
"Always take the product up a notch and make it personal," she said.
Quoting Maya Angelou, she said, "I've learned that people will forget what you said, people will forget what you did, but people will never forget how you made them feel," highlighting her goal of aligning her branding strategy of making a product personal to the target audience.
For business owners to grow their brand, Scott mentions that consistency is critical for brands to evolve.
Insight into building brands and businesses to their fullest potential, aspiring business owners must build their action plan.
There must be a unique story, business owners should own their story, and owners must know their audience.
"You control your narrative," Scott said.
Branding is about the experience you provide to your target audience and grinding to own your product and business.
Scott offered more than just tips about beauty branding.
For those looking to own a PR firm or pursuing a career as a publicist, Scott says knowing about budgets and approaching budget conversations with clients is vital.
"If you're a client looking to hire, you should know your budget before you call an agency. It's like car shopping: you don't show up to any old lot and say, 'What do you have for me?' You go in saying, 'This is what I'm willing to pay…'" she said.
Starting off as a beauty editor at Life & Style and Seventeen, Scott mentioned that she wishes she knew the right questions to ask at the beginning stages of her career in PR.
"I went in with rose-colored glasses. I wish I knew to ask, 'What is your history with PR companies?' before accepting such a role," she said.
Building her contact list for clients from scratch, Scott has been able to grow her expertise in PR and branding over the years with hard work.
Working with notable clients such as Usher, Scott says that those who are interested in PR must be willing to put the work in.
Inspiring the next generation of leaders and business owners, Scott has the superpower of taking beauty brands to the next level with innovative ideas for their products to maximize sales.
A leader herself, Scott leapt with faith into starting her own business and was able to impact hundreds of women at Summit 21 who want to take their brand to new heights.
Check out photos from her masterclass below: