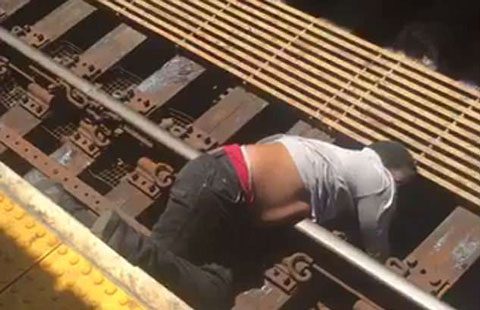 Disturbing video images of two men passed out at a New York City subway station, and with one partially electrocuted on the tracks, highlights the continuing crisis of the synthetic marijuana product known as K2. The video was recorded by Taiberious Carr at a Brooklyn subway station and uploaded to Facebook.
The man pictured on the subway tracks has not been identified, but in an unedited video his face clearly showed burn marks. The marks were more than likely caused by brushing against the electrified third rail. The New York Police Department reported receiving multiple calls about the incident and responded. Some who saw the video commented that no one tried to help the victim on the tracks and criticized Carr for recording and not helping. Carr posted the following response: "Shut the f— up! Everyone there called the police including myself. For the idiots saying "jump in and help" I damn sure ain't no paramedics but it doesn't take a rocket scientist to figure out he was electrocuted from the third rail. Yes, it is K2 they smoke it every day in that very subway."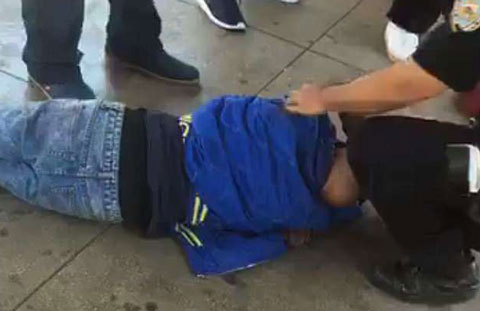 Unfortunately, Carr's statement is correct. Rolling Out has reported in the past about the ongoing synthetic marijuana problem in New York and other cities. In one incident, the NYPD, New York Fire Department and other first responders treated at least two dozen people in one morning from suspected K2 overdoses. The borough of Brooklyn seems to be among the hardest hit communities, even though New York Gov. Andrew M. Cuomo announced a statewide ban on the manufacture and sell the product in February. However, with a change in package labeling and chemical formulation, new versions hit the streets with increasing regularity sold at local bodegas. The New York City Health Department has declared it a problem of epidemic proportions.
New York City Mayor Bill De Blasio recently took action to decriminalize small amounts of natural marijuana, and some hope that those smoking K2 will switch to a natural plant that is far from lethal and legal in many states.
The video of Brooklyn subway incident can be viewed below:
https://www.youtube.com/watch?v=k2I-5QUCNDA