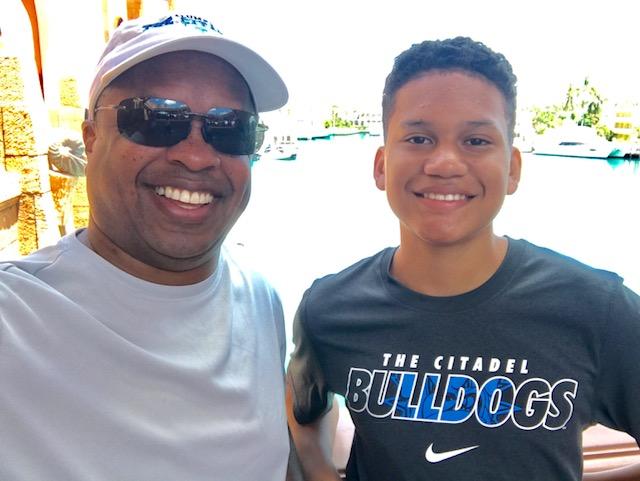 Tony Brevard is the Chairman of Capital Nucleus, a full circle of financial services. His entitles include: 7(a) Funding Group, known for (among other brands) being the largest SBA loan provider of funding for Allstate Insurance Agency owners/buyers in the U.S, SBA Loan Exchange, the ONLY dedicated exchange that allows banks to buy and sell vetted and pre-qualified loans where both sides receive compensation as a result of a successful transaction, and First Choice Funeral Funding, the most affordable invoice factoring system in the country for funeral homes to factor insurance policy payments.
Rolling out caught up with Brevard to discuss legacy and fatherhood.
What legacy are you leaving for your children and the children of your community?
I'm building the Capital Nucleus brands with hope that my son or daughter will one day have an interest in running some part(s) of it. Outside of that, I am always trying to think of ways to show the next generation that the word of finance is not "weird" or "foreign" – via internships and general conversations.
How would you describe your Fatherhood culture?
I am a doting dad (and granddad to my daughter's kids). They live in Michigan, so I'm working on being better at that contact.  My son is turning 15 now, and he's a really active athlete – so my fatherhood culture for him involves him seeing me at every event and as many practices as possible.  I want them both to see me as loving – even if from afar (my daughter and I text each other literally every weekday morning).  They need to know that they are thought of and appreciated always.
From a father's perspective, what two books would you recommend every child read?
The Bible and any bio on someone successful in their pending field of interest.
Why is it important to expose children to education and valuable skills?
It's important because you always have to have a way to take care of yourself regardless of what happens to the economy. That's why I ask them to learn something hands on  and something mentally creative/cerebral.  My dad taught me as a child in a farm/construction environment that "if you can do something with your hands, you'll always be able to find income".  The theory there is that, no matter how broke someone is, they will always be willing to pay someone to do manual labor.  And he was right.
As a father and a life coach, describe your playbook.
The playbook is simple: lead by example. Don't just tell your kids how to work for something.  Show them.  Kids are emulators of what they see you do (and remember that they are ALWAYS watching – even when you think they aren't).
Which fatherhood experiences have taught you the most about yourself?
Finding a way to reinvent myself after the 2008 financial crisis while raising a 5 year old (and making sure his life appeared "normal" when there was no cash coming in) was intense. It made me lean on lessons that may parents taught me, and it showed me how strong my marriage is. Those things all make you a better dad at the end of the day.
What insightful advice would you suggest about building a network?
Don't just collect names and phone numbers. Have a vision for what these folks might be for you going forward (economically and/or educationally).  They might be there to be mentors, friends, clients, etc.  But don't bring in negative energy.  And, if so, cut the dead weight immediately.
Why should you read every day?
I'm a poor example for this. Because I create companies, I don't necessary "read" daily. But I do work on visions daily.  So, I'm not sure that you need to actually read daily to be well rounded.  But I do think that you have to take things from the reading to mold you and who you become.
Name one life lesson that no one taught you, but should have.
They tried to tell me how the struggle would be occasionally as a black man in a mostly white industry (back then anyway) would be. Because I was on of the few black corporate lenders on a national level back in 1990, I'm not sure anyone could have prepared me for the transition.  But, in most cases, a taught lesson via experience is better than someone warning you in advance.  You don't forget the ramifications of actual experiences.
How important is keeping your word?
Your word and your handshake are all you have. People never forget if you fail to keep your word, and you don't want that reputation.  It could take a lifetime to repair – if ever.
When it comes to protecting yourself at all times, physically and mentally, what would you tell your children?
Be smart and be aware of who you surround yourself with. If you get that "funny feeling" in your stomach that something isn't right, trust it.  The spirit is rarely wrong.
What advice would you give on being responsible for your own dreams?
Don't let anyone tell you what you can't do. But be prepared to work – nothing worth having is easy.
Finish the sentence: Never give up on yourself because … 
…there is only one you, and it would be a shame if you died with your visions and gifts locked up in your mind for the world not to see.
How does following your spiritual values help you in life?
As a child from the "buckle of the Bible belt," I am a firm follower of faith. When the world turns upside down on you (like 2008), you'll have to lean on those values to get you through to the other side…
Share one of your fondest memories you've experienced with your father, grandfather or father figure.
My father never missed a football game that I played (from age 6 through my last college football game). The dedication to seeing me follow my dream was priceless…
Why is writing down your fatherhood goals for life so important? Share your most valued and treasured fatherhood goal.
Writing goals keeps you focused. I just want my kids to see how important it is to be there for your family at all times, and I want them to be better parents than I am/was (which would make them phenomenal).
LinkedIn: linkedin.com/in/tonybrevard
Websites: www.7aFunding.com, www.SBALoanExchange.com, www.CapitalNucleus.com
Twitter: @TBrevard and @7aFunding
Instagram: @tonybrevard and @7aFunding
Facebook: @7aFundingLLC