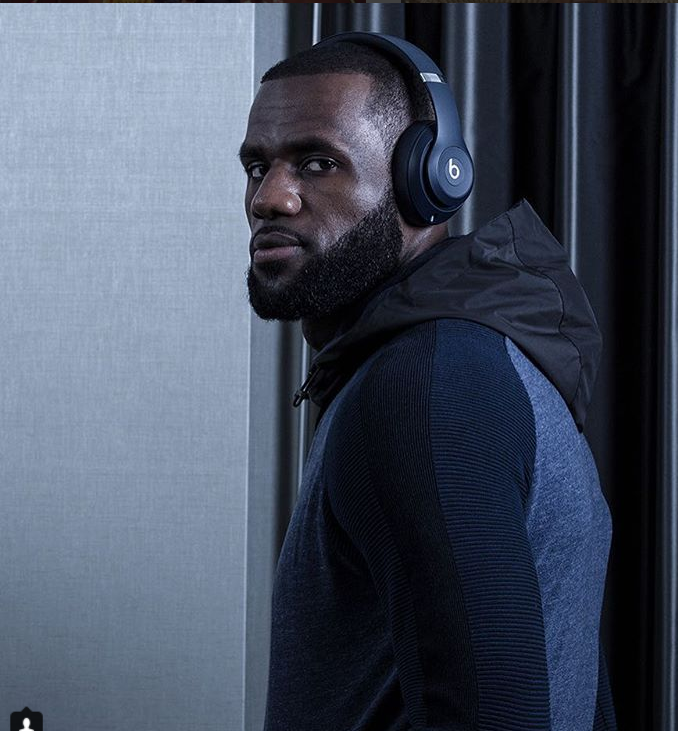 LeBron James just got paid big time, and this has some WNBA players seething.
The bigger issue of pay disparity between the NBA and WNBA is such that former first-round pick A'ja Wilson felt compelled to illuminate this fact when LeBron James got his colossal new contract with the Los Angeles Lakers.
Wilson, a 6-foot-5-inch forward for WNBA's Las Vegas Aces, ignited a fierce social media debate when she mentioned LeBron's new four-year, $154 million deal. Pro female basketball players, in contrast, subsist on small change comparatively.
"154M. must.be. nice," Wilson, 21, wrote on Twitter. "We over here looking for a [million] but Lord, let me get back in my lane."
One fan also posted a GIF of a female basketball player making a difficult 360-degree layup. But she did not dunk like former Cavs legend LeBron or many other NBA players would have. The post insinuated female b-ballers don't get the same pay because they're not as physically acrobatic nor perform the above-the-rim theatrics that male pros do on the regular.
Many social media users agreed.
"Maybe if you were 1/1,000,000th of the basketball (player) Lebron is, you'd get paid equally," one poster wrote on Twitter, to which Wilson retorted, "Ohh, it's about skill set? [B]ecause I heard a bench player gets paid more than …nvm."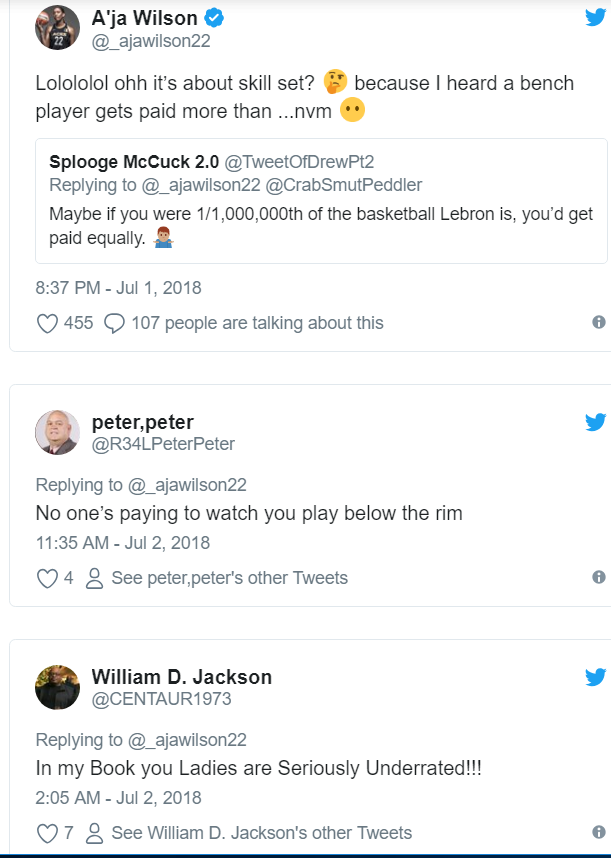 Wilson is not the first female professional player to broach the salary gap topic between players in the NBA and WNBA. Most prominent among the players to speak out in recent years is Los Angeles Sparks power forward Nneka Ogwumike.
According to CNBC.com, Ogwumike, 28, complained that she had to play in Russia in addition to her WNBA season just to subsidize her humble living arrangements.
She griped that most WNBA players have to work full-time jobs in the offseason or run businesses to earn the needed extra cash.
Moreover, Ogwumike decried the fact she did not own a home or car as of last year, even though she was the No. 1 draft pick in 2012. During the NBA draft that year, No. 1 draft pick Anthony Davis signed a reported five-year contract with the New Orleans Pelicans for more than $121 million.
WNBA advocates say a man doesn't have to be very talented — and can even be a marginal bench player — to make significantly more money than female players.
According to CNBC, as of 2017, the median salary in the WNBA began at $50,000 and capped off at $110,000. In the NBA, salaries started at $560,000. Therefore, CNBC asserts, women players earn merely 20 percent of their male counterparts.
Wilson also brought up revenue-sharing issues.
"We get less than 30 percent revenue versus [what] the guys get, 50 percent," she said, comparing what female and male players receive from the WNBA and NBA, respectively.
Wilson's complaints caused even more debate.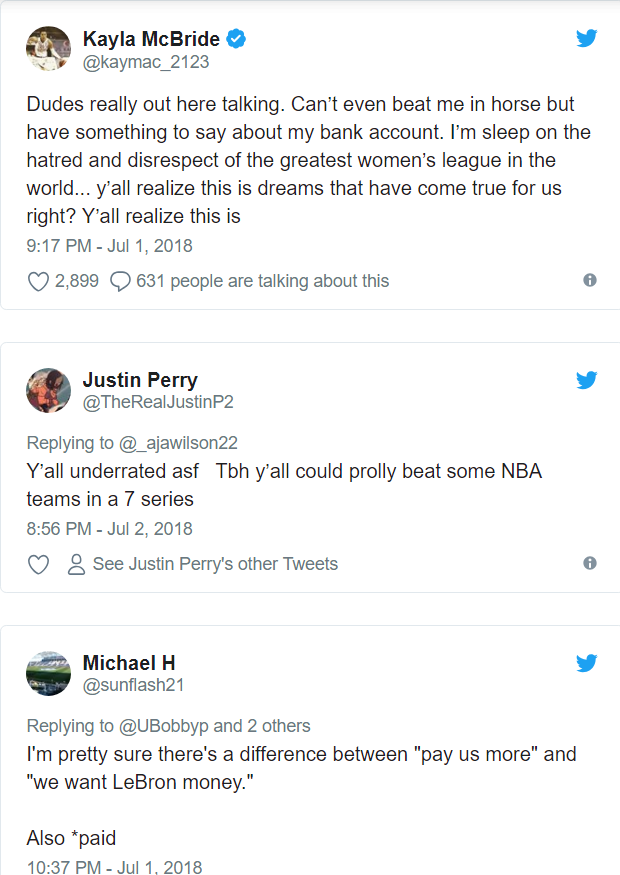 What do you make of Wilson's complaints? Do you believe she has a point?