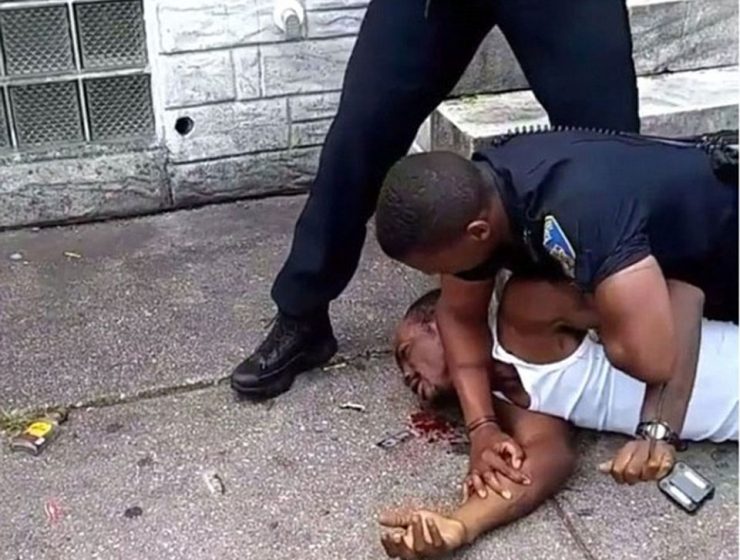 Days after Baltimore police officer Arthur Williams tendered his resignation for being caught brutally punching an unarmed man repeatedly, he has been indicted on assault and misconduct charges.
Maryland state attorney Marilyn Mosby announced an arrest warrant has been issued for Williams, as he is being charged with first and second-degree assault and misconduct in office, according to the Baltimore Sun. The video showed him repeatedly punching Dashawn McGrier, 26, in the face and it immediately went viral nationally.
In the video, a pool of blood is seen spilling from McGrier's face after he crashed to the ground after incurring the officer's combination blows and from his body weight. McGrier's attorney, Warren Brown, said his client suffered multiple injuries including a fractured jaw and won't be released from the hospital until Monday.
"He's beat up. It's like as if … you got tackled by (Brian) Urlacher or Ray Lewis or something," Brown said referring to the former NFL superstars. "You're just a little guy … and you can't defend yourself."
The second officer who is seen standing idly by while the beating commenced, and was subsequently placed on desk duty, will not be charged, Mosby said.
"Our preliminary assessment of the available evidence has been, in light of his responsibilities at the scene, there are no criminal charges that are appropriate," The Sun reports Mosby said.
Mosby faces a challenging, uphill battle in prosecuting a police officer in Baltimore. None of the officers who were charged in the infamous arrest and death of Freddie Gray in 2016 were convicted of any charges.
This latest incident in Baltimore began shortly before noon on Saturday. The two officers were working on "a crime suppression detail related to crime in the area," Baltimore police spokesman T. J. Smith said during the press conference.
"Two officers encountered a man, whom one of the officers is familiar with," he said. "After the first encounter, officers released him and … approached him again to provide him a citizen's contact sheet."
When the officers returned to McGrier to fill out a contact sheet, which is required any time police talk to a citizen about an investigation, that's when the situation degenerated quickly. McGrier felt he was being harassed unnecessarily.
A bystander captured the video where McGrier is heard screaming in the officer's face.
"For what?!" McGrier yells at Williams.
Williams' response was to shove the man hard against the brick wall.
"Don't touch me!" McGrier yells back. When he slapped the cop's hand away, it prompted the pummeling.