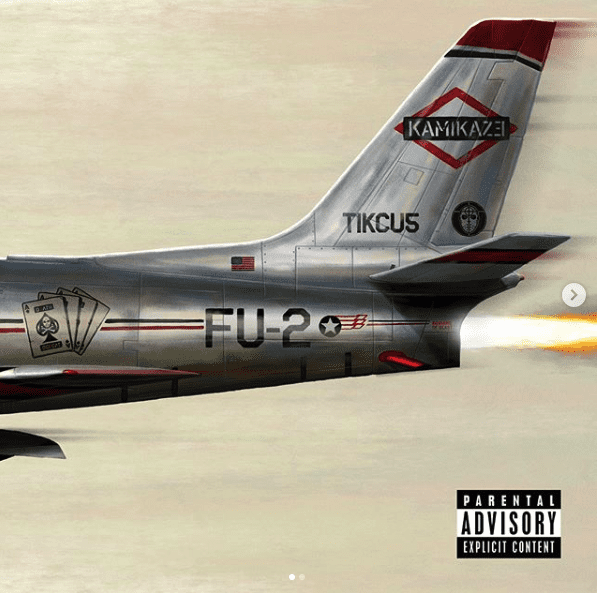 Eminem quietly dropped a bomb on the culture with his new album Kamikaze, his best work since the 2004 album The Eminem Show. The lyrical onslaught being displayed on Kamikaze will have people wondering if Eminem is on a deliberate career suicidal crash taking on so many critics at once, especially as a veteran emcee approaching 46
years of age. Introduced in 1997, Eminem's more aggressive persona Slim Shady, who would tangle with anyone without remorse or mercy, has returned on Kamikaze in a flight suit ready for battle.
In 2017, Eminem received the worst criticism of his career with the release of his ninth studio album, Revival. The criticism started with his Beyoncé collaboration "Walk on Water" and climaxed with his freestyle addressing Donald Trump's divisiveness in America during the BET Hip-Hop Awards.
The criticism came from all directions. On his podcast, Joe Budden, who is signed to Eminem's Shady Records label, was harsh in his review of Revival, calling the album trash during an episode of Complex's "Everyday Struggle" show. Budden's comments hit The Shady camp hard due to his working relationship with Eminem.
In turn, Eminem dissed Joe Budden on the title track "Kamikaze" on the new album when he raps, "Somebody tell Budden before I snap/he better fasten it/or have his body bag zipped/the closest thing he's had having hits is smackin' b—-es."
Media personalities and several rappers, especially hungry new artists who grew up idolizing Eminem, joined the criticism. Eminem addressed them and others throughout Kamikaze, including Vince Staples, Charlamagne tha God, and Tyler, The Creator.
In May, Eminem re-emerged on "Caterpillar," a single released by his Bad Meets Evil groupmate Royce da 5'9 that had hardcore fans celebrating the ferocious emcee's return to destroying tracks.
After the release of Encore in 2004, Eminem took a five-year hiatus from recording albums, returning drug-free, with a cleaner image and releasing massive singles featuring Rihanna, Pink and other pop artists between his albums Relapse in 2009 and Revival in 2017. That eight-year period had fans wondering if Slim Shady would ever return.
Kamikaze is executive produced by Eminem and Dr. Dre. The album also has several notable producers — Eminem, Mike WiLL Made-It on tracks "Greatest" and "Fall"; illadaproducer on "The Ringer," "Normal" and "Good Guy"; and Boi-1da on "Lucky You." Fans need not hold their breath for tracks produced by Dr. Dre, whose production credits, unfortunately, have been absent on Eminem albums since Relapse.
Rick Rubin, who led production during the recordings of Eminem's albums MMLP2 in 2013 and 2017's Revival, is also missing this go-around. However, the Kamikaze album cover pays homage to the Beasties Boys' 1996 debut album Licensed to Ill — one of Rubin's breakout projects as a producer.
Kamikaze's intro track, "The Ringer," starts off with an aircraft crashing into hip-hop's crumbling landscape. Eminem raps: "I should aim at everybody in the game/pick a name/I'm fed up with being hungry" — and the feeling is evident throughout the album.
On the song "Lucky You," featuring Joyner Lucas, one of rap's new breakout artists, many perceive Eminem to be firing lyrical shots at Drake when he spits: "I got a couple of mansions/still I don't have any manners/you got a couple of ghostwriters/but to these kids it don't actually matter."
Kamikaze has several standout songs. "Stepping Stone" has Eminem reflecting on the rise of his group D12 and how things went downhill since the death of Proof, his best friend and the heart of the group. Royce da 5'9 and Eminem join forces again on "Not Alike," the vicious diss track against Machine Gun Kelly, using the cadence of Migos plus reworking the hook of their breakout hit "Bad and Boujee" — and it works. These two will go down as one of the best duos in hip-hop history.
Kamikaze is the album fans have been wanting for more than a decade from Marshall Mathers. He's back with "Venom" and ready to kick-off WW III.
— Jose be 3i3