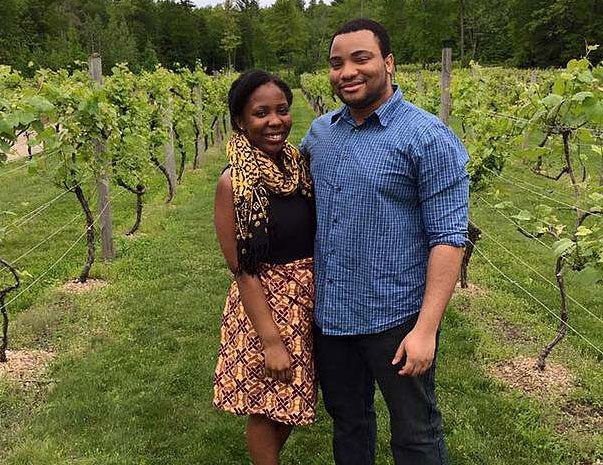 It all seemed to start as a perfect vacation for Jaleesa Jackson, 29, and Chiedozie Uwandu, 28. The couple had traveled from Boston to Los Angeles to enjoy an expensive Airbnb beach vacation and to take a break from their medical residencies. When the pair arrived, there was a bottle of wine and a welcome note from the Airbnb "superhost" identified as JJ waiting. But later that night it became a vacation from hell and the couple found themselves hiding in the kitchen with knives.
According to the Boston Globe, it started on the first night at around 5:30 a.m. The couple heard banging on the door and a man yelling, "I know you're in there, Kevin."
Jackson opened the door slightly and told him to go away and later called JJ. The host told the couple, "Yeah, that was me. Sorry about the confusion. Life's too short for me to give you an explanation. Have a nice time in LA."
The next morning, a man came crashing through a large window, dressed in a grey hoodie which covered his head. Uwandu jumped on who he thought was a burglar and pinned him to the floor. When Uwandu removed the hood from the man's head, he realized it was their Airbnb super host JJ.
JJ was able to break free from Uwandu and ran from the home. The couple called police and sealed themselves in the kitchen, arming themselves with knives in case JJ returned. The police response was swift and soon JJ was apprehended and placed in handcuffs. As he was led back to the house, he claimed that Airbnb told him to evict the couple and charge them cleaning fees.
Then, as the couple was talking to the police, an elderly woman claiming to be the owner of the building asked who they were. She told the police that she rents the guesthouse to JJ but he did not have the authority to rent it out to Airbnb. However, JJ is listed as a superhost, someone recognized as offering superb rentals and customer service by Airbnb.
Jackson and Uwandu stated that Airbnb offered to relocate them to another property, but they refused and checked into a Hilton hotel. The unexpected expense cost them another $2.3K. After a delay, Airbnb refunded the couple their initial rental fee of $708. They asked Airbnb for $5K in compensation, and Airbnb gave a final offer of  $2,500, plus five therapy sessions to "overcome the trauma" the couple endured. They have turned down the offer and are pursuing other legal options.
A spokesperson for Airbnb stated that JJ has been removed from the rental community listings.