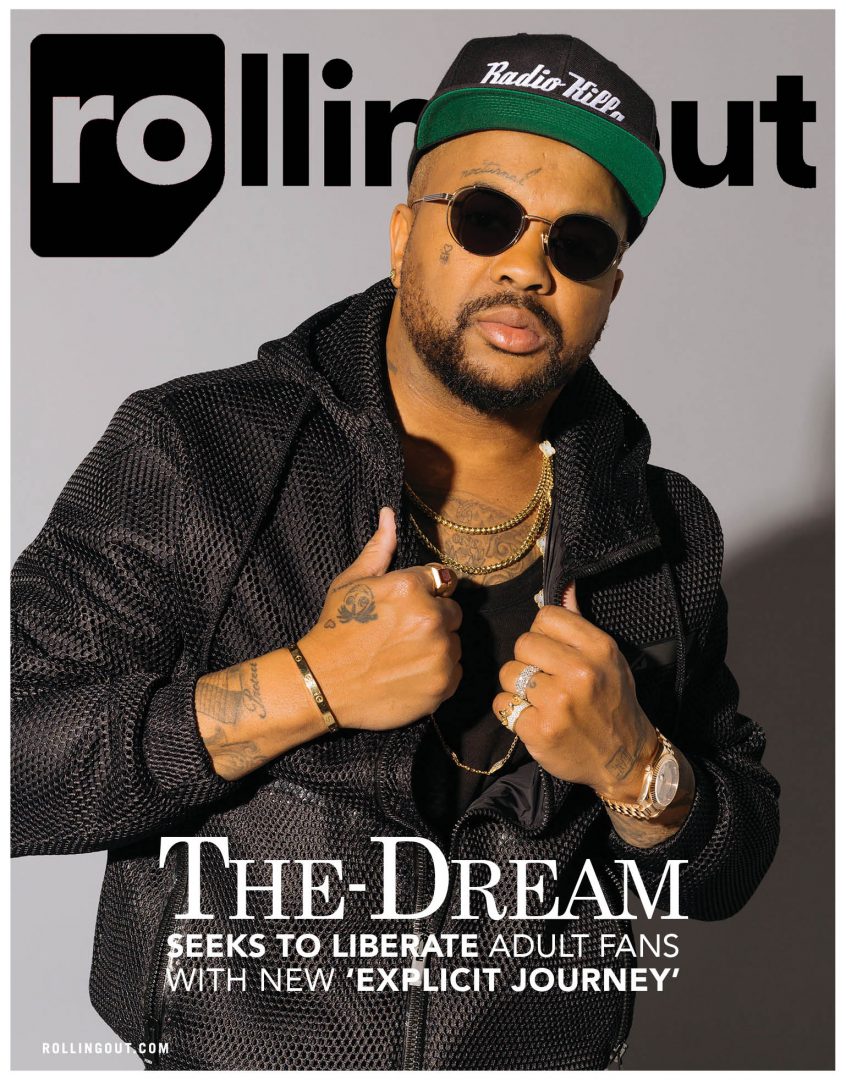 If there was an annual award for the hardest-working man in show business, The-Dream could very well be its front-runner every year. Fresh off a multi-city tour, the southwest Atlanta native is back home, undoubtedly where his heart is. He sports a Radio Killa Records ball cap, signature shades and enough jewelry to accentuate his otherwise conventional threads.
John Coltrane
 — whom he compares to golf — allows him time to relax and stay in the moment, as his mind must be working overtime.
Even after returning from an international tour, The-Dream receives phone calls from teachers with updates or progress reports on his children. (He has eight.) He has a responsibility to himself, his family and an adoring public that wants him here. In other words, duty calls — no matter where his feet are planted. And so it is his business to continue to build a legacy that has produced multiple platinum-selling albums on which he has either performed or to which he has contributed in some other creative capacity.
He recently helped put the finishing touches on Solange Knowles' surprise LP, When I Get Home. The next order of business for the singer, songwriter and producer is to promote his sixth studio album, Ménage à Trois: Sextape Vol. 1, 2, 3. While sexually charged music is nothing new to the industry, this current climate is certainly more contentious than normal. Topical news aside, The-Dream is quick to point out that this "explicit journey" was created for responsible adults who can respect art as just that.
"It was a mere fact of liberating adults and people that are mature," he explains. "[They] love their lives as grown-ups and girls being sexy and guys understanding that. Also, a mutual respect for each side. I know it's kinda touchy these days. It's one of those things where … if you put maturity in the right place in all things, you can do it all well and it will all be great. If you take that out of it, then that's when people abuse certain things and they don't go right.
"I just wanted to make sure that there's no fear. I didn't want people to look at music and say, 'Music isn't art anymore. It's so politicized that you can't make a raunchy, ratchet-a– record.' No, we can do it, but we can still have respect for one another."
That he's worked hard to gain respect from peers who include Rihanna, with whom he penned "Umbrella," and Beyoncé, who enlisted his writing expertise for "Put a Ring On It," speaks to The-Dream's uncanny ability and staying power. As a polarizing personality who's won four Grammy Awards, his work ethic is unrelenting, and his résumé deserves due respect. But everybody doesn't see it that way.
In the most mild-tempered manner he can muster, The-Dream tells a story of how he pulled up to a Shell gas station close to downtown Atlanta. He was in one of his luxurious cars, minding his own business. Upon stepping out to pay for and pump his gas, he noticed an older White woman taking in the moment. The two acknowledged each other, as she couldn't take her eyes off him or his car. She then worked up the courage to ask The-Dream what he did for a living. His reply was simply, "music," which she immediately equated to mean rapper.
"It was like, soooo racist," he recalls with an uneasy smile. "You have no idea. You just did that thing you don't know you're doing — and it happened like three times that day — and I was, like, 'Yeah, I'm not a rapper. I just f— a lot.' And I liked it. That's an R&B artist. That's exactly what it is. That's the answer to the question."
Rappers, The-Dream explains, are songwriters. They don't just write songs; they write really good songs. They tell stories that need to be told and cover subject matter that most artists can't or won't approach.
"People typecast you in a certain place in a genre and that means something else," he says. "Me being in it, of course, I grew up [with] Pac [Tupac Shakur] [and] UGK [Underground Kingz]. Those are people that I adored and admired. So when you say 'rap' to me, it doesn't throw me off at all. But people use the term 'rap' to describe you. … [Like] all you do is this particular thing."
If it's one thing we know, it's that The-Dream is multitalented. Be it the otherworldly skill that drew him to the trumpet when he was in elementary school or life lessons he learned on Atlanta's notorious Bankhead Highway (now Donald Lee Hollowell Parkway) with his grandfather, his work ethic won't soon escape him. It was instilled the good old-fashioned way.
"My grandfather would go to work at 6 a.m.," The-Dream shares. "You might not even see him until 8 [p.m.]. It didn't mean that his examples didn't count. It didn't mean that when he said that one thing to you it didn't count.
"Evidently it showed up in my life as an adult, and it's my work ethic and everything that I got from him. That's how I got to this point."
And that's all that matters.
Watch behind the scenes photoshoot.