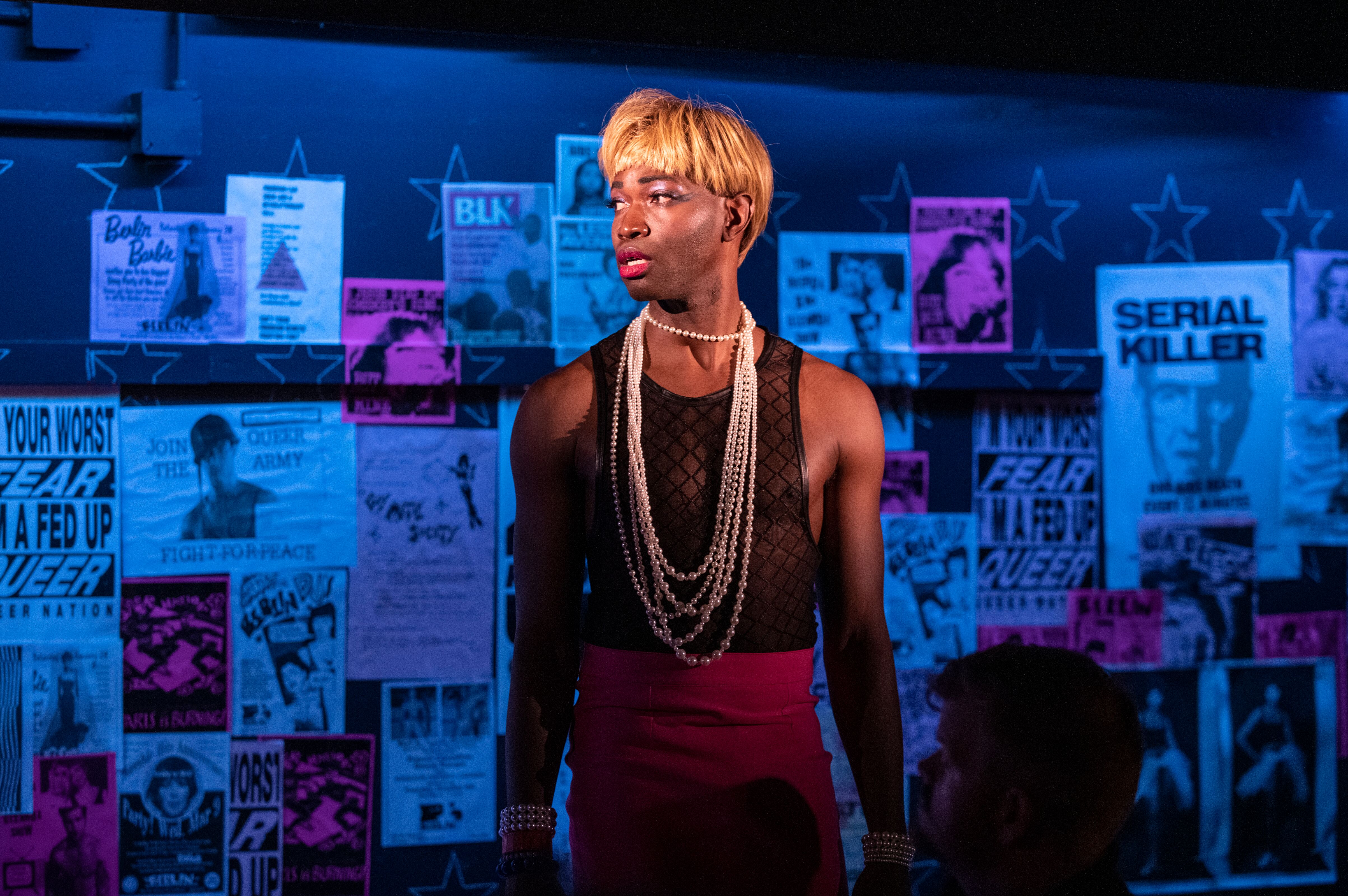 If you are looking for an entertaining, campy way to celebrate Pride Month, look no further than Ms. Blakk for President running at the Steppenwolf Theater.
The backstory: Chicago, 1992, and the AIDS crisis at its highpoint, Joan Jett Blakk and the newly formed Queer Nation Chicago have an urgent agenda. Ms. Blakk was the first drag queen presidential candidate to announce her bid to run for President of the United States. Just the previous year, Ms. Blakk ran against Richard M. Daley for mayor of Chicago. Although she lost, she garnered national attention in the process. What ensues is a hilarious tongue-in-cheek musical.
Ms.Blakk is part campaign rally, part nightclub performance, part confessional and all party at the Steppenwolf Theater.  Conceived and directed by Tina Landau, along with co-writer Tarell Alvin McCraney, author of the Moonlight screenplay, who also stars in the production.
What appealed to you about this particular role?
The role called for a queer, male-identifying, Black person aged 35-37, who was an actor and used their art for social change. It called for a person who had lost loved ones to AIDS-related complications; someone who felt alone even though they have been in and on some of the biggest platforms and front of some of the largest audiences in the country. The role didn't appeal, it called to me and I had to take it. Now!
What was it like, on a personal level, portraying this larger-than-life character?
Terence Allan Smith is shy and brave. Joan Jett Blakk is a synergy of those energies. If you know me on a personal level you know that I can perform larger-than-life but that I am painfully shy.
 Running for president, what was Ms. Blakk's platform?
High. Ms. Blakk's platforms were high: 5 inches or taller. 'Men made "heels" (high heeled shoes) they should have to wear them' she quipped on the floor of the DNC. She fought to bring attention to queer issues of the day, namely the death all around her, and the apathy of our nation to do much about it. She wanted the freedom to love and a platform to love on. Ms. Blakk's platform was high.
What are you hoping audiences take away for the show?
I want them to remember the name Terence Allan Smith gave us Joan Jett Blakk.
 What would you say has been the political and social effect (s) since Ms. Blakk's run?
Hard to say, but since then: ACT UP still fights pharmacies for better more equitable access to medicines that can prevent HIV and stave off AIDS. There is an unapologetically gay candidate running for president, [and] a Black woman who is gay as mayor of Chicago. We would not be here on our journey without Ms. Blakk and many others who walked before.
Ms. Blakk for President runs through July 14 at Steppenwolf Theater, 1650 N. Halsted St.; www.steppenwolf.org