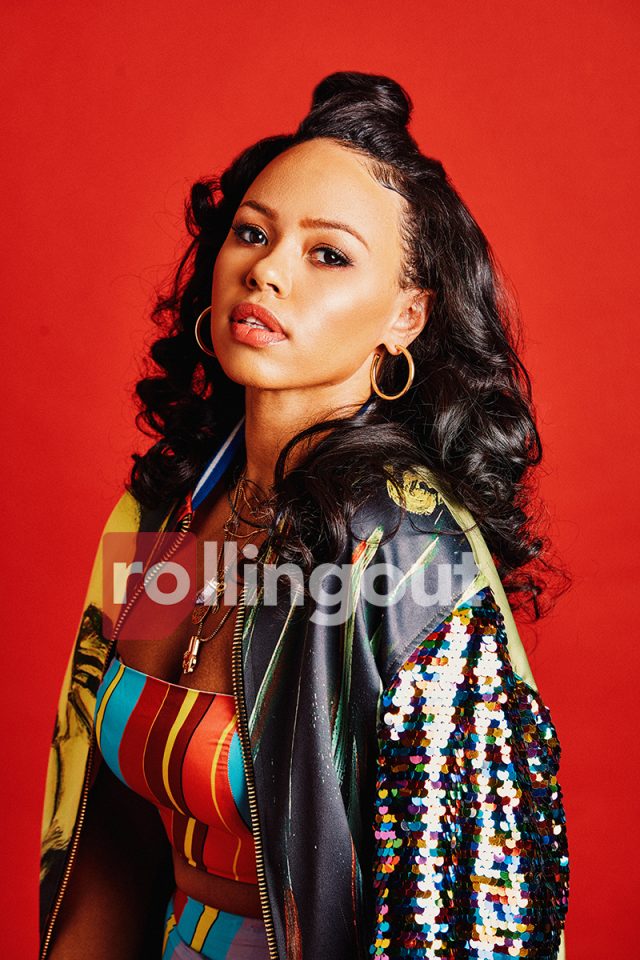 It's been a minute since Elle Varner blessed the listening public with her impressive 2012 debut, Perfectly Imperfect — one that boasted the chart-topping "Only Wanna Give It To You," (featuring J. Cole) and contagious smash "Refill." In her absence, the digital age has all but done away with CDs, in-stores, street teams and all the promotional tools that made for an epic album release. Now, instead of performing in cafeterias with her signature guitar and real-life human beatboxer, she is adjusting to streaming websites, digital downloads, social media and trolls.
Coming off an album that soared to No. 4 on the Billboard charts and sold more than 30,000 copies in its first week, only a deaf fool with blind eyes would have believed her next full-length release would come seven years later. In retrospect, no one actually cited hearing that proclamation, but in reality, Varner is more than ready to release her sophomore project, ELLEVATION, in the wake of a massive industry makeover.
While she walks into her exclusive BET Awards shoot, smiling and hugging anyone within arm's reach, there is a calculated certainty she carries, even when looking over her outfits. It suits her, suggesting a confidence that she is ready to share her new perspective.
"Any artist that's in the industry for a period of time is going to go through changes," she reasons. "Label changes, business changes — so that happens, and I experienced that. What I did with it was I started my own label. I went back to relationships with different producers [and] musicians, and I started getting the chance to create the music I really wanted to create into this free space, and I put it all into this new project."
After having her initial sophomore album tabled through the tumultuous merger that never saw Four Letter Word come to light, Varner can now smile, knowing she survived.
"It was a life-changing experience," she admits. "There were times it felt like the end of the world. I prepared my whole life to be this professional recording artist, and I made it to [that] point and now I can't release music. Like, 'Who am I? What do I do?'
"But I will say that in this period, that's when God has been able to reach me the most and on that walk with him I've just uncovered so much power that I had within myself and my community to support me through it, and I feel like a better, stronger woman for it."
Set for a July 12 release, ELLEVATION finds Varner in perhaps her sexiest, most creative space ever, offering just two collaborative efforts — "Wishing Well" (featuring Rapsody) and "Pour Me" (featuring Wale). Elsewhere, she shows growth and pours her heart out on "Be Encouraged," which points to an understandably "emotionally charged" album.
The daughter of a musical union, Varner literally grew up in the business, watching her parents struggle to establish themselves as industry mainstays. Her father, Jimmy Varner, scored collaborations with Gerald Alston, Kool & The Gang and Will Downing, while her mother, Mikelyn Roderick, worked with Barry White and Tevin Campbell, among others. Together they formed a group — By All Means — with Stan Sheppard, which saw marginal success. While they worked about the City of Angels, Elle passed the time by learning to play the flute, piano and guitar, beginning at the tender age of 6 years old.
A proud native of Los Angeles, Varner unsurprisingly learned early on the value of family and hard work. The thought of renewing her career on her terms reminds her of the day that changed her perception of life.
"Right outside here, we're in downtown, is Skid Row," she says, holding back tears and motioning toward a wall that divides a plush studio from vagrants who routinely sleep in their own urine. "There [are] literally kids that are sleeping in the street.
"I remember one Christmas I made some comment about one of my gifts, and [my mom] said, 'Oh yeah? Well get in the car.' And we came down here, and I had to [get over it and] understand that we are all just people. No one matters more than the next person. I think in 2019 going into 2020 if we can embrace that … that's something I pray to embody and share with people on this journey."
It stands to reason that Varner's journey is far from over. She may not have dreamt it up this way — while running in and out of green rooms or jumping on and off studio couches — while moms and pops were searching for their star. It is, however, safe to say that she is everything they ever hoped or dreamed she could be.
Now that's ELLEVATION in full effect.
Written by N. Ali Early
Interview by Theresa Luster
Images by EYEATTRACTION PHOTOGRAPHY