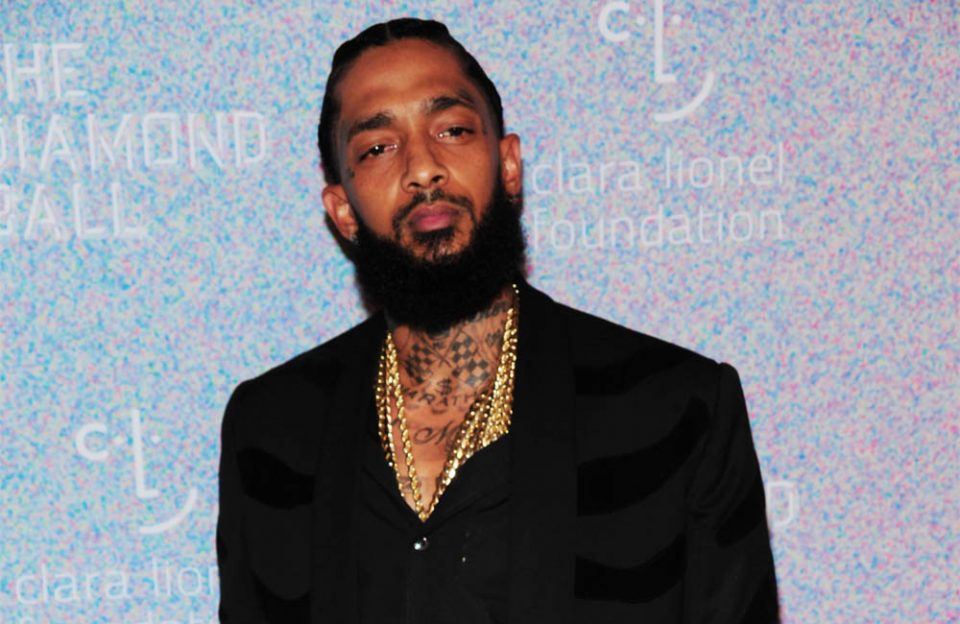 One of Nipsey Hussle's business partners said the Los Angeles city attorney's office has been trying to shut down The Marathon Clothing store for years, long before the legendary businessman and emcee Nipsey Hussle was slain.
David A. Gross also said the Los Angeles Police Department targeted the store with claims of gang activity at the strip mall where the store was located in South Los Angeles. The LAPD had previously denied that The Marathon Clothing store was specifically under surveillance, saying that it was monitoring the strip mall in general.
"The Los Angeles City Attorney's office was trying to end us," Gross wrote on Instagram alongside a photo of a letter reportedly sent by Deputy City Attorney Nancy Hagan. "Literally, they wanted to expel The Marathon Store from Slauson Plaza. No doubt, if Nipsey was alive they'd still be stalking it, after doggedly pursuing him, his brother, his team and his businesses for damn near a decade."
Gross said the city attorney did not even want the store to be sold to the Asghedom brothers (Nipsey Hussle and Blacc Sam) in the first place and have worked to uproot the store ever since.
"The city attorney hated that their maniacal zeal to expel The Marathon [Clothing] Store from Slauson Plaza actually resulted in us buying it and planning to develop it," he continued.
Furthermore, the city attorney's office was running a smear campaign by leaking to the New York Times a letter that was sent to Gross with the threat to shut the store down if he doesn't stop the crime and drug activity at the mall. Gross said the bad press has torpedoed potentially lucrative business deals.
"That caused real problems for me that I still can't fully address … because it's ongoing," he added of the leak. "It hurt live deals and brought some to a complete halt."
Gross said another critical article about the strip mall at the corner of Crenshaw Blvd. and Slauson Ave. is forthcoming.
Check out what else Gross has to say in his Instagram post below: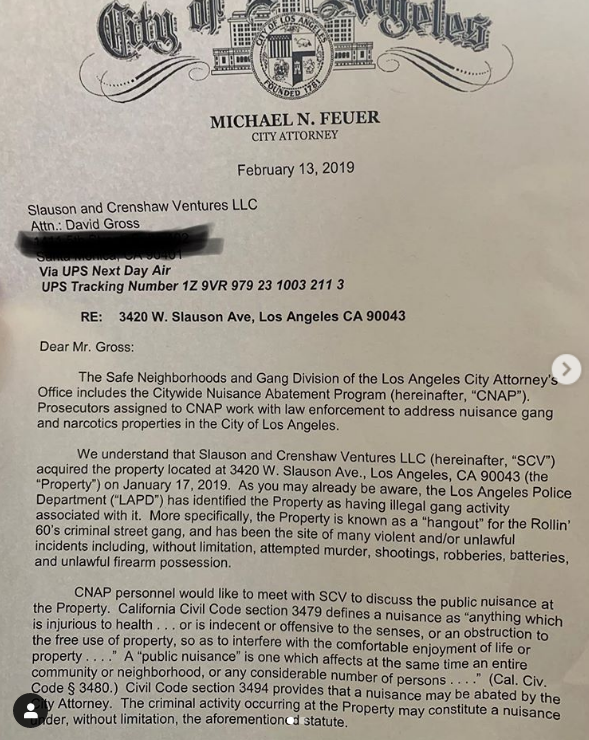 "After two NYTimes articles in the past month (one in which the city attorney leaked these docs and others) and an LA Times article coming – I have to speak.
.
It was never my intention to go public with this because: 1) it's damaging for the world to think I'm being investigated or engaged in conflict with a city agency; 2) It's not my story to fully tell, and 3) they play the long game and will surely find a way to f*** us…
.
So I've just been playing it cool for the past six months while essentially locked in a standoff with the LA city attorney and the LAPD over Slauson Plaza
.
The Los Angeles city attorney's office was trying to end us. Literally. They wanted to expel The Marathon Store from Slauson Plaza. No doubt, if Nipsey was alive they'd still be stalking it, after doggedly pursuing him, his brother, his team and his businesses for damn near a decade. To no avail. Again, their story to tell when appropriate."