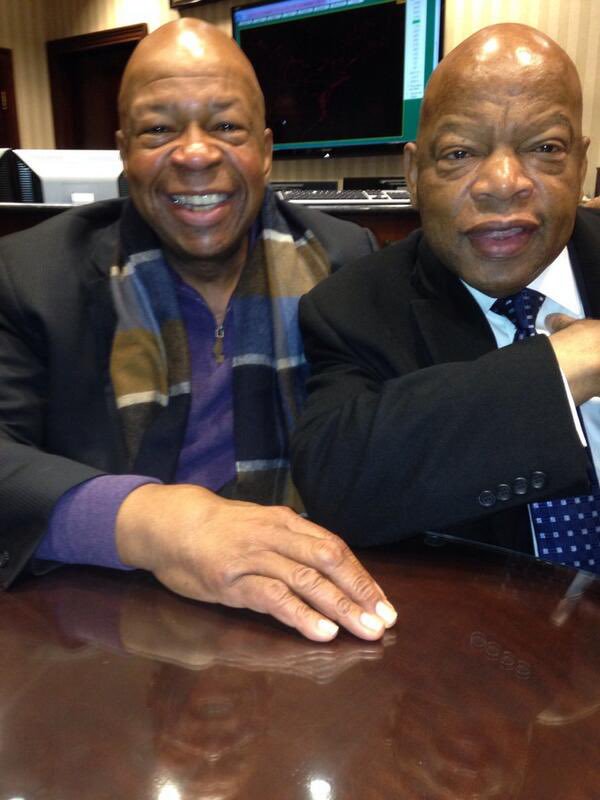 Right on cue, infuriatingly and disrespectfully, some Americans are confusing the late legendary Congressman Elijah Cummings with the venerated Georgia Rep. John Lewis.
That's why Lewis was trending No. 1 on Twitter Thursday morning, Oct. 17, 2019, instead of Cummings.
Cummings, D-Maryland, suddenly passed away Thursday at age 68 from an undisclosed illness at Johns Hopkins University. But some are already mistaking him for civil rights hero-turned-Congressman John Lewis, D-Georgia, who is 79.
It happened just a few months ago on Fox News, the same "reputable" news outlet that makes a habit of confusing prominent Blacks.
"A few moments ago we had a technical snafu," Fox News co-anchor Eric Shawn said. "We aired a clip of John Lewis of Georgia and mistakenly labeled him as Oversight Committee Chairman Elijah Cummings. Of course, we regret that error and apologize."
This happened despite Lewis' nameplate positioned right in front of him.
This is not a first for Fox News. In August 2018, during an "America's Newsroom" segment about the late R&B legend Aretha Franklin, they mistakenly aired a photo singer Patti LaBelle. And, in March, "The Five" co-host Jesse Watters mistook CBS anchor Gayle King for ABC's Robin Roberts.
Black and White social media users are hyper-vigilant to dispel any confusion about the recently deceased Cummings. They have issued admonishments against some fellow Americans who have already misidentified Cummings and Lewis:
https://twitter.com/6c696265727479/status/1184825398607171586
Why is John Lewis trending?
Because white people suck.
I am white and I know who @RepCummings is.
RIP to a Maryland hero. 🙏

— RH317 (@raech317) October 17, 2019
Right? I saw John Lewis trending and thought, Oh no, a tragedy? A tribute to Elijah?
No, just this pic.twitter.com/svBl3PIPol

— ⚕Caroline 💜🐘🌊🛑🔫☠️ (@SwtCaroline2213) October 17, 2019
BRB unfollowing everyone (white) who thinks Representative Elijah Cummings is the same Black man as Representative John Lewis

— Andie the Obamanista (she/ her) (@TheObamanista) October 17, 2019
I've already seen people post John Lewis instead of Elijah Cummings–particularly the old Civil Rights photos. Please don't do this today.

— GNCordova (@GNCordova) October 17, 2019
I do not have the patience for people who confuse Elijah Cummings and John Lewis today.

Or ever.

😑

— THIQUE CHURCH GIRL. (@MsPackyetti) October 17, 2019
Yes. They look a lot a like. pic.twitter.com/OWW12RmrxQ

— Nico Lazano (@lazano_nico) October 17, 2019