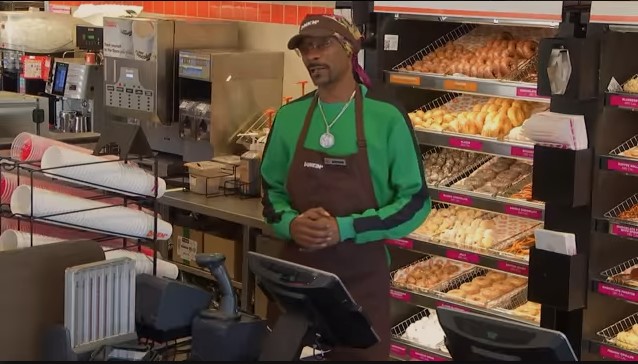 Snoop Dogg has teamed up with a Los Angeles Dunkin' Donuts franchise to roll out its new plant-based sausage breakfast sandwich.
To the surprise of many a customer who entered the restaurant, Snoop Dogg was standing there at the counter to greet them with a warm hello. Other customers pulled up on Snoop at the drive-thru window, where he encouraged them to "have a great day" after serving them breakfast.
Captivated customers expressed their glee and utter surprise at the sight of Snoop. One lady froze, then placed both hands over her mouth, while a male customer embraced the Long Beach native with obvious love and admiration.
Snoop's love for plant-based food and Beyond Meat is no secret. In May of 2018, the 48-year-old West Coast rap icon served vegan burgers to El Segundo, California, residents from the confines of a food truck. He also took it upon himself to provide Beyond Burgers to various attendees at a pre-Grammy party in February last year.
Dunkin Donuts' new plant-based sandwich was supposed to launch in January 2020, but after a trial activation in New York City exceeded expectations, it only made sense to move forward now. And what better way to do it than with one of the most visibly popular plant-based proponents behind them?
Snoop stars as the "Employee of the Month" in the promotion. Participating Dunkin' Donuts were giving away free samples of the sandwich Friday morning, Nov. 8, and will do so again, while supplies last, from 8 a.m. to 10 a.m. on Saturday, Nov. 9.
All you have to do is say: "Snoop Dogg sent me."
The sandwich comes with Beyond Meat, an egg patty and American cheese on an English muffin and can be made vegan by refusal of said egg and cheese.
Click through to see Snoop Dogg star as Dunkin' Donuts' "Employee of the Month."