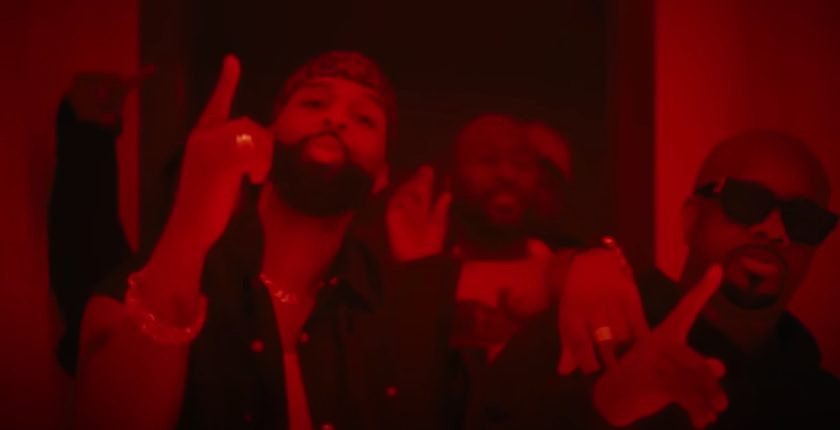 DVSN's "If I Get Caught" single and music video are the current talk of R&B.
A Jermaine Dupri track, sampled and co-signed by Jay-Z under Drake and the LVRN label that introduced the likes of Raury, 6Lack and Summer Walker, there is no denying this storm was premeditated.
The single represents 2022 in more ways than one. It's a manufactured viral moment, an R&B song promoting toxicity and social media outrage. Part of the beauty of the track comes in the music video itself, which features podcast stars Mal, Lex P and Drea Nicole. The Mal cameo sparked even more conversation and response from his former podcast co-host, Joe Budden.
"Mad problems here," Budden said. "DVSN is my man, and I do think he deserves congratulations. He brought back video girls and video guys. What's the first thing you do when a break up is bad? Go pick up some clown n—- to support you through it."
Mal responded by posting a simple sunglasses emoji.
Before a trip to Magic City to promote the track and after another extensive Instagram Live conversation discussing the song with Queen Naija and Omeretta The Great, rolling out had a few minutes to talk to DVSN singer Daniel Daley about it all.
You all have the internet in a frenzy right now. How does that feel?
I feel like we've accomplished what we wanted to accomplish as far as starting some real conversation, and as far as starting the story of this album. That's the one thing I think people haven't really fully grasped is this is just part of a story. This is the beginning chapter, and it's dealing mainly with the ego.
What went into the decision to put famous podcasters in the music video?
We just wanted to find someone to play my ain't s—friend. Our team is very cool with a lot of the guys in the podcast spaces and one of the cooler ones we've been with just as friends has always been Rory and Mal, from back with the Joe Budden situation and those times. We've been cool with them on our own, and LVRN and our management team have been cool with them on their own. So we were like let's just ask Mal to come in and do something as opposed to getting a comedian or somebody like that. It would seem a little more genuine because we actually f— with these guys. So cool. We did that, and then when it came down to the leading ladies, we were just like, "OK. Do we want it to be this person, this person, this person?" We're going through a list of people we were thinking of starting to make sense, but then didn't make sense for other reasons. And we're like, "Why don't we just keep it conversational by doing people that have conversations?" So that's where the idea came from.