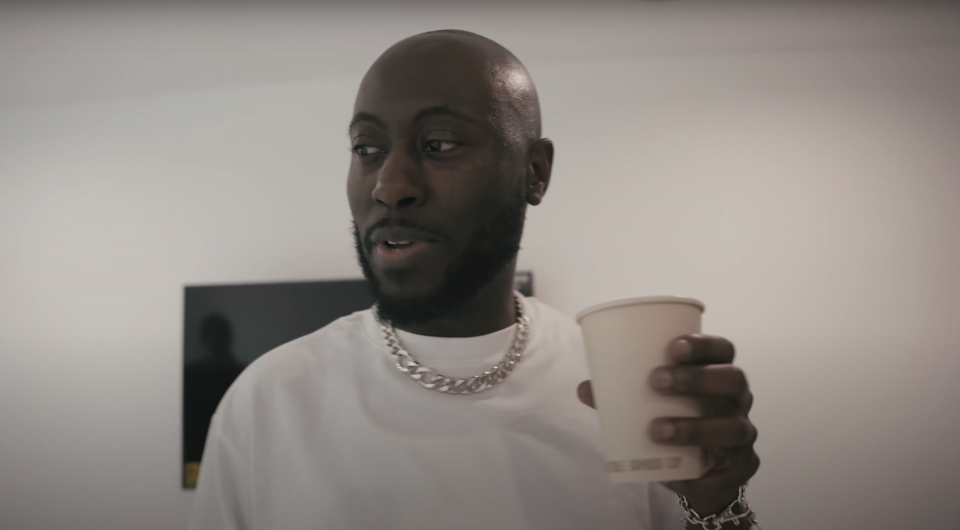 Some of the music industry's heaviest hitters were in the LVRN office on July 25 ,from LVRN co-founder Justice Baiden to members of the AM PR Group – the same Los Angeles-based group that works with Issa Rae. In the office's lounge area were consultant Paige Addison and a fairly soft-spoken man who wears his hat brim low, which covers up a lot of his face.
That man is Ninteen85, a Canadian producer responsible for some of Drake's most iconic hits like "Just Hold On, We're Going Home," "Hotline Bling" and "One Dance."
A few minutes later, Jermaine Dupri, the unofficial mayor of Atlanta, walks in and addresses everyone. The occasion for the visit is a celebration for Dupri and DVSN's new single "If I Get Caught." DVSN, the R&B duo signed to Drake's OVO label is composed of Daniel Daley and Nineteen85 and the song has created a good deal of controversy. Its chorus is a choir of men singing "if I get caught cheating, that don't mean I don't love you!" To add fuel to the fire,  a trip to Magic City and a discussion about monogamy featuring Nick Cannon were part of the single's promotion tour.
This is a R&B record. Going crazy @magiccity no sampled music,no rap feature @dvsn "If I Get Caught" 🎥 that boi @NigelDPresents pic.twitter.com/Zc1HfnkTxn

— Jermaine Dupri (@jermainedupri) July 26, 2022
DVSN spoke to rolling out about the projection of their careers.
Thx @jermainedupri for clearing the Jay-z sample … and Idk if the song's TOXIC it's more just… honest 🤔 pic.twitter.com/UGr44bgrix

— dvsn ÷ (@dvsn) July 20, 2022
There are so many legendary people connected to this latest single. from Jay-Z to Jermaine Dupri. What's it like having these type of heavy hitters connected to the project?
Daley: We're definitely blessed. I'm in a group with a producer who's had a crazy list of hits prior to us ever making a record together. So I already had a little bit of an alley. We've had relationships with a lot of people due to people having to respect his work and the catalog that precedes him. Then, coming in with LVRN, trying to get a session together with me and Jermaine, that turned into a brotherhood. It's just been a blessed situation. We just got to say, "thank God" because there are definitely harder roads that could have come about.
Nineteen, you've been behind the soundtrack of our summers for the past decade, but you keep a low profile. Are there ever times you want to boast more, or do you like staying under the radar?
Nineteen85: Yes and no. That's not my personality, but I do want more of that. So I've literally been just trying to figure out how I'm going to play that role without having to be like I want to step into that light a bit more. I like the way that things are happening with DVSN because the conversations get bigger. I've always wanted the music to speak more than I had to, which it's done, but it also happened right at the beginning of the social media era. As soon as my record start to hit, everybody else was being so active on socials, which has never been my thing. So I'm just adjusting and figuring out where I can maneuver best.