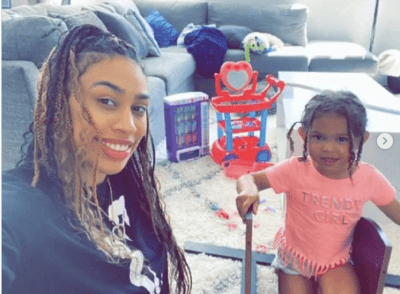 One of the WNBA's best players is "heartbroken," according to a statement she released. Dearica Hamby, a two-time WNBA Sixth Woman of the Year award recipient and two-time All-Star, has been traded from the Las Vegas Aces to the Los Angeles Sparks for the rights of Amanda Zahui B. The Aces also sent its 2024 first-round pick to L.A. for the Sparks' 2024 second-round pick.
"I am heartbroken," Hamby wrote in a statement following the announcement on Jan. 21. "Being traded is a part of the business. Being lied to, bullied, manipulated and discriminated against is not."
Hamby, who has a daughter Amaya, announced she was pregnant with her second child during the Aces' 2022 championship parade. Near the end of Las Vegas' season, Hamby dealt with a knee injury in addition to her unannounced pregnancy. She still contributed to the team in key moments of the postseason providing quality defense and rebounding.
Hamby went on in her statement to write she was promised things before signing her extension that didn't happen. She said she was accused of signing her contract extension knowing she was pregnant, but that was also "false." Throughout this offseason, Hamby said she's been dedicated to remaining as close to game shape as possible despite her pregnancy.
"I was asked if I planned my pregnancy," Hamby wrote. "When I responded, 'no,' I was then told I 'was not taking precautions to not get pregnant.' I was traded because 'I couldn't be ready and we need bodies.'"
Hamby was selected by the San Antonio Stars with the No. 6 pick in the 2015 WNBA Draft. She was a part of the franchise move to Las Vegas in 2018.
"I remained transparent with everyone within the organization, and yet, my honesty was met with coldness, disrespect and disregard from members of management," Hamby wrote. " "I have only put this organization first since day one before any of them were here … The unprofessional and unethical way I have been treated by an organization, BY WOMEN who are mothers, who have claimed to 'be in these shoes,' who preach family, chemistry and women's empowerment is disappointing and leaves me sick to my stomach.
"We fought for provisions that would finally support and protect player parents. This cannot now be used against me."
Dearica Hamby just posted this on Instagram. That second slide is quite telling. #WNBATwitter pic.twitter.com/gYCOYtd9ut

— bailey caldwell (@sir_richmond20) January 21, 2023
After Hamby's statement, the WNBPA released a statement.
"A member of our union has raised serious concerns regarding the conduct of members of Las Vegas Aces' management," the statement read. "We will review this matter and we will seek a comprehensive investigation to ensure that her rights under the collectively bargained provisions of the 2020 CBA, as well as her rights and protections under state and federal law, have not been violated."
The Aces have not made a public response to Hamby or the WNBPA's statements. Rolling out reached out to the Aces directly on the morning of Jan. 22, but was unable to get a response at that time.
"Dearica has dedicated eight years of her career to this organization and played a big role in our success since the team moved to Las Vegas," Aces general manager Natalie Williams said in the trade announcement. "We're going to miss her as a teammate and are grateful for all of her contributions to the Aces over the years."
Please check back for updates on this developing story.