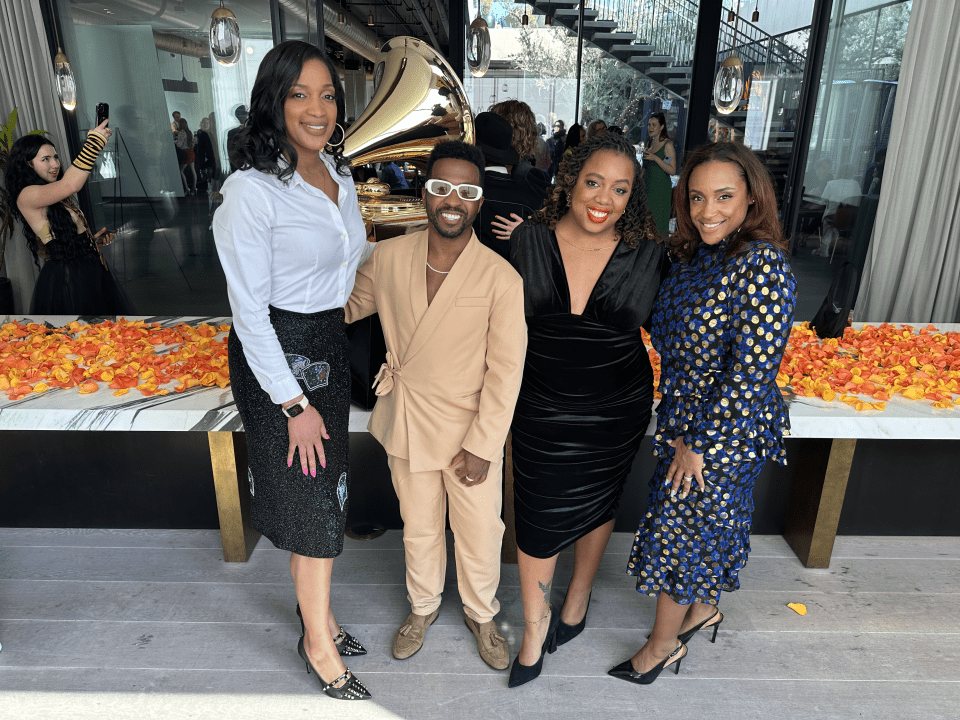 The Recording Academy® Los Angeles Chapter hosted their annual brunch celebration in honor of their chapter's local nominees for the 2023 season. The event was held at Spring Place in Beverly Hills and was sponsored by Spring Place (official sponsor), HYPNO (official sponsor), Black Exclusive (gifting suite sponsor), and co-presenting sponsors JP Morgan Chase and Hallmark Mahogany.
This was a first of its kind sponsorship for Hallmark Mahogany, Hallmark's brand of African-American cards for all occasions, gifts, home decor and more, inspired by Black culture . "We were extremely excited to have the opportunity to celebrate all of the Los Angeles based GRAMMY nominees through the official brunch this year ," said Alexis Kerr, VP of Hallmark Mahogany brand. "As artists, they have used their music and talents to make an indelible imprint in our community that we celebrate with pride," Kerr went on to say.
In attendance were GRAMMY Award nominees including Boi-1da, Kathryn Bostic, Claudia Brant, Nija Charles, Ant Clemons, D'Mile, D Smoke, Lucky Diaz, Robert Eibach, Peter Erskine, GAYLE, Sara Gazarek, Josh Gudwin, Corey Henry, MAJOR., Emerson Mancini, Gaby Moreno, Neal Pogue, No I.D., NOVA WAV, Autumn Rowe, Arturo Sandoval, Dave Stringer, Masa Takumi, Christopher Tin, Emily Warren, and more.
Recording Academy® CEO Harvey Mason, Jr. made a special appearance during the brunch as he gave welcoming remarks. "The goal is to lift up the music industry. Yes, we want to lift you individually, and we want to celebrate all the different genres. But the goal here is to lift the music industry, lift the community, do good and make sure that the industry is a safe, healthy, thriving ecosystem for you, the next you and the next me." Mason, Jr. also went on to advocate for musicians getting paid a fair wage and having a solid support system to fall back on. "When you think about doing what you want to do, there's an organization like the Academy that's going to help educate and teach the next generation of people. If we're not thinking about this stuff, we're going to lose a generation of creatives."
Attendees were served a top tier brunch including omelet stations, waffle stations, self serve fruit stations and more. Drinks were complimentary and free flowing. The backdrop for the brunch couldn't have been more picturesque as there were optimal scenery options for photos, including a beautiful roof top with loads of seating and tons of sun rays – making for the best picture-perfect lighting, an outdoor terrace in the middle of the main floor, and several photo walls to complete the options. Attendees left with swag provided by Hallmark Mahogany, the Recording Academy and more.
The 2023 GRAMMYs will be broadcast live from Crypto.com Arena in Los Angeles Sunday, Feb. 5 (8:00-11:30 PM, live ET/5:00-8:30 PM, live PT) on the CBS Television Network, and will be available to stream live and on demand on Paramount+.
Photo Gallery Credit: Porsha Monique for rolling out