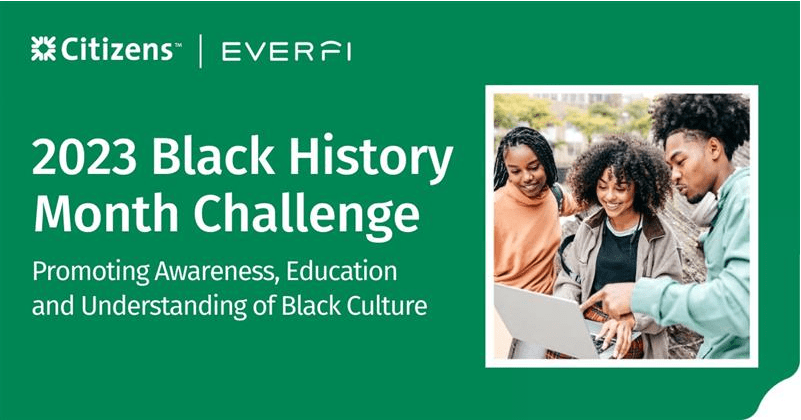 PROVIDENCE, R.I., (February, 2023) — In honor of Black History Month 2023, Citizens is generating awareness, education and celebration of Black culture while awarding eight scholarships to students who are currently enrolled at or committed to attending a Historically Black College or University (HBCU). The Black History Month Challenge is a unique competition conducted throughout February to help students better understand Black culture, including stories of struggles and triumphs using EVERFI's African American History curricula.
The challenge features four digital lessons and a capstone essay contest in which students will develop a plan for continuing a year-round conversation about Black history within their respective communities. Eight winners will be selected from participating HBCUs, and each will receive a $5,000 scholarship and a brand-new Apple MacBook Pro, courtesy of Citizens Pay.
"At Citizens, we aspire to be a trusted and active advocate for a diverse, equitable and inclusive society," said Michelle Hecht, EVP and Head of Corporate Affairs at Citizens. "We are thrilled to continue sponsoring the Black History Month Challenge and investing in the next generation of HBCU students while providing a unique platform for education, learning and shared understanding."
The Black History Month Challenge is designed to inspire students by sharing stories about the Black experience in America and empowering them by amplifying Black stories throughout history. Students will explore both historical and current events as they learn about trailblazers within multiple disciplines who have made significant contributions to Black culture within their respective sectors.
In addition to making Black history education available, Citizens collaborates with EVERFI to provide schools with the necessary resources concerning financial empowerment, financing higher education, saving and digital banking to ensure students have the proper knowledge to help them thrive and reach their full potential.
To learn more about this year's Black History Month Challenge, visit www.citizensbank.com/EVERFI
###
About Citizens Financial Group, Inc.
Citizens Financial Group, Inc. is one of the nation's oldest and largest financial institutions, with $226.7 billion in assets as of December 31, 2022. Headquartered in Providence, Rhode Island, Citizens offers a broad range of retail and commercial banking products and services to individuals, small businesses, middle-market companies, large corporations and institutions. Citizens helps its customers reach their potential by listening to them and by understanding their needs in order to offer tailored advice, ideas and solutions. In Consumer Banking, Citizens provides an integrated experience that includes mobile and online banking, a full-service customer contact center and the convenience of approximately 3,300 ATMs and approximately 1,200 branches in 14 states and the District of Columbia. Consumer Banking products and services include a full range of banking, lending, savings, wealth management and small business offerings. In Commercial Banking, Citizens offers a broad complement of financial products and solutions, including lending and leasing, deposit and treasury management services, foreign exchange, interest rate and commodity risk management solutions, as well as loan syndication, corporate finance, merger and acquisition and debt and equity capital markets capabilities. More information is available at www.citizensbank.com or visit us on Twitter, LinkedIn or Facebook.