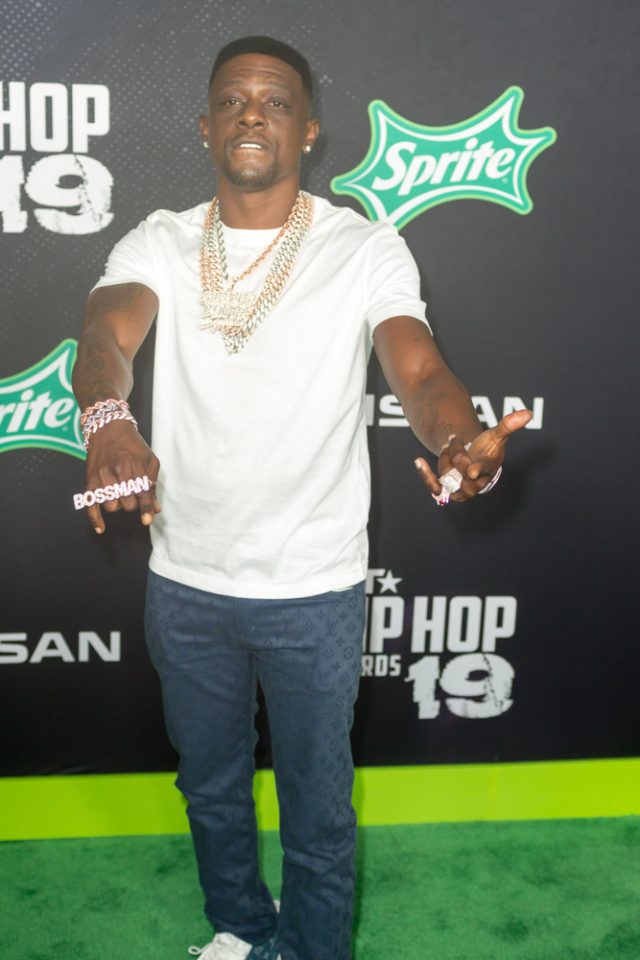 As expected, T.I. didn't take long to storm back at Boosie Badazz for calling him a "rat" on Monday's edition of Vlad TV.
Boosie told Vlad that he was canceling the album they did together after T.I. told his fans on the "ExpedITiously" podcast in the fall of 2022 that he blamed a gun charge on his deceased cousin in order to escape a long prison stint.
"With the T.I. situation, if he did that, you a f—ing rat too. I don't spare no muthaf—ing' body," Boosie, 40, raged in the interview. Because if you doing anything wrong, you doing anything criminal and you cooperate with law enforcement to get you out of trouble – that means you're cooperating. That means you're a rat."
Clifford "T.I." Harris, aka Tip, 42, took umbrage at Boosie for airing out their differences on social media instead of picking up the phone or stopping by his home to talk and get a better understanding.
In fact, T.I. was so angry at being put on blast as "a rat" that he didn't even use a single big word in his prolonged rant on Instagram on Tuesday.
"Yeah so … Idk if it's you or ya "OG Uncle" that needs to see it … but I GOT MY PAPERWORK ready to show!!! PULL UP!!! My number the same and my address the same my n—-. To get on da net and speak on s— you've never spoke to me about is leaving me to believe you been hiding ya heart the whole time!!!!" Tip said.
The self-proclaimed King of the South continued, saying: "I'd NEVER speak "certain disrespect" on your name/reputation bout a "IF" homie… da convict code say 'When in doubt … pull the paperwork out!!! and "IF" you ain't did that … Now … Idk what type of time you on but I say again … "IF" it was a question or confusion 'bout anything I said, you could've called and asked …. so u can report back and tell ya "OG" … or you could've pulled up and checked the blk and white like I'm offering now. Either way tho my n—- … I ain't bound to no n—'s opinion of me … cause what dey "THINK" will NEVER overrule what I KNOW!!! So don't wonder no mo' homie … answer the "IF"… PULL UP and report back to da rest of these n—s who opinions matter so much to you. 'Cause I could give a f— bout what no n—- think 'bout me!!! 'The tail shall never wag the dog' Leadership Leads…. wit facts and stats… we don't follow no fantasyland s—…re member that!!! and I ain't bending my knees for nothing or fearing nothing but GOD!!!"
Tip finished the diatribe by telling Boosie that he was disappointed at how he handled the misunderstanding.
"So c'mon and see what you speaking 'bout so next time you can speak intelligently. @mamaheliveagain.2.0 I expected more from you. This s— ain't solid. Obviously I thought we WAS something we WASNT."