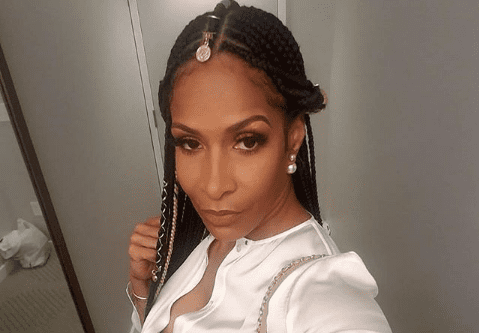 "Real Housewives of Atlanta" fans are outraged that Shereé Whitfield first learned of a secret child that her ex-husband has had for decades, and during a party to celebrate the birth of her new granddaughter at that.
Whitfield's ex-husband and former NFL star Bob Whitfield chose the festive occasion, called the "sip and see," to introduce his 26-year-old daughter, Candice, to Sheree Whitfield whom he never told her about during their marriage.
"RHOA" cast member Kandi Burruss Tucker, who has known Bob Whitfield since she was 19, said on the episode that she never knew that he had another child.
"Does he have another daughter we don't know about?" she inquired while standing with the other "RHOA" cast members.
"We were on a need-to-know basis." – Bob on his surprising Shereé with a secret daughter

😳 Was anyone else gagged by how this scene played out?! I know I & the gyrls were!! #RHOA pic.twitter.com/lRESi8iBRU

— Mr. Mention It All 😉📺🇯🇲 🏳️‍🌈 (@MrMentionItAll) August 21, 2023
After the women inquired about why Shereé Whitfield was left in the dark, the former baller said they were "on a need-to-know basis" at that time.
Shereé Whitfield later dismissed her ex-husband by saying, "He's been a piece of s—, he's still a piece of s—. How about that?"
Kenya Moore relayed her shock and disgust at Bob Whitfield's antics during the "RHOA After Show."
"Talk about the blatant disrespect, chile! Talk about the audacity. Talk about the nerve of some people! Like, really, dude? That was your wife!" Moore said.
Burruss added that Whitfield was totally wrong, but at least he has a relationship with his daughter.
"I'm glad to know that he has a relationship with his child. I just wish he'd not have thrown that on everybody — or [not] thrown it on Shereé at least, because it seemed like the kids already knew," Burruss said.
Many fans vehemently denounced Bob Whitfield as "the devil" and said they "gagged" that he would ambush his ex-wife with the news of a secret daughter at a party to celebrate her first grandchild, Mecca Joie Whitfield.
"We were on a need-to-know basis." – Bob on his surprising Shereé with a secret daughter

😳 Was anyone else gagged by how this scene played out?! I know I & the gyrls were!! #RHOA pic.twitter.com/lRESi8iBRU

— Mr. Mention It All 😉📺🇯🇲 🏳️‍🌈 (@MrMentionItAll) August 21, 2023
bob was married to sheree and never told sheree about this daughter…did their children together know about her? what the hell is wrong with him? #rhoa pic.twitter.com/34BEB3DNfg

— jada 🧚🏽‍♀️ (@jadaalert) August 21, 2023
Bob is actually the devil. How do you have this girl shaking Sheree's hand & Sheree doesn't even know who she is?

What do you mean you didn't tell Sheree about Candiace becuz y'all were on a need to know basis?

How is bringing her to the baby reveal apropos? WICKEDNESS🥴 #RHOA pic.twitter.com/L3kWk9f7ZF

— ♉️ alien superstar 👽😈 (@RobynDMarley_) August 21, 2023
All of their faces while talking to Bob Whitfield! 😭 #RHOA pic.twitter.com/V8eneLKChb

— Chadwick (@ohchadwick) August 21, 2023
Bob represented himself in court against Phaedra and won but has no idea how old his child (secret or otherwise) is boy oh boy Sheree really knows how to pick 'em #RHOA pic.twitter.com/tIUcmLcfsl

— win a case (@RHOSuplexCity) August 21, 2023
So Bob had a secret child that Sheree ain't known about for 20+ years?! #RHOA pic.twitter.com/tQm6Krglnt

— Dwayne Paul (@dwaynepaul06) August 21, 2023