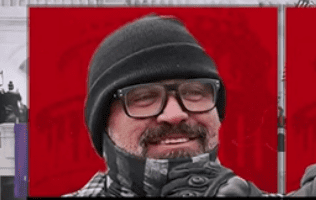 Joseph Biggs, a leader of the extremist right-wing group Proud Boys, was slapped with a long prison sentence for helping his group storm the U.S. Capitol in an attempt to overthrow the government and keep Donald Trump in power.
Biggs was given 17 years in a federal penitentiary on the conviction of "seditious conspiracy" for leading a mob to violently invade the U.S. Capitol on Jan. 6, 2021, in order to reverse the presidential election won by Democrat Joe Biden.
The price Biggs is made to pay for attempting a coup de'tat is second only to the 18-year prison sentence that Oath Keepers founder Stewart Rhodes was hammered with.
According to the Associated Press, U.S. District Judge Timothy Kelly dismissed Biggs' display of contrition in court as well as his plea to remain a part of his daughter's life, whom he said was molested as a child.
Kelly stated that his actions contaminated an "important American custom," which is the certification of the Electoral College vote by the vice president before Congress. 
"That day broke our tradition of peacefully transferring power, which is among the most precious things that we had as Americans," the judge said, emphasizing that he was using the past tense in light of how Jan. 6 affected the process.
Biggs did admit to the judge that he "messed up that day." However, Biggs tried to abdicate personal responsibility, telling the court that he was "seduced by the crowd" of rabid Trump supporters and that he was not "a terrorist."
"My curiosity got the better of me, and I'll have to live with that for the rest of my life," he said, according to the AP, adding that he does not have "hate in my heart."
The 17-year sentence falls short of the 33 years recommended by federal prosecutors, with U.S. Attorney Jason McCullough saying that what the Proud Boys did was "among the most serious crimes that this court will consider," and pushed the U.S. government "to the edge of a constitutional crisis."