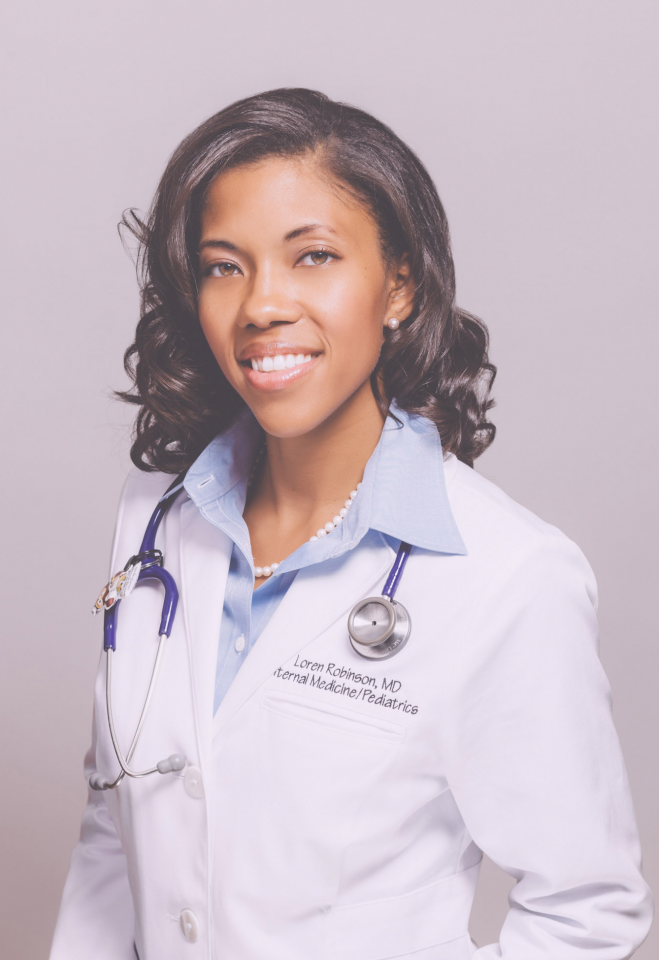 Philadelphia-based Dr. Loren Robinson is making major headway in the medical field. She was recently selected to join the board of trustees of Spelman College as the youngest ever alumna trustee. The Duke University and University of Pennsylvania graduate is currently serving as Pennsylvania's Deputy Secretary of Health Promotion and Disease Prevention. She's very active in her community, has served as a mentor with the Philadelphia Futures mentoring program and is also an active member of the National Alumnae Association of Spelman College, previously as the affinity chair and currently as the health and wellness chair.
Dr. Robinson has also won more than 30 awards, including the National Minority Quality Forum's 40 under 40 Leaders in Minority Health, LinkedIn's "Next Wave: Game Changers 35 years old and younger in Healthcare award," as well as the National Medical Association's Rising Star Award, and was also elected to the College of Physicians of Philadelphia.
Rolling out got a chance to talk exclusively with the dynamic Dr. Robinson who shared her insights on what it means to be a millennial leader, building relationships in her field and more. Check out the interview below and tell us what you think of this "top doc" in the comments field.
In your line of work, being empathetic is a part of your job. What have you learned about practicing empathy as a medical provider?
My training as a physician [has] taught me a lot about signs and symptoms. The piece of being a medical provider that has served me best is less about being a physician and more about being a person. Being able to be aware of others' feelings and emotions has made me a better person and a stronger leader. Most importantly, it helps me teach members of my team how to connect with others who may not share their goals or vision. Understanding and respecting the humanity of others is what allows us to overcome difference, and be able to both lead the team and serve on the team at the same time.
How does relationship-building play a role in your field?   
As a public servant and physician, it is my calling to build relationships with the people I serve and commune with. Everywhere I go, I know building relationships with people of diverse backgrounds always helps me to better understand the unique communities I serve. Using this as a foundation, I have learned volumes about the key to forming good relationships — communicating effectively, in a way that builds relationships. In doing so, I not only am able to support those around me but also feel supported in the work I do.
You're a millennial leader and you've won several awards for being a leader in your field. Tell us what's unique about your leadership style.
My leadership style is inclusive. I am someone who believes in the team dynamic. I understand that every individual has unique strengths, and my team will experience the best dynamic when strengths are highlighted. This means listening to everyone's thoughts, creating a plan of action that everyone can agree upon, and consistently following through on the agreed plan of action. I also have high trust in my team, because I believe they are some of the most qualified to carry out the work we do in public health. I have high standards and require a lot from my team, but I will fight for them and strive to strengthen and promote them whenever possible.
What drives you? What are you most passionate about?
My passion for service and for people is what has driven me throughout my academic, personal, and professional life. I am most passionate about serving those who have traditionally been denied opportunity. This is what inspired me to pursue a career in public service, as an effort to better learn how to offer services in the field of health and health promotion to underserved communities.
What are your views on being a mentor. 
As long as I can remember, I have been a mentor. Throughout my educational journey, I have mentored young women of color who are interested in the health professions and those with a passion for social justice. It is too often that young women are told not to do something or not to pursue something because it is thought to be too challenging. For me, mentoring allows me to share both my successes and my challenges with those coming behind me, and to let the younger generation know that that that can succeed, though it will take time and sacrifice. Mentoring has also taught me about patience and about the resilience of the young women that I mentor. Currently, I mentor 4 young women at different stages of their academic/professional lives and with varying goals/motivations. I find that mentoring is one of my most rewarding and worthwhile activities.
To find out more information on Dr. Robinson, you can find her on LinkedIn at Loren Robinson and on Twitter @DocLoRo.